First YPAS choral teacher, leader in Louisville's music community, David Brown, dies at 74
Former students went on to careers of all kinds, including education
• If you enjoy articles about regional arts and creativity, share them and/or sign up.•
By Elizabeth Kramer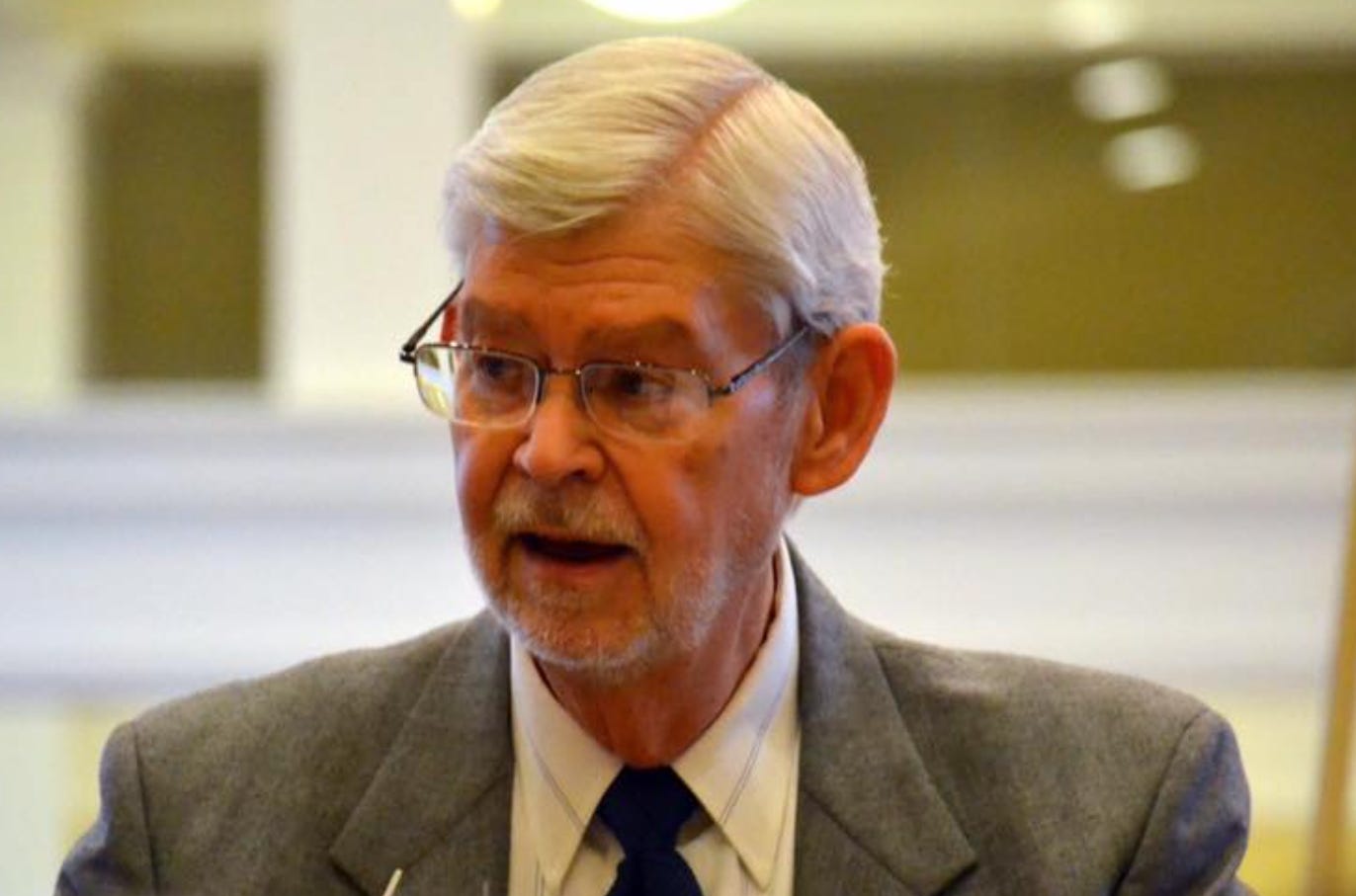 David Brown
After last Thursday's death of long-time music educator David Brown came an outpouring of memories and tributes via social media. More followed during Tuesday's Facebook Live event with a roundtable of former students, members from the church and choir he led for many years and people he worked with as conductor and music director of "The Stephen Foster Story."
Brown, who in recent decades directed the choir at St. Andrew's Episcopal Church, is widely known as Louisville's Youth Performing Arts School's founding director of the vocal music studies program, where he taught from 1978 to 2000.
"His loss is a tremendous one for the community," said David Thurmond who established the YPAS dance department and remembers how students "truly idolized" his colleague.
Video by and courtesy of Michael Patrick Owen.
Brown came to that job after graduating from the University of Louisville with a Master of Music degree, teaching holding part-time church and temple singing jobs as well as singing with the Kentucky Opera and The Bach Society. Even after retiring, he continued to give private voice lessons, and often former high school students continued to study with him.
In recent interviews, former students and church choir members, such as Emily Smith, described Brown as a man "larger than life" with a "joyful, unassuming nature." Many described his distinctive laugh that was akin to a guffaw and his sharp memory that included the ability to recall names.
Other Arts Bureau Articles 
• Artists working in Kentucky among 2020 Guggenheim Fellows
• Commonwealth Theatre Center considers losses summer, next season amid pandemic
Tara Bassett, who met Brown through a friend and hosted the Facebook Live discussion, said the event gave speakers and others the opportunity to share experiences "much like a memorial service," which could not be held at this time of the COVID-19 pandemic. After becoming friends with Brown and his wife Sharon years ago, she said she found he was "the Kevin Bacon" of Louisville's choral music world, invoking the parlor game "Six Degrees of Kevin Bacon."
Current YPAS Director of Vocal Music Studies Jacob Cook, who succeeded Brown, said a memorial concert is planned for 2 p.m., Saturday April 24, 2021.

Courtesy Facebook
The concert, he wrote, will include "students touched through David's teaching at YPAS, at 'Stephen Foster,' and through his private voice studio."
Some of Brown's students, such as Elizabeth Batton and Daniel Mobbs, went on to sing in opera houses around the country and the world. Others, like Heidi Howe, became singers in other genres and music teachers themselves. Some pursued acting or, like Garth Greenwell, went on to writing careers. One former student, who also was part of Tuesday's roundtable, Morgan McGarvey, now serves as a Democratic member of the Kentucky State Senate.
Batton, who first met Brown while auditioning for YPAS at 11 years old after her family moved to Louisville, said he accepted her early into the program. She thinks now it was because the school was producing "Annie" and needed a younger cast member who could belt sing. In addition to having Brown as a teacher at YPAS, Batton was Brown's student at Kentucky Governor's School for the Arts.
"He was like a father figure," said Batton, echoing many other comments online and those who spoke during the Facebook Live discussion.
Years after high school graduation, Batton said she lost touch but remembers living in New York and watching the 2000 inauguration of President George W. Bush. She saw Brown with the YPAS choir performing at the Capitol.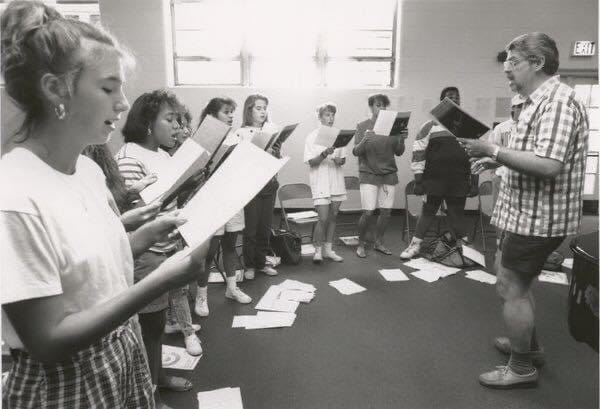 David Brown with students at Youth Perform Arts School. Courtesy Elizabeth Batton.
Getting to Washington, D.C., had been an effort with Brown rallying others, including Bassett, to help raise more than $100,000 in 20 days to fund the trip.
"It was one of the greatest adventures of our lives," Brown's wife Sharon said during Thursday's roundtable, "to be sitting on the top of the Capitol and looking at hundreds and thousands of people all the way to the Washington Monument."
Smith was a student who sang in that choir, which was during Brown's last year teaching at YPAS.
"That was a really special moment," she said. "But we recorded ourselves singing it before we sang it. They played the recording and then we sang along because they had to project it."
Smith, who was only a sophomore at the time, also got to go on school trips Brown led to Austria and Germany where students sang in cathedrals. She went on to University of Louisville where she sang with the Cardinal Singers and Collegiate Chorale and later sang with the Louisville Chamber Choir. Since 2003, she has sang with the St. Andrew's Episcopal Church choir.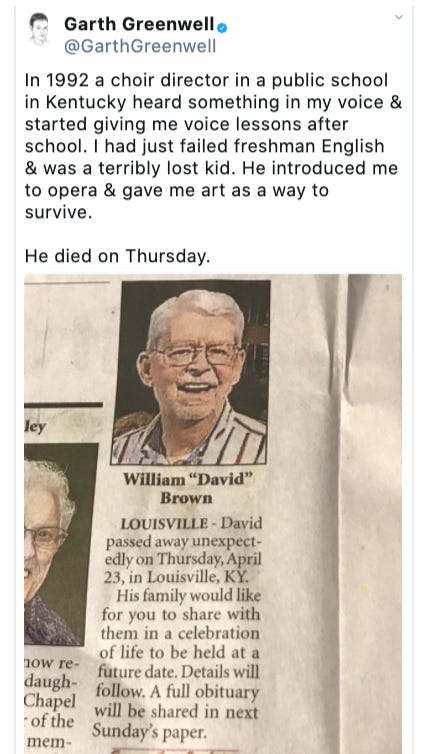 Former student and writer Garth Greenwell's post on Twitter. He also spoke of Brown in an interview with the BBC.
Smith talked about how Brown endeared himself to all his students but balanced the ability to laugh and joke with them while maintaining a boundary of respect and authority.
Singer and music educator Howe said his discipline and compassion helped guide her during her high school years.
"I was a troubled kid. I was rebellious. And having a big piece of my day spent with someone who liked and respected me was huge," she said.
Today, she thinks about him all the time and wishes she had been in contact with him.
"I really thought I had more time," she said.
Thurmond recalled the surprise birthday party former students held for Brown and Thurmond three years ago (the retired teaching colleagues share the same birth month). Former students sang and danced for Brown and Thurmond.
"His physical presence was just imposing (Brown stood over six feet tall) and the laugh that would come out of his depths, his chest and out of his mouth, was just the most amazing thing… it was not just a giggle," Thurmond said.
During the Facebook roundtable, Brown's wife, Sharon, who also sings and gives voice lessons, talked about how the two met when she was 15.
Other Arts Bureau Articles
• Social Distancing Quartet takes music to social media during time of COVID-19 
• Actors Theatre pivots, streams, explores virtual experiences, reworks next season
• Kentucky Shakespeare | Working to salvage education program, income generator
"He was tall, and that was the first thing that I noticed," she said. "Then he opened his mouth and he sang — and that was kind of it."
Edie Tidwell, a retired faculty member of University of Louisville School of Music, got to know Brown as a teenager living in a nearby town of their home state of Oklahoma. (After Brown earned his bachelor's in music education from Oklahoma Baptist University, they were together attendeding the U of L's music school where they studied with Fletcher Smith, head of the voice department. (Smith played a large role in bringing Kentucky Opera founder Moritz von Bomhard to Louisville. Both Tidwell and Brown sang for the opera's programs.)
Tidwell described Brown's legacy as love, laughter and music.
"He embodied what Mr. Smith was and taught," she said, adding, "It's a sad time for a whole lot of us."
A former student with a long acting career before his current one as a cinematographer, Michael Patrick Owen, produced a video commemorating Brown a day after his death.
Owen, who graduated from YPAS in 1986, had focused on theater arts and not voice, so he only worked with Brown during theater rehearsals. Nonetheless, he said Brown made a profound influence on him through his encouragement and teaching him breathing techniques.
"Keep going, he said to me before I left high school," Owen said. "Don't let this be your peak."
Owen took that to heart, working as a professional stage and film actor and found directors impressed by the vocal and other skills he had learned in high school.
Owen's video uses photos of Brown from a reunion of the first ten YPAS classes held almost 20 years ago that Owen spearheaded and a 2011 interview he filmed with Brown.
John Vessels, an actor and acting and voice teacher in Indianapolis, met Brown while auditioning for "The Stephen Foster Story." He sang with Brown in the production and in the St. Andrew's Episcopal Church choir from 1990 to 2001. Vessels also studied voice with Brown and described his teaching as intuitive and based on imagery but one rooted in deep knowledge of the body's mechanics and music.
"He believes in the disciple of singing and instilled that in his singers," Vessels said. "But he's innately funny…so you never felt the tension in the creation of the work."
"The Stephen Foster Story," Vessels said, benefited from Brown's exceptional skills that even shaped parts of the production — particularly making dramatic art of the second-act overture, which includes mourning and plantation songs.
Need to sign up for this Louisville Arts Bureau? Here you go:
"That overture is one of the most acutely felt pieces of choral music I have ever heard in my life — before or since," Vessels said. "He had a way of making a room of 50 people beat with one heart, sing with one voice and feel with one mind in a way that is so emotionally accurate and so beautifully stated."
During the Facebook Live discussion, Sharon Brown noted that her husband "shared himself with so many other people."
Then she added: "I'll just say to all of you guys, because you are in the same position to make a difference — just open your hearts to people, tell those people who made a difference. They'd love to hear it."
— NOTE —
Brown's passing came not long after the death of another leader in the choral community — Frank Heller on March 17.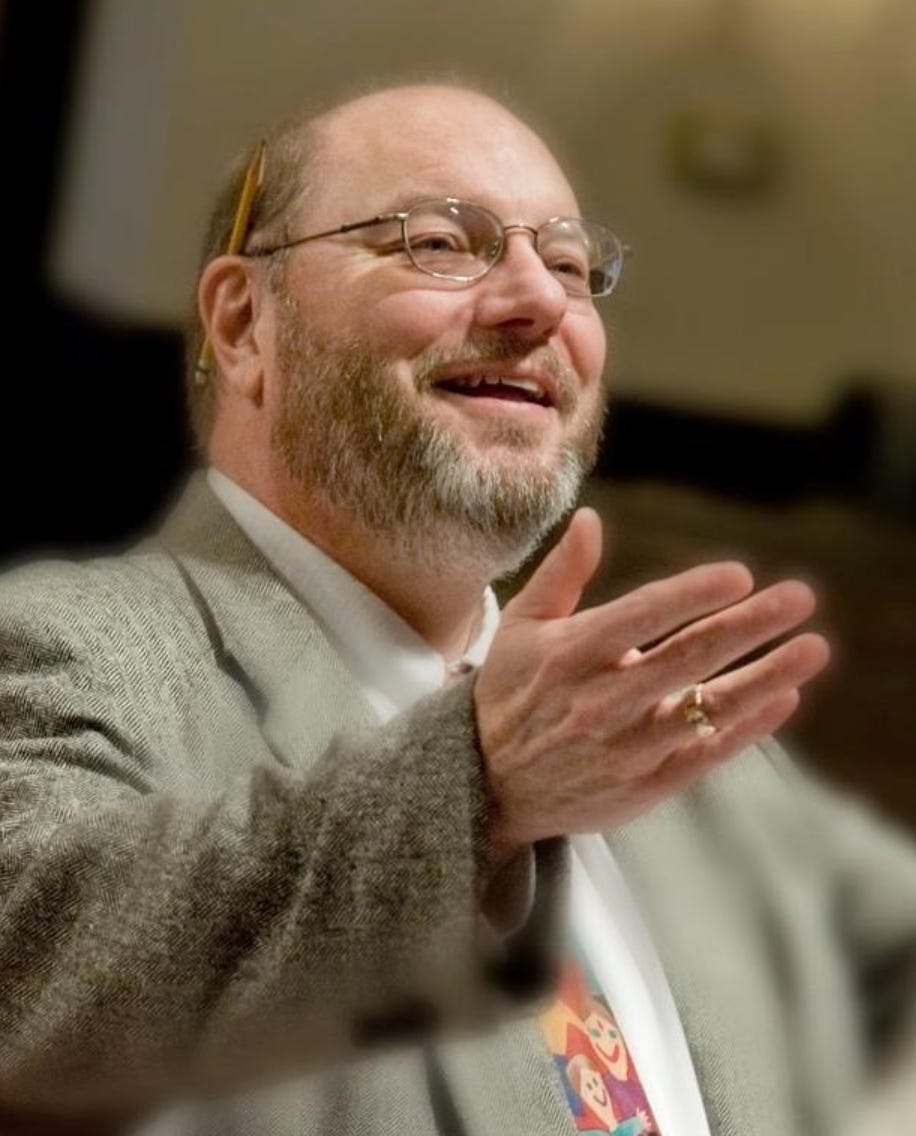 Frank Heller. Courtesy Voces Novae.
Heller was the founding artistic director of Voces Novae, which he led for 26 years. Prior to that, he led the Louisville Youth Choir for 17 seasons as artistic director and executive director of music. Heller, who was 65 at the time of his death, had a career that also included nearly 20 years as the music director of Harvey Browne Memorial Presbyterian Church and another 20 years at Highland Presbyterian Church.