Social Distancing Quartet takes music to social media during time of COVID-19
Louisville Orchestra musicians got working just after learning of canceled concert
By Elizabeth Kramer
Before social distancing became a major refrain, a band of classical musicians began working together and broadcasting via social media to soften the blow that isolation could eventually bring.
Two weeks old now, The Social Distancing Quartet has a Facebook group with nearly 1,100 members and has received kudos from Louisville Orchestra Music Director Teddy Abrams.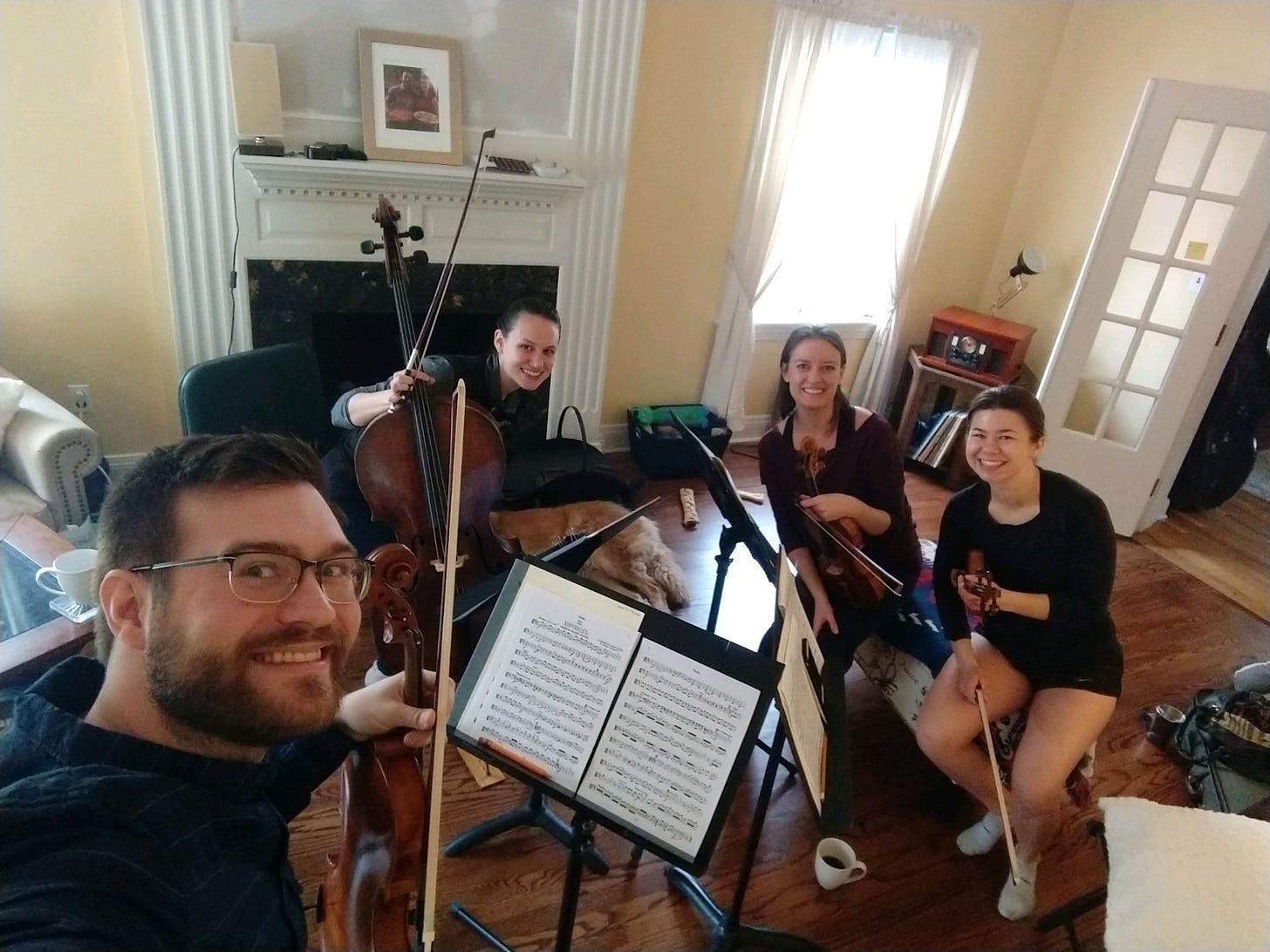 The Social Distancing Quartet: Evan Vicic, Lillian Pettitt, Annie Daigle, Maria Semes. Courtesy Lillian Pettitt.
"Teddy reached out to us a couple of days ago saying he was really proud of us, and that was a heartwarming, feel-good moment," said cellist Lillian Pettitt. "It's great when your boss says he's proud of you."
As the quartet has regularly posted music to its group page over nearly two weeks it has garnered more than likes and shares — people have inquired about tipping and donating.
But instead of accepting, Pettitt said, the group asks people to donate to the Louisville Orchestra or the orchestra in the city where they live. (The Louisville Orchestra has canceled the rest of its current season.)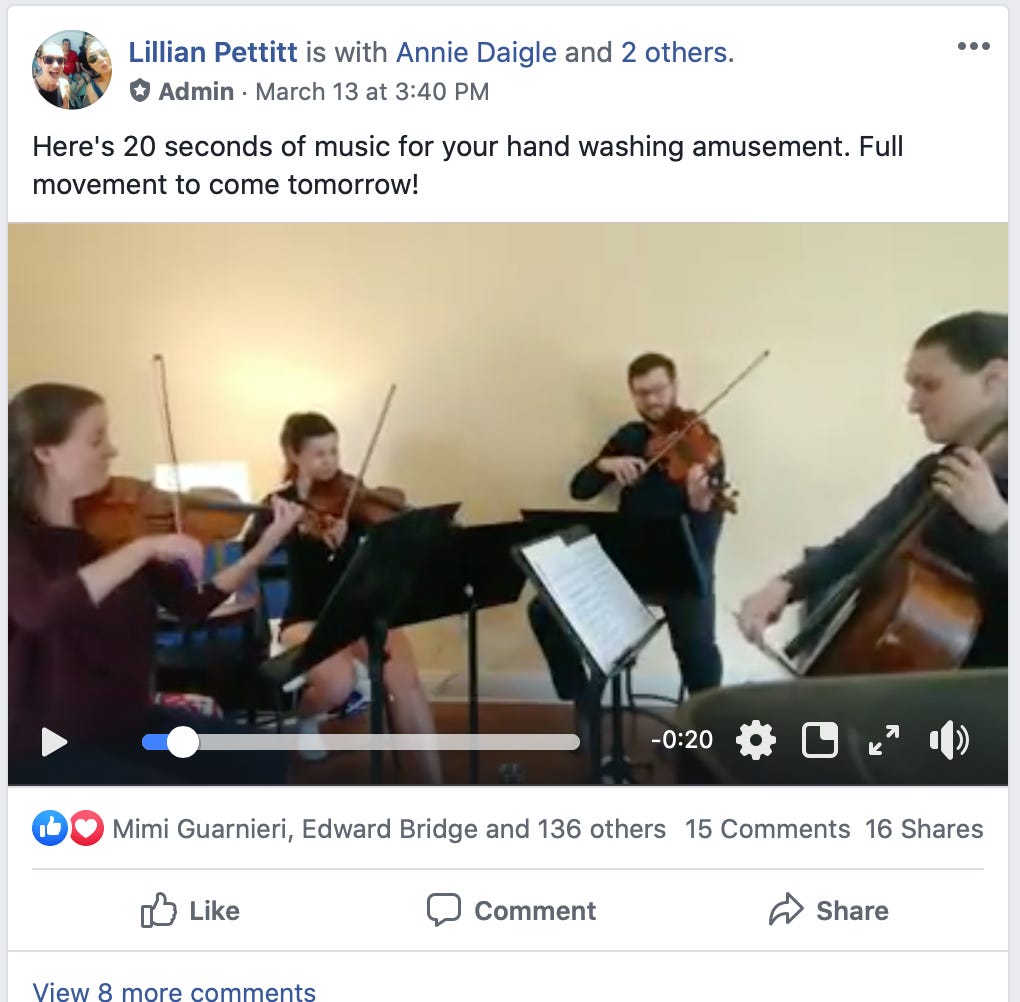 The quartet's work began not long after the Louisville Orchestra's early Thursday rehearsal on March 12 when musicians learned of the cancellation of that weekend's concert with this city's native composer and saxophonist Jacob Duncan, said Pettitt, who is the orchestra's assistant principal cellist. Concerns were growing that gatherings could contribute to the spread of COVID-19. By the day's end, orchestra members learned they wouldn't be playing for the rest of the month.
The next day, Pettitt and three other members of the string section — assistant principal violist Evan Vicic and violinists Maria Semes and Annie Daigle — embraced the name Social Distancing Quartet. The four, who had long talked about working as a quartet, set out to play and record a series of music clips that could accompany hand washing.
A plucky 20-seconds of music that Friday, their first post, left viewers guessing its identity with the quartet's promise to play the entire movement on Saturday. A subsequent post outlining the guessing game's rules received nearly 300 emoji reactions — thumbs-up, hearts, laughing and surprised faces. 
The next day, as promised, the quartet united to play the entire movement and revealed its identity in a post that evening: the allegro movement of Rimsky-Korsakov's "Jour de Fete," a string quartet called "Danse Russe."
Comments including some writing "bravo" and "encore" ensued. Some came from fellow Louisville Orchestra musicians. 
By the end of the weekend, stricter recommendations on gatherings threw the players off track a bit and had them recess.
"We realized things were changing rapidly and decided to work remotely," Vicic said.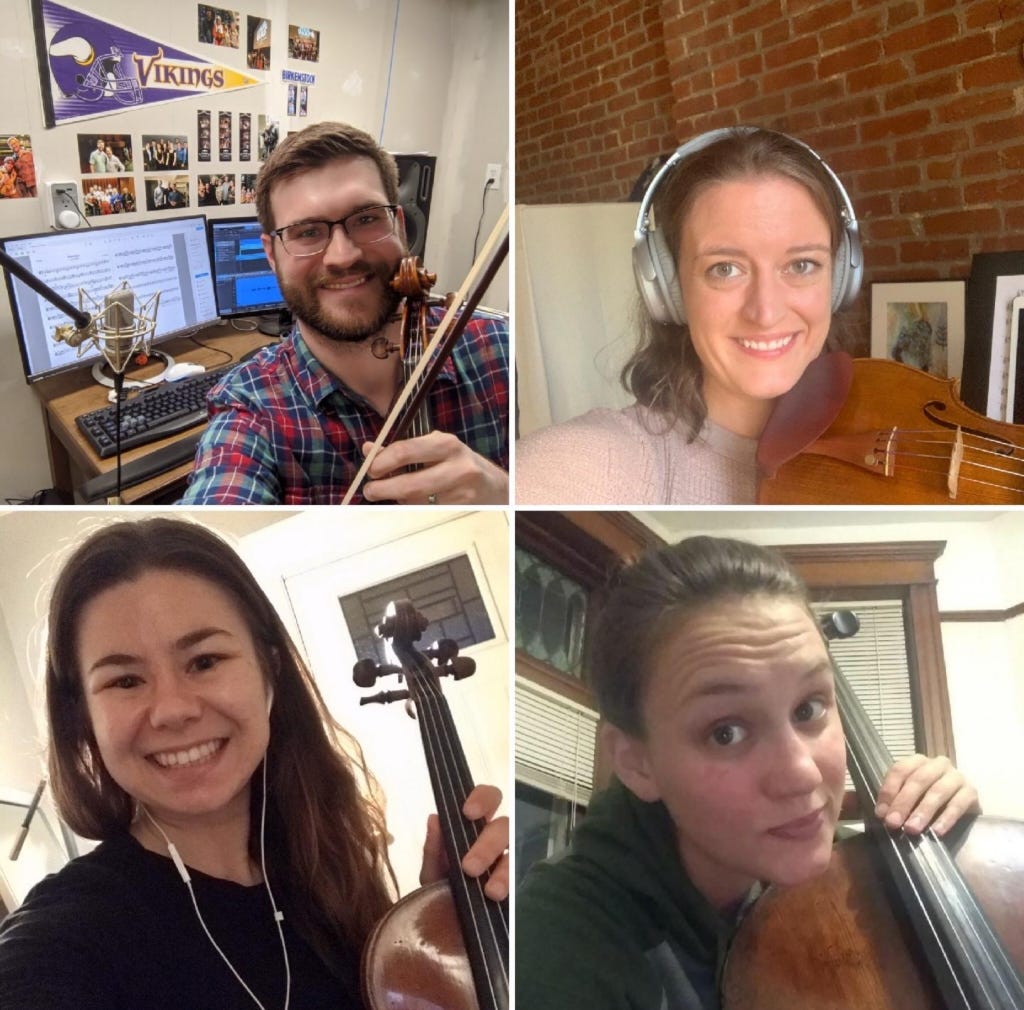 The Social Distancing Quartet. Top: Evan Vicic and Annie Daigle. Bottom: Maria Semes and Lillian Pettitt. Courtesy Lillian Pettitt.
Fortunately, Vicic leads a double professional life as an audio engineer. (He studied and worked in sound engineering in college and his father worked in hosting and producing classical music radio in Minnesota.) He was able to produce their next recording, a nearly three-minute track posted four days later, after coordinating with each member to record their parts and mix them using a sound editing software program.
The next work planned was a 1974 work called "Libertango" by Argentinian composer Astor Piazzolla. Vicic had each musician record their part and send it to him to mix in a program called ProTools. Pettitt took the finished product along with still photos of each member and created a post. Later in the week, Vicic and Pettitt worked to get a duo of posts up — the first containing a 20-second teaser and a second with a complete piece — "My Old Kentucky Home." 
This week, Vicic and Pettitt stepped up their technical performance offscreen when they produced and posted the Social Distancing Quartet's first remote video with the musicians playing "La Vie en Rose." (Pettitt had appeared in a 20-second teaser singing some nonsensical lyrics to the tune a day earlier.)
So far, the quartet also has performed Felix Mendelssohn's Canzonetta in E-Flat and the first movement of Mozart's "The Hunt" Quartet K. 458, but they are planning to play a variety of music from Bach to the Beatles and more. They've planned fairly far in advance to allow them time to practice.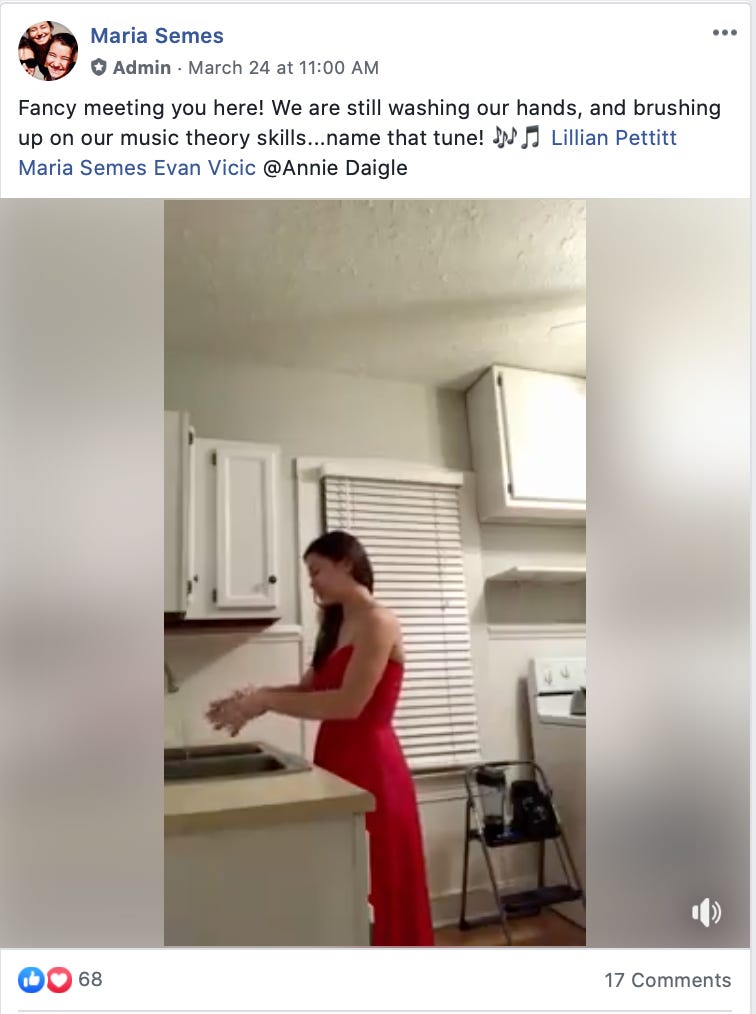 Vicic and Pettitt said they even want to play challenging works — which also makes the process of remote recording and mixing tricky. They don't have a conductor and can't signal to each other to synchronize the music's tempo, direction, dynamics, style and character.
"It's really difficult to do that now that we are recording in different places," Vicic said.  
He creates a track that each member listens to when recording, a click track, that has beats like the sound of a metronome in a musician's ear but is not picked up in the recording. He also has each musician clap just before she starts to play, so he can see the sound in the software program when mixing.
He described Mendelssohn's Canzonetta as one of the most difficult works performed so far, with its fast, middle section and "super short notes that can sound like raindrops." He said he sometimes has to work with lag time introduced by the microphones, which he said aren't special but are the ones the musicians use on their phones.
Over this short period, Vicic said the quartet has had organizations contact members and ask them to create a masterclass to work like The Social Distancing Quartet. 
The process of working together also has influenced each members' musicianship, said Pettitt, who called it eye-opening.
She sees this process — recording their playing and listening back many times — as one that will make them better musicians.
"We hear our flaws," she said." "And it has made us honest with our playing." 
Pettitt added that this situation makes each of them grateful for being able to play in together in the same room.
"And we're very much looking forward to when that can happen again," she said.
NOTE: If you enjoy articles about regional arts and creativity, share them and/or sign up here: artsbureau.substack.com.