Commonwealth Theatre Center considers losses amid pandemic, looks to summer, next season
Company considers using video, streaming in programs; scheduling of high-earning summer camps; opening next season with Shakespeare festival
• • • If you enjoy articles about regional arts and creativity, share them and/or sign up.• • •
By Elizabeth Kramer
After Kentucky Gov. Andy Beshear had announced that schools statewide would remain closed and practice distance learning through the rest of the school year, Commonwealth Theatre Center Artistic Director Charlie Sexton and his team were looking into how they could help some schools with that distance learning.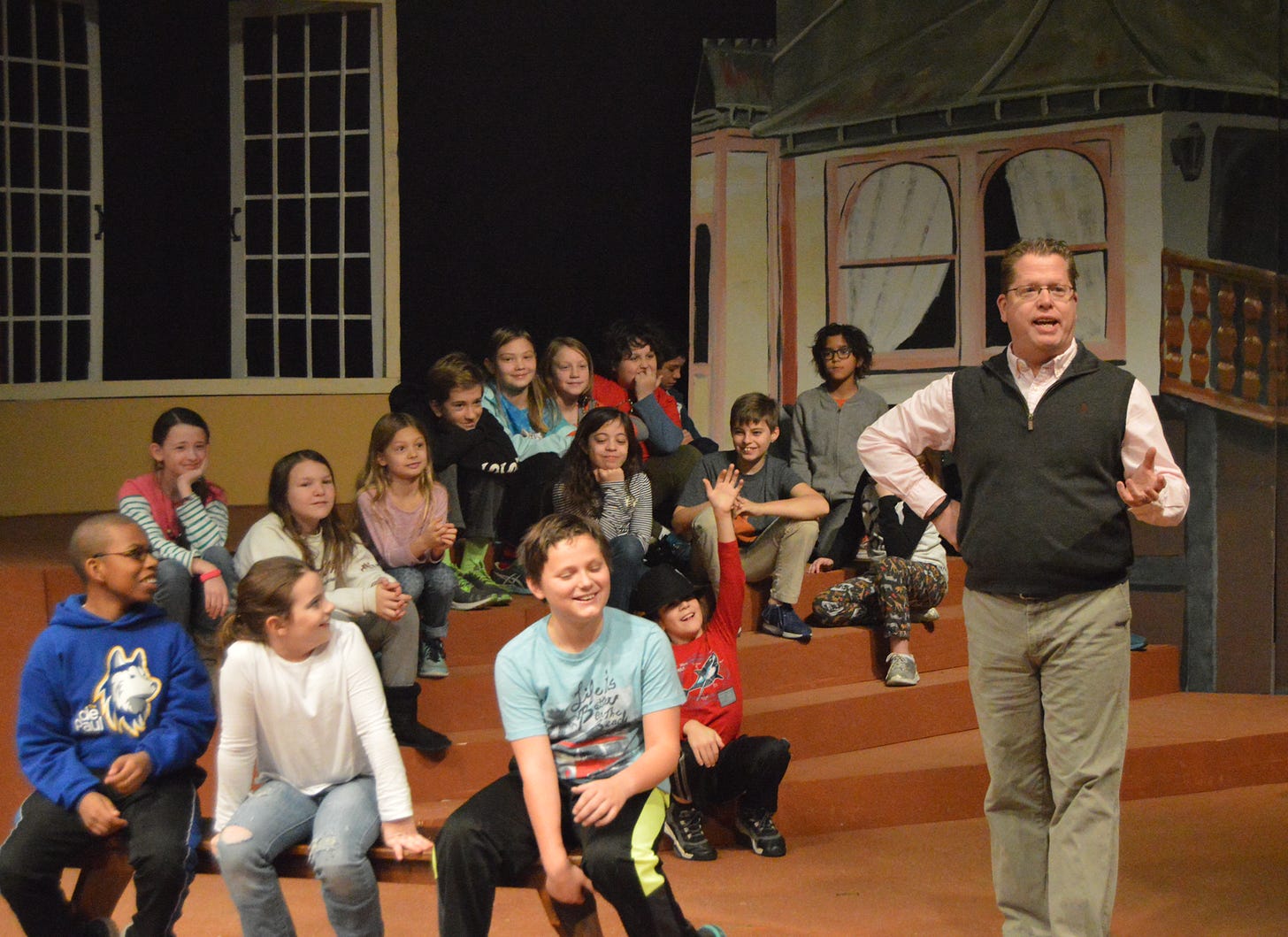 Commonwealth Theatre Center Artistic Director Charlie Sexton with students in a pre -COVID-19 world. Photo courtesy Commonwealth Theatre Center.
A handful of schools were asking if they could get recorded versions of some of the company's Blue Apple education residencies, including a particularly popular one designed to help students develop emotional communication skills, cope with stress and build resilience.
"That's tangible and something we can do before the summer to generate income," Sexton said this week during a phone interview.
Commonwealth Theatre Center formed in 2015 when Walden Theatre and Blue Apple Players, both founded in 1976, merged. Walden Theatre brought a long-standing conservatory program to the organization while Blue Apple Players brought its workshops, residencies and touring shows to schools and community centers.
Other Articles
• Artists working in Kentucky among 2020 Guggenheim Fellows
• Actors Theatre pivots, streams, explores virtual experiences, reworks next season
• Kentucky Shakespeare | Working to salvage education program, income generator
Now, Sexton, Managing Director Alison Huff, and eight other staff members (the organization furloughed 10 staff members in late March) are working to fulfill that request while also working on contingency plans for the summer and raising money for the company that was operating on a projected $1.3 million annual budget. At least, that was the budget before the COVID-19 pandemic hit.
Since March 12, when many arts groups began announcing cancelations, Commonwealth Theatre Center began closing programs and canceled company productions opening in March, including a Blue Apple production about Daniel Boone slated to tour schools. The furloughs came nearly two weeks later with the company's announcement that it estimates it will lose $120,000 in revenue between March and May.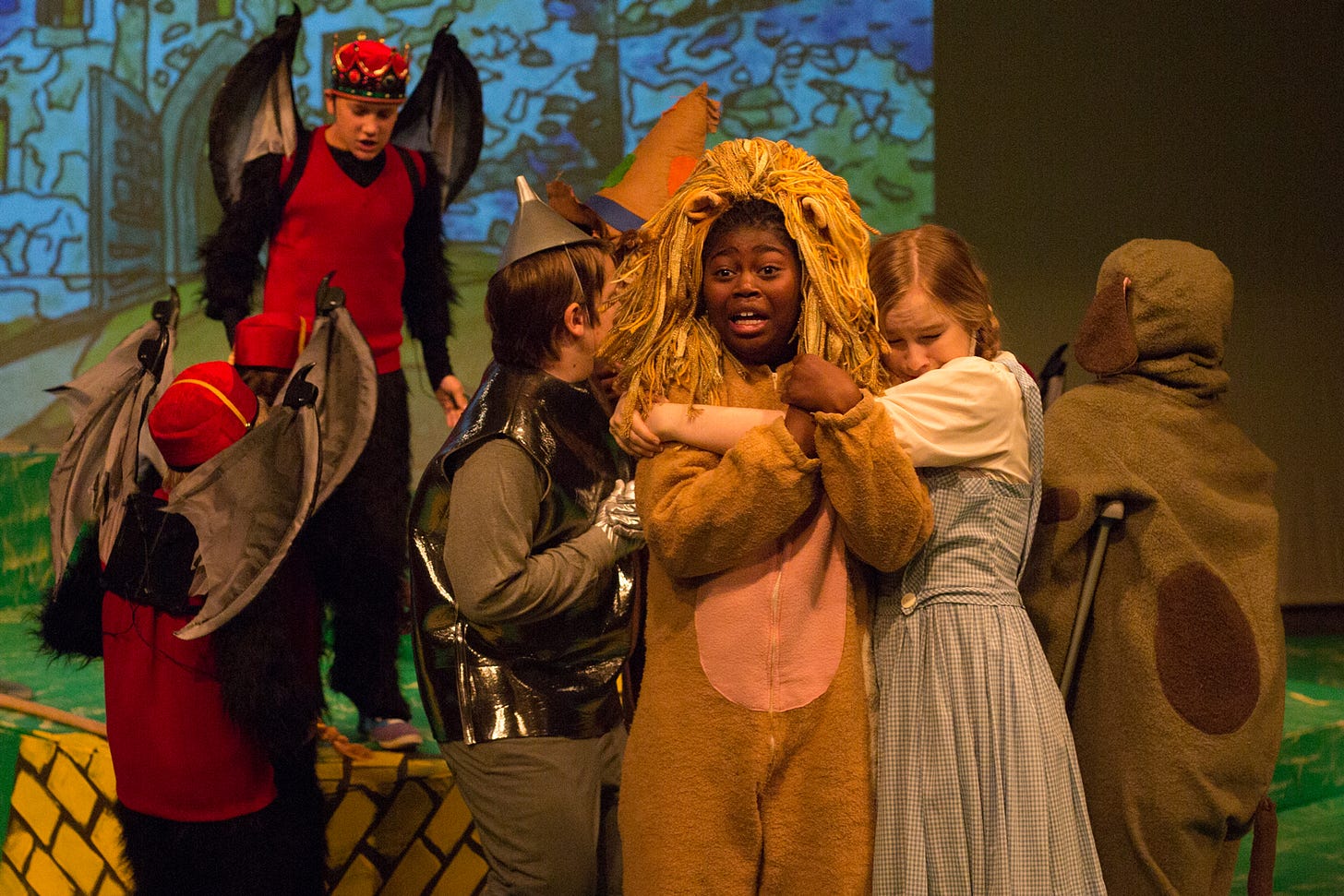 Students perform "The Wizard of Oz" at a camp at Commonwealth Theatre Center. Photo courtesy Commonwealth Theatre Center.
"It seems so naïve just a month ago that we were thinking that maybe in a couple of weeks we can do 'Streetcar Named Desire,'" Sexton said.
That production, from Commonwealth Theatre Center's professional company-in-residence, had a cast that included staff, many who teach acting and other aspects of theater in the company's Walden Theatre Conservatory, open to students age 5 to 18 and in recent years to adults.
At that time, Huff said she was looking at what cash was coming in and what expenses the company had to pay and those it could temporarily cut to live the next few months in the black. The company was assured income from its Blue Apple Outreach programs for partial work it was able to bill, payments on invoices for conservatory tuition and incoming grant money, including one from Fund for the Arts.
"But it was nowhere near the volume that we're used to at this time of the year," Huff said.
Early this month, the company launched a $25,000 emergency relief fundraising campaign and has so far raised nearly $19,000.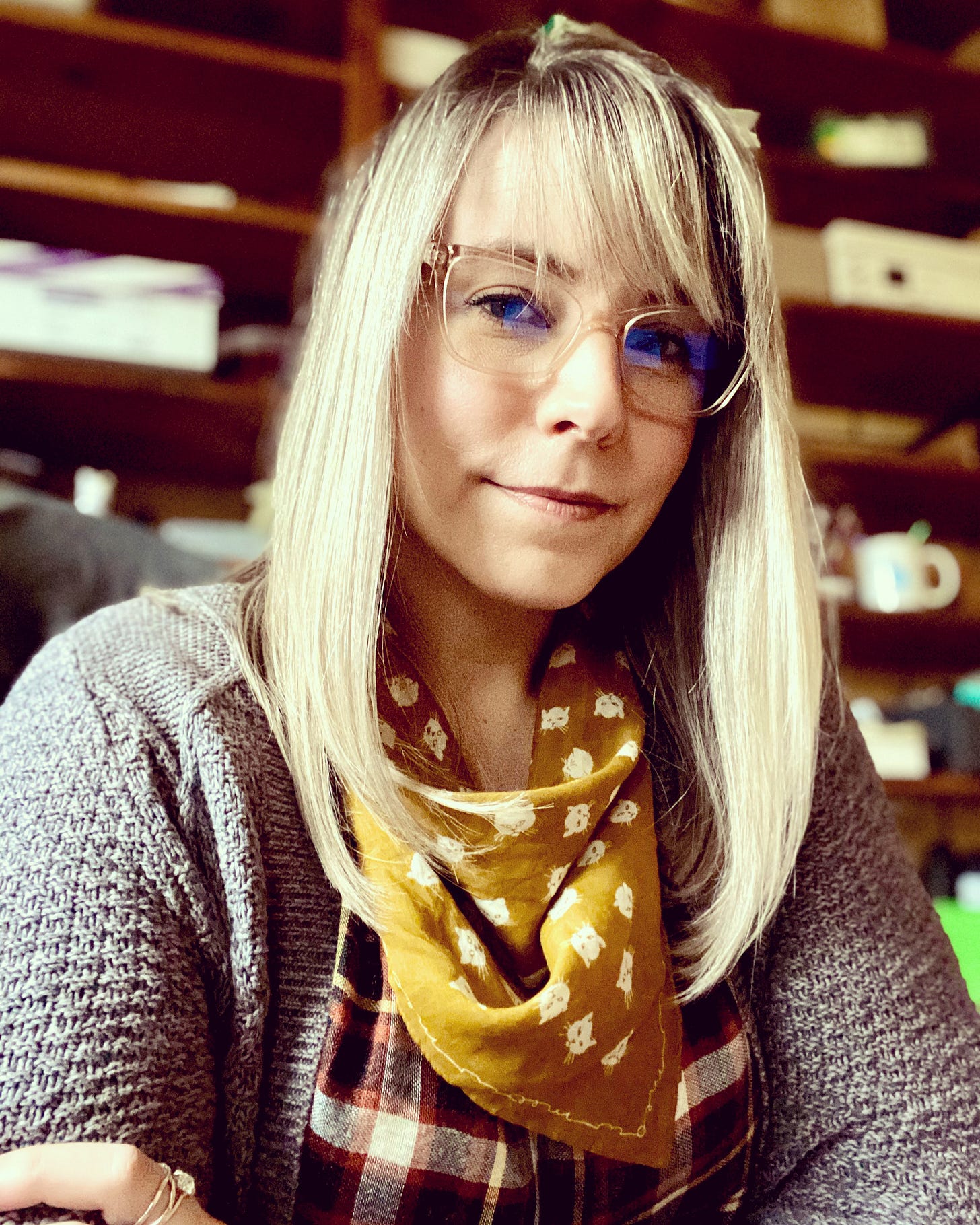 Commonwealth Theatre Center Managing Director Alison Huff. Photo courtesy Commonwealth Theatre Center.
Now, Sexton and colleagues are hoping they will be able to salvage a measure of their summer camps. Outright cancelation of the camps would constitute a big blow in lost income he said. The summer camps account for nearly a third of the company's earned income.
So far, he said they have crafted four different contingency plans for the conservancy's summer's camps, which initially had slots for more than 400 participants ages 3 to 18 spread out over 20 sessions from the last day of this school year to the beginning of next. (He reported that the company already has 200 signed up for slots and intends to fill the rest.)
Any new plans, he said, depend on when social-distancing restrictions are eased or lifted. The different versions of new plans even consider how many participants can be in a room or even on the same floor in Commonwealth Theatre Center's Payne Street home.
"Of course, this can all go out the window depending on what the governor or the health experts say," he added.
The camps often culminate in a performance, and Sexton understands current conditions might not allow audiences this year. So, they are preparing how camp participants could perform in an empty theater and the company broadcast those shows.
"In many ways, we are looking at working effectively in the virtual world," he said.
Other Articles
• Artists Relief Trust creates funds for Kentucky, southern Indiana artists
• Fund for the Arts taking applications for Emergency Support Grants for Artists
That means using videos and streaming in the company's different programs as well as using the technology, if necessary, for its performances — using them in the residencies and workshops, which reach about 5,000 children annually, touring productions, which reach some 37,000 each year, and the public performances, which reach nearly 13,000 people.
Sexton and Huff also are preparing the company's upcoming annual budget in the face of financial fallout from the pandemic. Both say they will likely reduce next year's operating budget 30% to 50% from this current fiscal year, which ends July 31.
Sexton said he has already looked at producing plays that don't require paying royalties and has decided to open the season with the conservatory's lineup for its Young American Shakespeare Festival, which was set to open on May 7. (The festival includes "Much Ado About Nothing," "Hamlet," and Carlo Goldoni's "The Servant of Two Masters.")
After moving the festival to open the 2020-21 season, Sexton has now dubbed it The Hindsight 2020 Festival. The worst part of this, he said, is having to recast some of the roles.
"I feel bad for the (high school) seniors," he said. "But we are planning a showcase for them over the summer."
Sexton said he expects, given the economic downturn, the conservatory program could see at least a 15% drop in enrollment in the fall. More than 600 students normally participate in that program each year.
"I know people are chomping at the bit to come back, but some people won't financially be able to," he said.
He's seen that happen before — after the 2008 financial crash. After the recession's onset, he said conservatory enrollment dropped 25%.
While Sexton is open to using virtual technology in the short term, he isn't keen on using it under normal circumstances in theater education. But if restrictions continue into next year, he will look at how the conservatory can use virtual technology tools.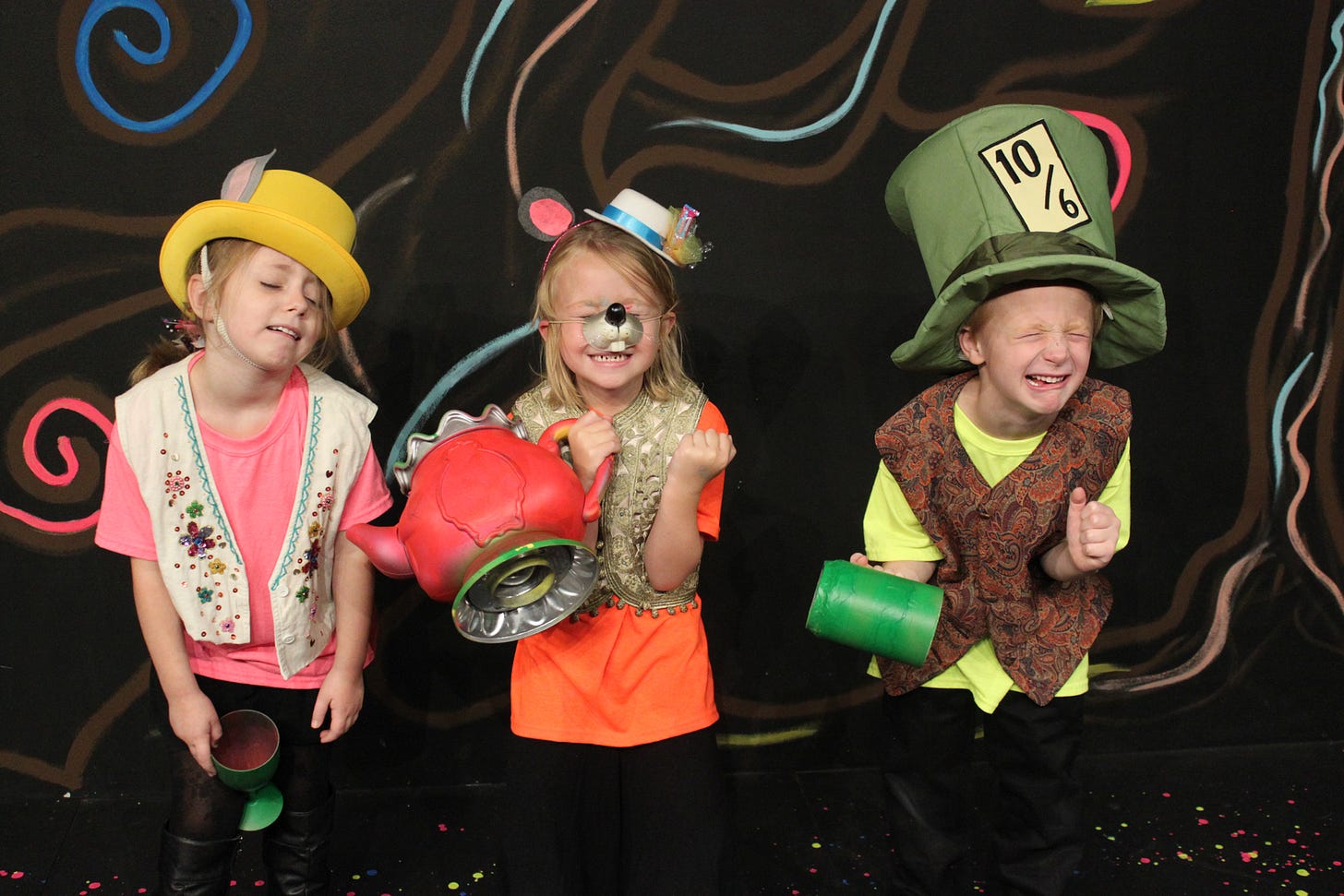 Students perform "Alice in Wonderland" during a camp at Commonwealth Theatre Center. Photo courtesy Commonwealth Theatre Center.
"Our art form is really dependent on getting people in a room together, as far as a conservatory teaching," he said.
Since the 2015 merger, Sexton and Huff said the company has vied with unifying the programs, meeting growing demands for those programs and funding needs.
"We've been working to strike a balance," Huff said.
Given that and a fluid local philanthropic landscape with traditional donors shifting some priorities, Huff said that Commonwealth Theatre Center's budget was already seeing that it wasn't going to hit budget before March and looking to make adjustments.
But she and Sexton are digging in, they said, so their work can incorporate technology and the creative tools to keep the programs operating, even if greatly reduced.
Although Sexton noted his astonishment of the current pandemic, he seemed undaunted by the mission of keeping the company on course.
"Because we are a youth program, we are in a position to bounce back from this," he said.