Actors Theatre pivots with streaming, explores virtual experiences, reworking next season
Layoffs follow Humana Festival cancellation, further reduces staff in uncertain time
By Elizabeth Kramer
Reader: If you enjoy articles about regional arts and creativity, share them and/or sign up here: artsbureau.substack.com.
The growing corona pandemic in early March halted Actors Theatre of Louisville's Humana Festival of New American Plays less than two weeks after it started. But within days, the theater managed to capture three of the festival's five productions — those that had already opened — on video.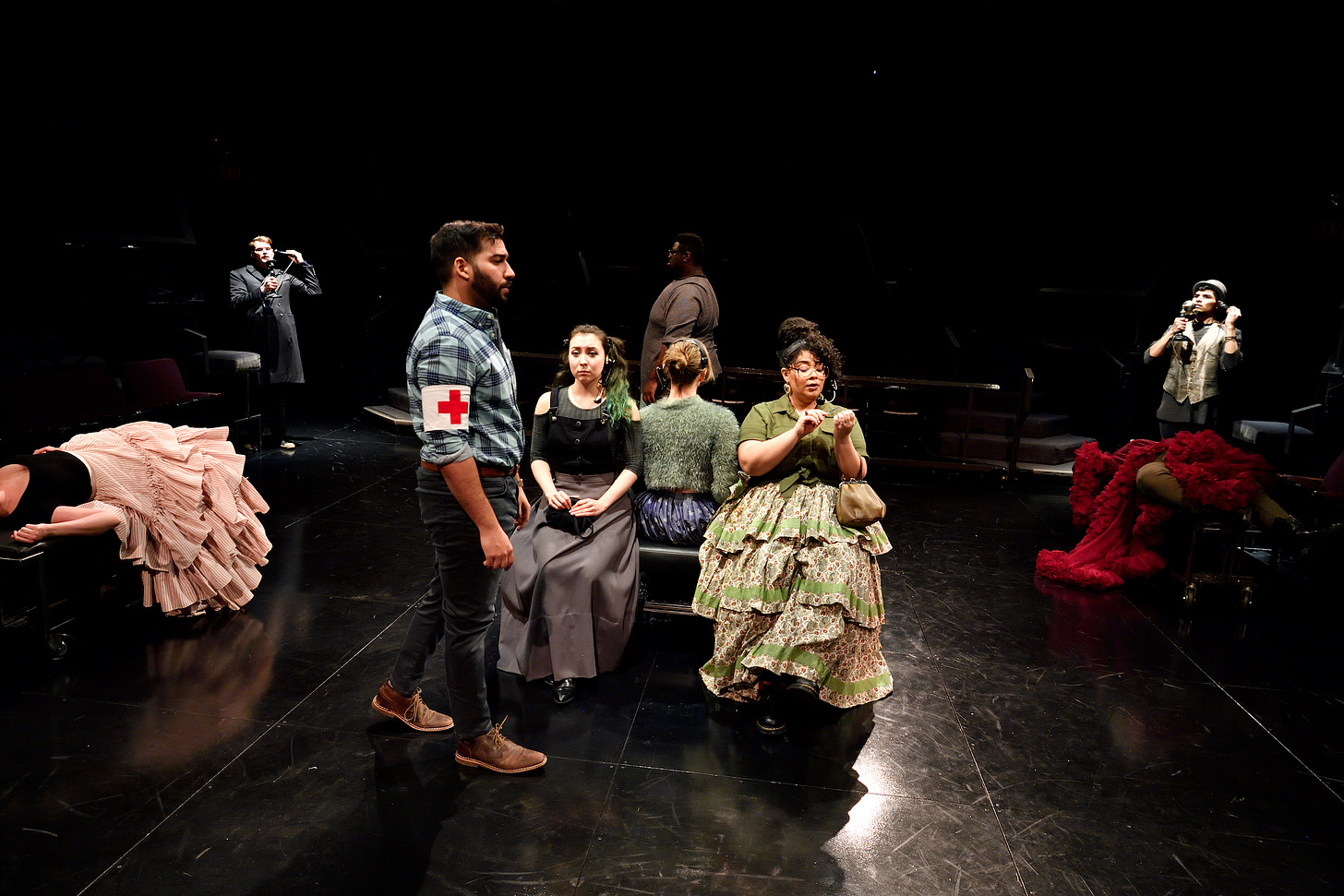 The cast of "Are You There?" by Vivian Barnes, Jonathan Norton and Gab Reisman, part of Actors Theatre of Louisville's New American Plays. | Photo by Jonathan Roberts. Courtesy Actors Theatre of Louisville.
That's just among many pivots the theater — which had a $9.4 million budget according to its 2018 tax returns — has made in recent weeks.
This week the theater began streaming two of the productions after laying off staff, putting other members on furlough and reducing pay for existing staff last Friday, said Elizabeth Greenfield, director of communications and patron experience. This comes after the theater laid off nine staff members in January.
The festival always includes several visitors' weekends when thousands of guests come to the theater from outside Louisville. That includes one weekend intended for the college-student crowd for which the theater sold more than 400 ticket packages, Greenfield said. While the cancelations of those weekends amount to big losses, she said she could not put a dollar amount on those.
"Are You There?" by Vivian Barnes, Jonathan Norton and Gab Reisman, and Jeff Augustin's "Where the Mountain Meets the Sea" streams through April 20, with the theater charging a sliding ticket price of $15 to $100.
Patrons looking to stream Morgan Gould's "Nicole Clark is Having a Baby" won't find that offered. The reason: Gould, after consulting with the cast and stage manager, said she had some negotiations with the theater before telling management, "I can't agree to this unless you pay them throughout their original contract." That cost of covering that contract, she estimated, would have amounted to nearly $10,000.
Actors Theatre's Greenfield declined to discuss the matter.
(See upcoming article for more from Gould and on streaming.)
Now, the theater is rethinking many activities including next season's lineup, announced in early March, and potentially overhauling its education programs, which includes a summer camp.
"We had just announced our season before all of this happened, which did include the first show in the summer musical slot," she said.
That musical, "Chasin' Dem Blues: The Untold Story of Paramount Records," originally set to open in June, could be scratched among other announced plays.
"There's hope for 'Grace.' There's hope for 'FLEX,'" she added, referring to two Humana Festival productions that never opened. "We're hoping to be able to announce all that soon."
Last month, the pandemic also forced the cancelation of the theater's annual New Voices Young Playwrights Festival, the product of its new play contest for high school students performed by the theater's Professional Training Company.
That company's members — acting, technical theater and artistic administrative trainees — worked on "Are We There?" and were slated to be a large part of producing The New Voices Young Playwrights Festival. When the Humana Festival closed, they were released from the program and received the remainder of their stipend, Greenfield said.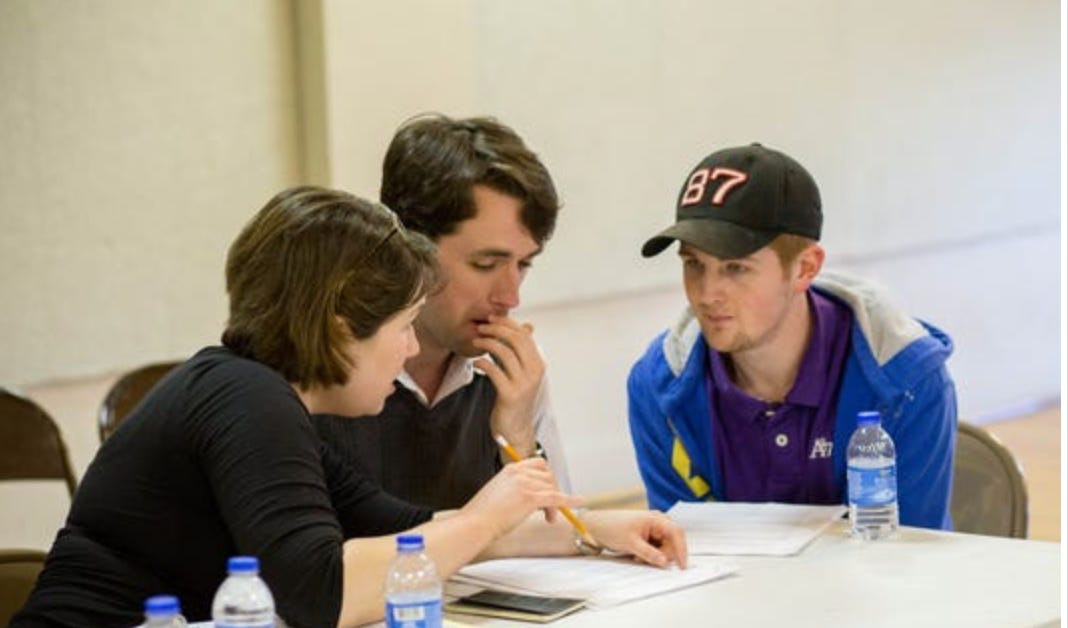 Theater staff and Professional Training Company member working with student playwright as part of Actors Theatre of Louisville's 2016 New Voices Young Playwrights Festival. | Photo by Jes Childress. Courtesy Actors Theatre of Louisville.
Now, the education department is looking at incorporating the eight plays from The New Voices Young Playwrights Festival into a summer camp for ages 13 to 18 and at teaching the camp virtually via Zoom. This is the plan if conditions don't allow people to gather this summer, said Erica Denise, director of learning and creative engagement. The original plan included producing the musical "Sister Act," and the theater will follow that curriculum, she said, if the theater knows by late May that people will be able to convene.
Producing theater while social distancing has Actors Theatre thinking about carrying out their functions in new ways, said Denise and Greenfield.
The theater is still working to book schools for matinees next season, Denise said. But new experience from this pandemic could signal a big shift for her department's work.
"Virtual teaching might become our new normal when all this is over," she said.
Greenfield said the virtual realm is ripe for exploration.
"We're working really hard right now to figure out what is theater's place in the real world and the virtual world for this next season," she said.
That exploration, she said, is important, particularly, as theaters will be dealing with "the market's appetite to assemble publicly" that will likely be unpredictable going into the next season — "especially if we are in an economic recession or depression."
Meanwhile, Greenfield added, Actors Theatre will be "shoring up the expenses for now and then seeing new innovative ways of sharing theater."