Governor's School for the Arts goes virtual; Organizers tap into inventive inspiration
Incoming students, while disappointed, eager to meet creative peers, instructors
• If you enjoy articles about regional arts and creativity, share them and/or sign up.• 
By Elizabeth Kramer

"We've really tried to dream big," said Nick Covault, director of Kentucky Governor's School for the Arts and a 2002 program alumnus. "We're trying to think what we can do because of this — not what are we losing because of this."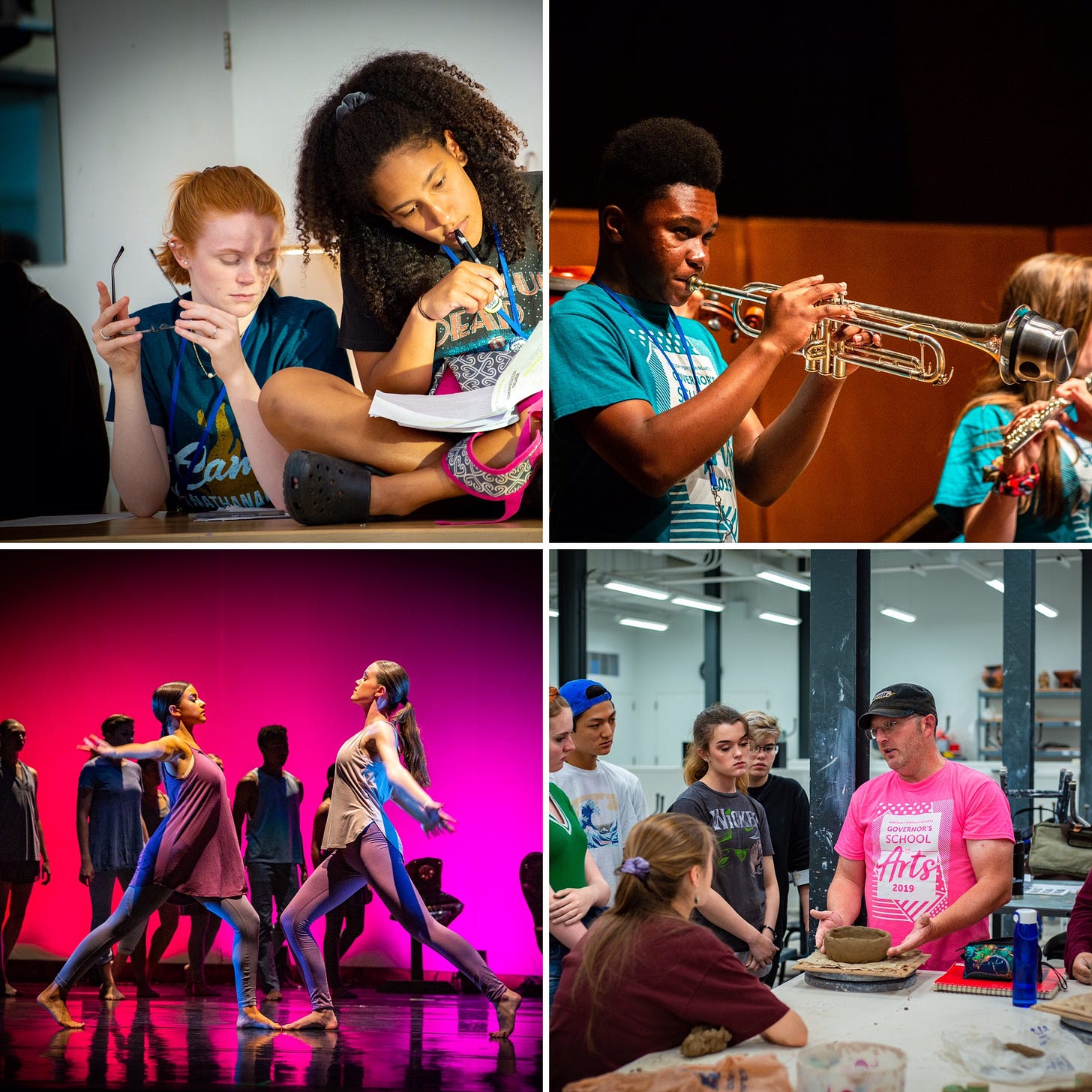 Images captured during the 2019 Governor's School for the Arts at University of Kentucky. Photos by Ed Boomershine. Courtesy Kentucky Performing Arts.

"This" is convening  Kentucky Governor's School for the Arts virtually June 29 to July 17 — during the COVID-19 pandemic — rather than as planned at the University of Kentucky. GSA made the announcement last Thursday.

Part of the "big" Covault talked about includes having several nationally known guest artists to participate virtually in the program — people who GSA would not have been able to fly to Kentucky under normal circumstances.
Other Arts Bureau Articles
• First YPAS choral teacher, leader in Louisville's music community, dies
• Artists working in Kentucky among 2020 Guggenheim Fellows
GSA, inaugurated in 1987 by The Kentucky Center (now Kentucky Performing Arts), operates through a public/private partnership involving The Commonwealth of Kentucky and numerous private supporters.

In April, GSA accepted more 256 juniors and seniors from across Kentucky into the program. Those students received invitation letters sent out on April 1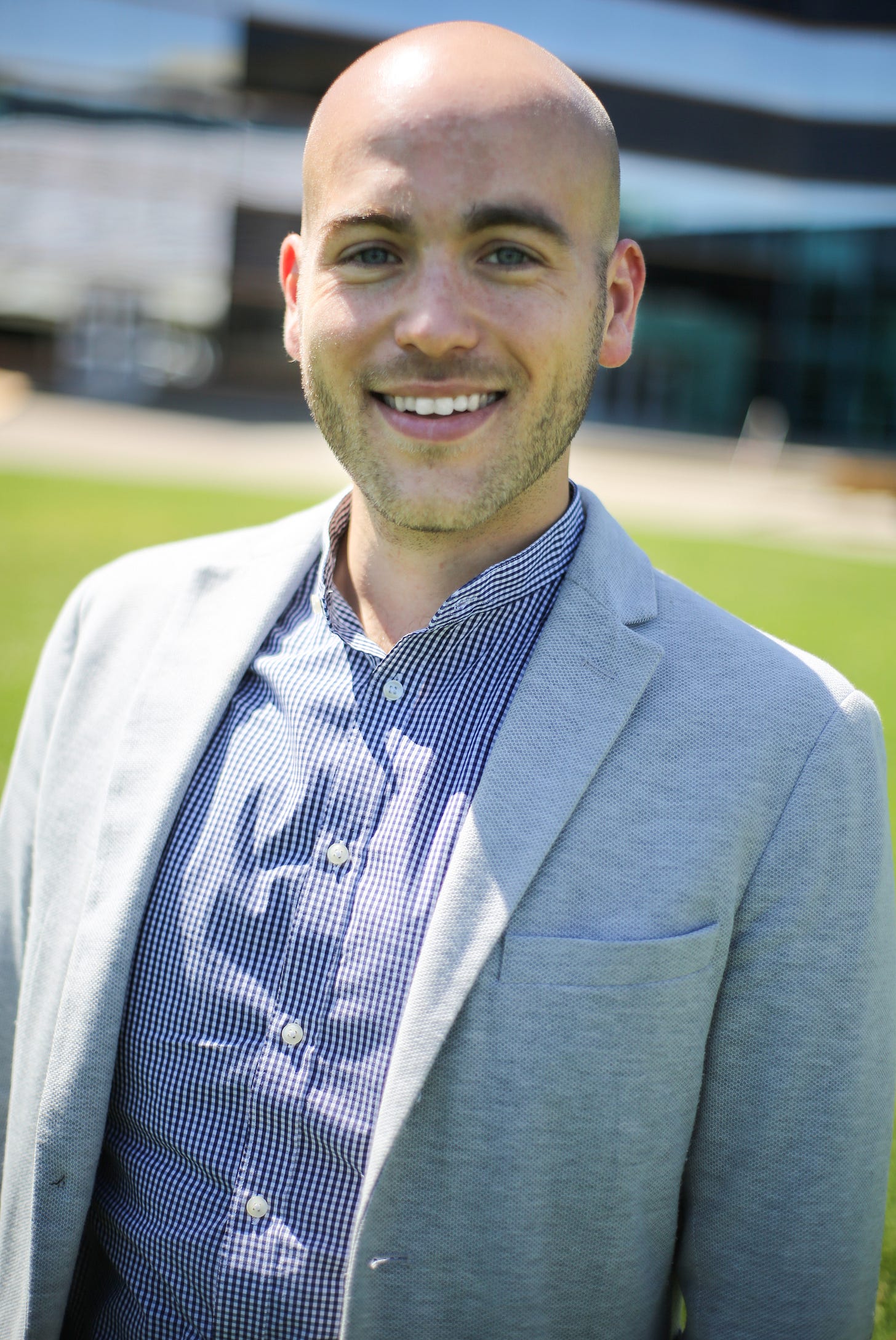 Director of Kentucky Governor's School for the Arts Nick Covault. Photo courtesy Kentucky Performing Arts.
But those letters didn't include the typical annual phrase "see you on campus," said Covault, because when they were delivered the staff didn't know if that would be an option. So, students were left waiting for details and given the option to delay their decisions. Now, they know.
"It's still good we are getting this opportunity. I'm glad they found a way to work around the constraints of the coronavirus," said Ike Harrell, a Dupont Manual High School/Youth Performing Arts School junior and bassoonist accepted to the program. "Of course, it's disappointing because it was going to be so exciting to go and live on campus for three weeks and play."
Like its traditional format, GSA's staff, including faculty and resident advisors, will be part of this year's virtual version with its daily seminars, creative projects, masterclasses and lectures covering the nine disciplines of architecture and design, creative writing, dance, drama, film and photography, instrumental music, musical theater, visual art, and vocal music.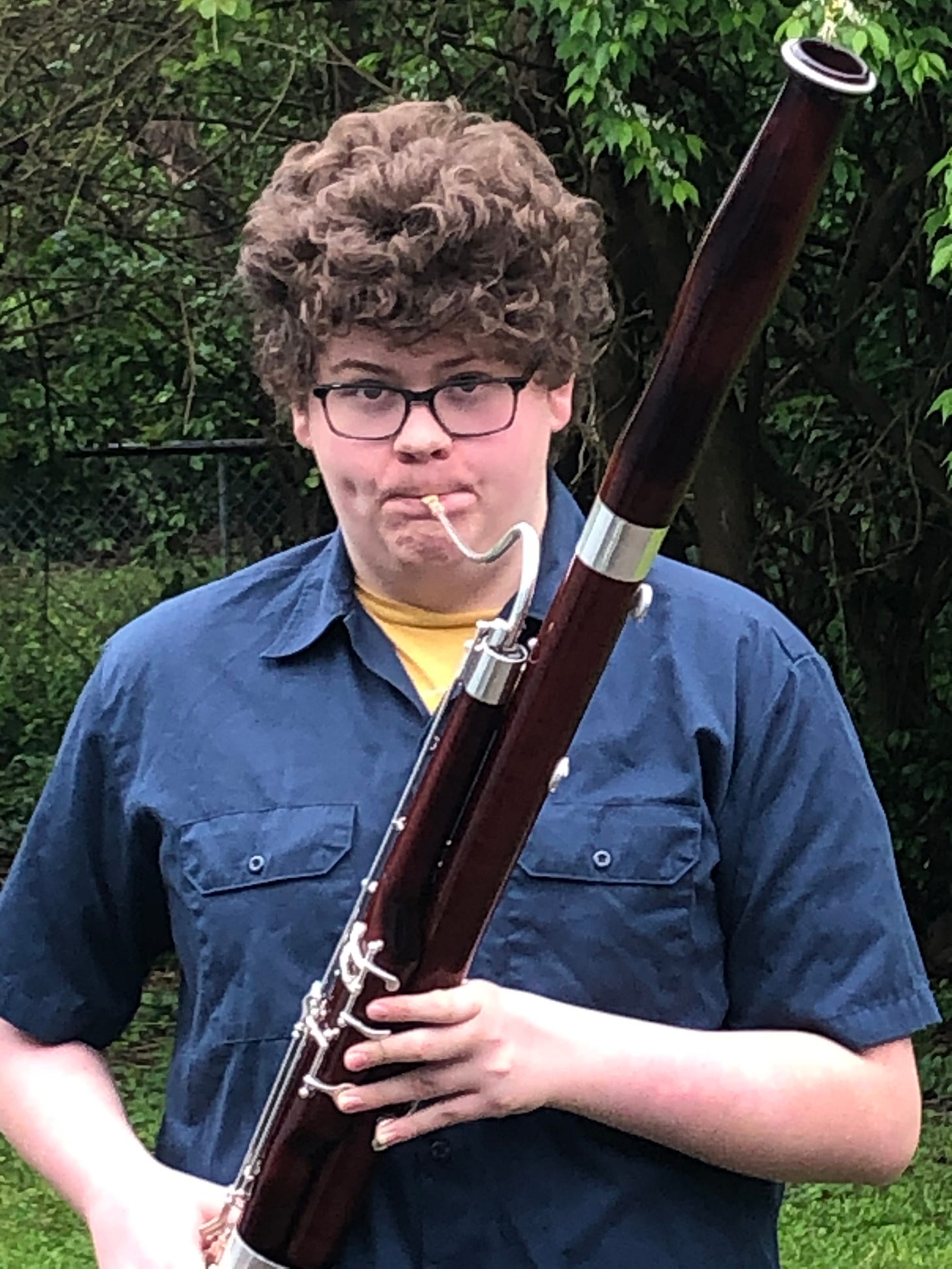 Dupont Manual High School/Youth Performing Arts School junior and bassoonist Ike Harrell plans to attend this summer's Governor's School for the Arts.
Those masterclasses and lectures often include guest artists and GSA has an artist-in-residence — a role musician Harry Pickens has filled since 2006. During past GSAs, he has performed the opening and closing ceremonies, dropped in to participate in events and conferred with students.

Pickens, who returns as artist-in-residence this summer, sees GSA as a "homecoming" that doubles as an immersive, professional-level training experience.
"This is often the first time students are with a community of their peers and around other kids who are as weird as they are in their commitment to an art form," he said.
That is specifically what excites A'Taijah Burrus, an Academy at Shawnee junior and poet invited into the creative writing program.
"I've been in a few slams. But I get most of my feedback online," she said.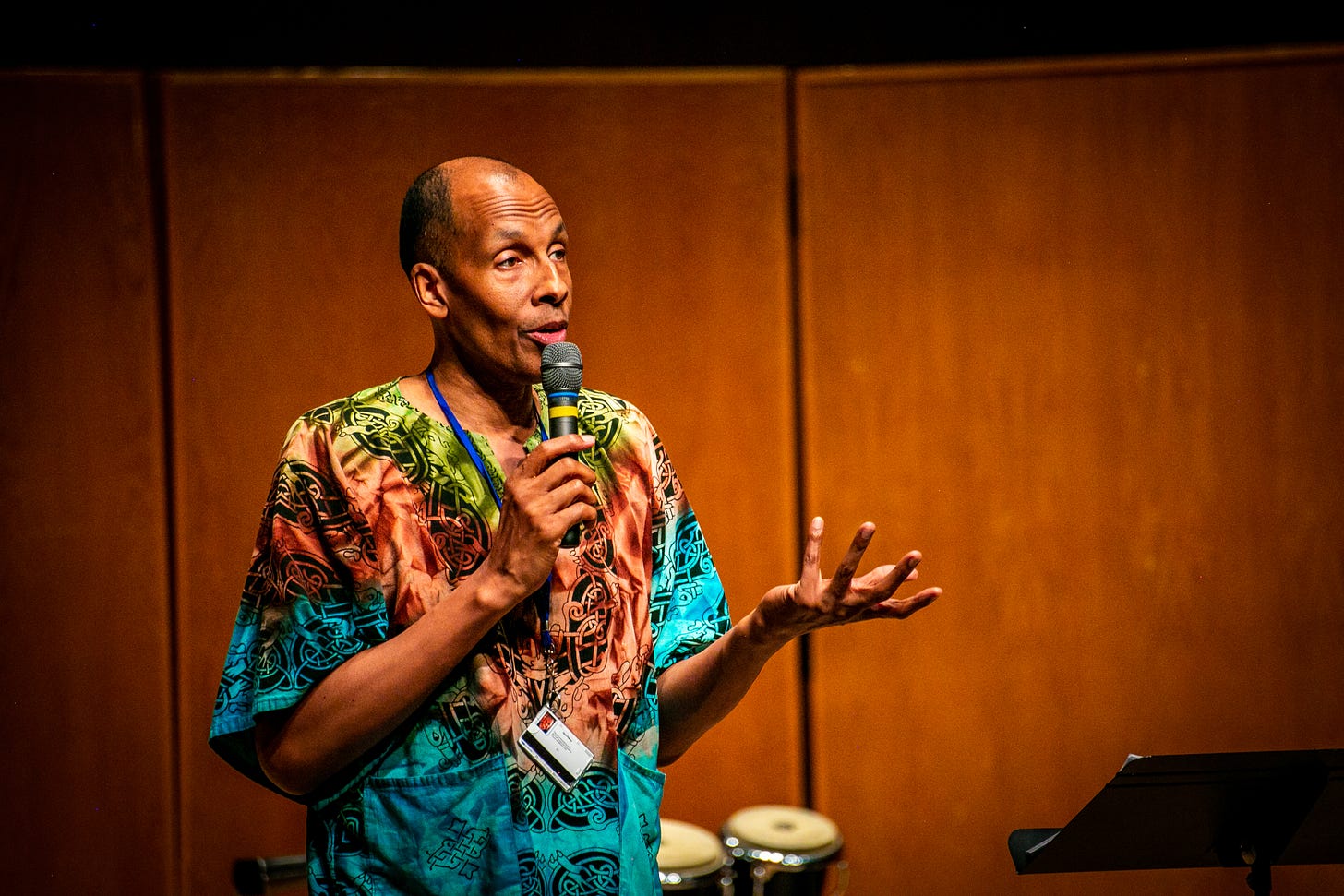 Artist-in-residence Harry Pickins at the 2019 Governor's School for the Arts at University of Kentucky. Photos by Ed Boomershine. Courtesy Kentucky Performing Arts.
Burrus has honed her art primarily through performing her spoken word poems in solitude at home, recording them and getting feedback from friends. But she longs to meet others her age who write a lot and get guidance from instructors.

The young writer said she feels "like everything is better when it is in person" and will miss seeing the art performances that are usually scheduled nightly in a space with others. But she trusts those running this year's GSA.
"I'm sure it will be well organized where we will get a good experience," she said.
As the team is working to achieve that, some are finding they are looking to apply their own professional experiences working virtually to their work with GSA. Since the pandemic resulted in social distancing, Pickens has attended two conferences via Zoom. At times, he said, he was "astonished" at how close he felt to people and believes that GSA's use of virtual mediums will require careful attention to maintain intimacy and integrity in instruction and communication.

He envisions during the upcoming GSA he will likely be able to connect more personally with more students.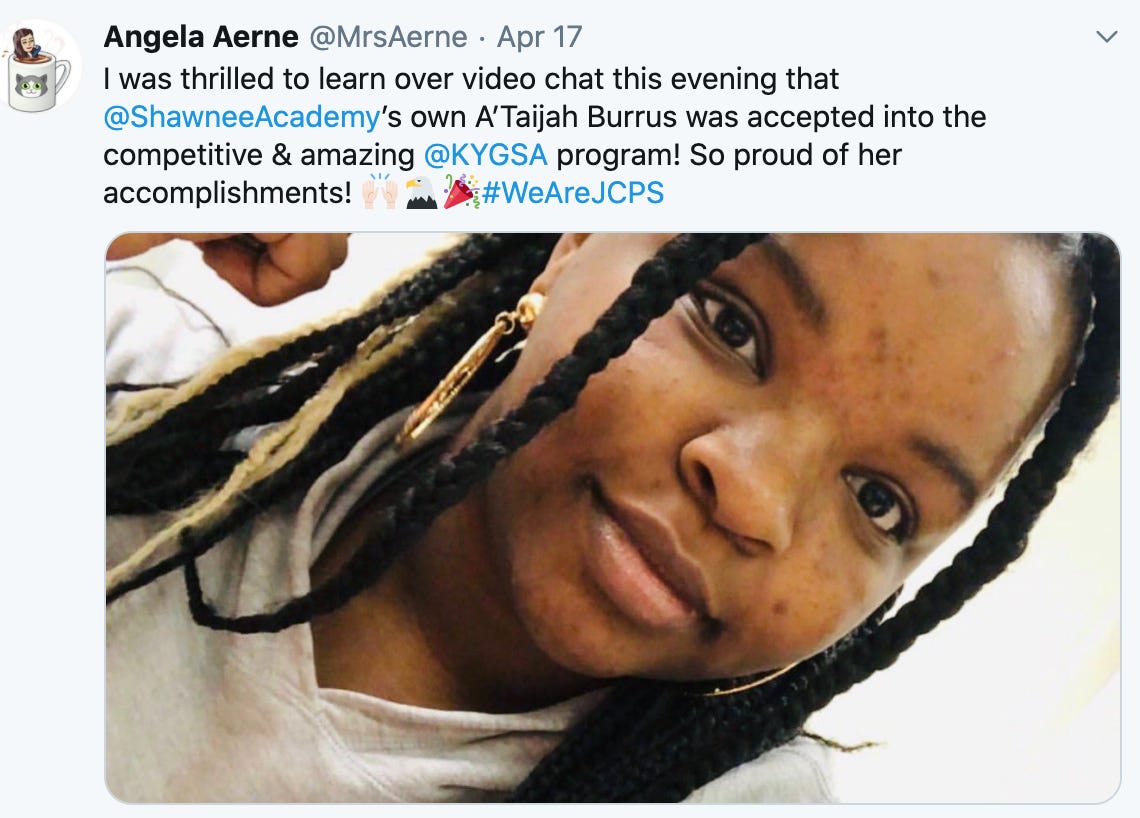 A Twitter post for Academy at Shawnee junior A'Taijah Burrus from her teacher congratulating her on her invitation to this summer's Governor's School for the Arts.
Interaction remains a key focus for several organizers, including Pickens, who appreciates that hosting GSA virtually gives organizers the ability to include guest artists from anywhere in the world. Covault also said the team is working to find ways to use technology to arrange for participants to socialize and get to know each other as well as the team members.

Although Covault couldn't give any names of guest artists yet, he said his administrative team and faculty have been already working on that and "brainstorming programming with faculty to figure out models."

That includes the format and figuring out which technology to use, as they consider Zoom and the online learning management system Canvas. GSA also wants to ensure participants have access to technology and has sent out a survey to students covering several subjects including access to technology and internet connection.
Other Arts Bureau Articles
•  Social Distancing Quartet takes music to social media during time of COVID-19 
•  Actors Theatre pivots, streams, explores virtual experiences, reworks next season
•  Kentucky Shakespeare | Working to salvage education program, income generator
"We're getting a snapshot of what their challenges are," said Covault, adding GSA might ask certain partners, particularly those with technological expertise, to help these participants. "They deserve the privileges that go with being part of this program."

While UK is not physically hosting GSA this year, in a statement College of Fine Arts Dean Mark Shands emphasized the institution is undertaking the role of "virtual hosts" for the event.
"We're really glad the program didn't outright get canceled as many gathering events have," said Theresa Bautista, a GSA dance faculty member since 2004 who also teaches dance at UK and Louisville Ballet School. "It is not going to be the same experience, but the faculty and staff are really committed to giving the students the GSA experience as much as possible."
Dance faculty member Theresa Bautista (right) at the 2019 Governor's School for the Arts at University of Kentucky. Photos by Ed Boomershine. Courtesy Kentucky Performing Arts.
As a dance teacher, she has already immersed herself in online instruction. She has discovered different ways students learn via video as well as what kinds of projects work better in the virtual world. She and her colleagues also are thinking about the lineup of guest artists for the dance students.
"We're looking at guest artists who can talk about different ways of using dance in various careers," she said. "There is a lot of anxiety and stigma about being an artist, but it can be overcome by working smart. So, we are thinking about what that means in planning a future."
In the short-term future, 16-year-old bassoonist Harrell said he really hopes to be able to work closely with faculty members and his peers.
"It's all a little confusing," he said of the GSA's initial roll-out in the midst of a pandemic, "but I trust GSA to get a good experience — the social and creative connections."
GSA: By the Numbers
Duration:              3 weeks | June 29 to July 17
Students invited:          256
Budget:              $180,000 (Originally slated for 2020.*)
Faculty:              29
Residential advisors:          16
Intern:                  1
Administrative staff:          3
Mental health consultor:     1
Artist-in-Residence:          1
* Funded through Kentucky Governor's Office and the Kentucky Tourism, Arts and Heritage Cabinet, as well as The Kentucky Center Endowment Fund, Toyota Motor Manufacturing, and more than 300 corporations, parents, educators, alumni, and friends of GSA.