Speed Museum's Contemporary Curator to Depart for Denver's Contemporary Art Museum
Highlights of Miranda Lash's six-year tenure include the exhibit "Southern Accent," bringing new works by diverse artists to the museum's collection
• If you enjoy articles about regional arts and creativity, share them and/or sign up.•
By Elizabeth Kramer
The Museum of Contemporary Art Denver announced Thursday that Miranda Lash, the current curator of contemporary art at The Speed Art Museum, will start as the institution's chief curator on September 14. The Speed Art Museum announced her last day will be August 11.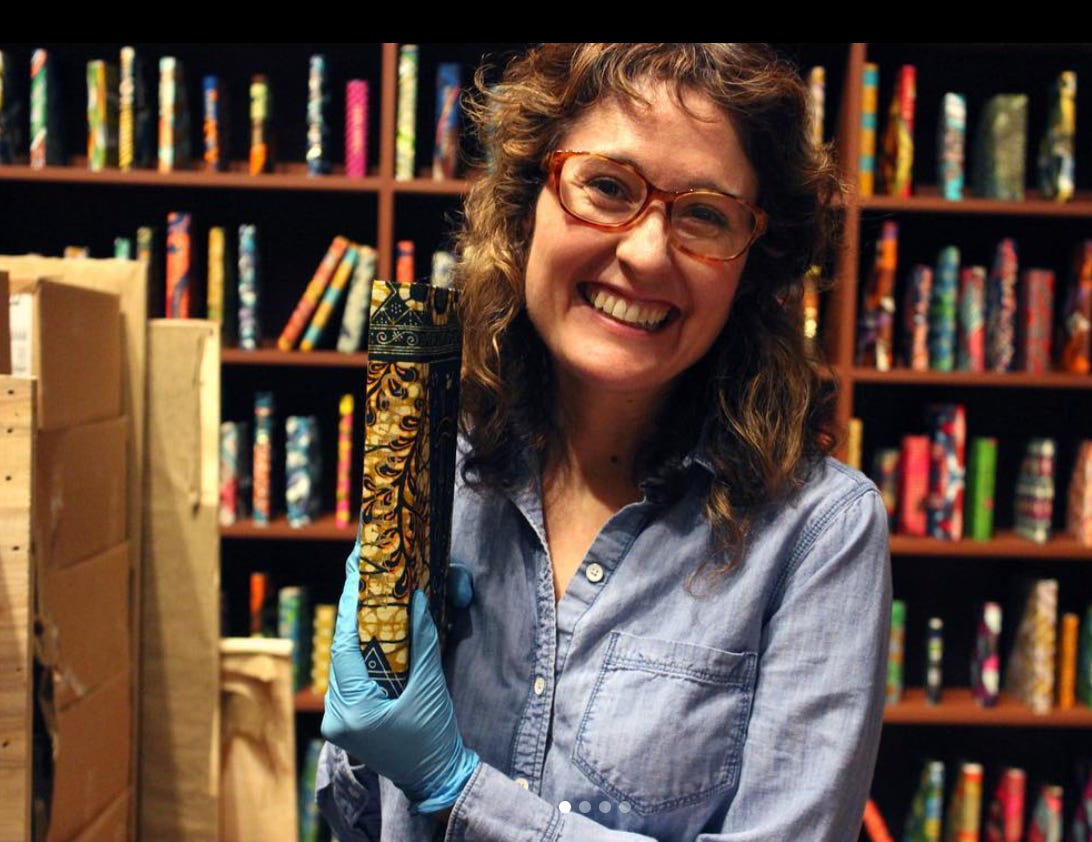 The Speed Art Museum Contemporary Art Curator Miranda Lash during the installation of the "The American Library" by Yinka Shonibare CBE, a collaboration with 21c Museum Hotels, in 2019 @speedartmuseum on Instagram.
This is the first departure of a curator since 2016 when The Speed Art Museum reopened after a major renovation and expansion.
Coincidently, Narni Ward's massive sculpture "We The People," which uses shoelaces to spell the phrase out in calligraphy and that the Speed acquired for its collection in 2016, is currently the showcased as part of an exhibition at at Denver's Contemporary Museum of Art. The museum has brought even more attention to the artwork by wrapping its building in vinyl with an image of the sculpture.
The sculpture was among more than 120 works in "Southern Accent: Seeking the South in Contemporary Art" — the 2017 exhibit Lash co-curated with Trevor Schoonmaker.
Other Arts Bureau Articles
• Reporters Covering Virtual Kentucky Governor's School for the Arts
• Actor in video using the Bard's words illustrate outrage over Floyd's murder
• Kentucky Governor's School for the Arts goes Virtual
That exhibit heralded Lash's curatorial voice in Louisville and what the museum's director, Stephen Reily, called the "new" Speed as it was unveiled just a year after the museum's grand reopening. Reily said Ward's "We The People" has been touring to other venues since the museum purchased the work for its collection — accentuating the reputation of The Speed.
Following Lash's 2014 hiring from the New Orleans Museum of Art (where she had worked as curator of modern and contemporary art since 2008) "Southern Accent" and other shows that followed put Lash's expertise on display.
"Southern Accent," Lash said, "encapsulates what I aspire to be as a curator, which is someone who pursues difficult questions with care, nuance, and sensitivity."
The exhibit included works by 60 artists, many of them southern and more than half of them artists of color. Among them were Thornton Dial, Barkley L. Hendricks, Ebony G. Patterson, Hank Willis Thomas, and Kara Walker.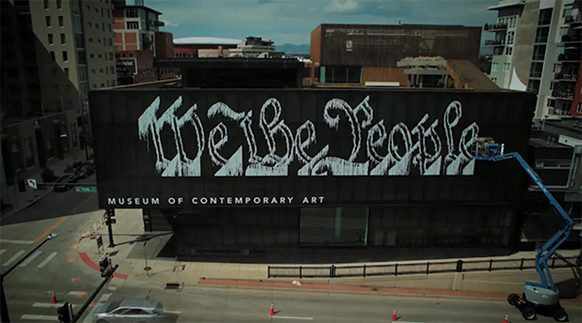 Denver's Contemporary Museum of Art wrapped in an image of the sculpture of Narni Ward's "We The People," an artwork that is part of The Speed Art Museum's collection and currently on display there. Courtesy Stephen Riley.
She said she also is proud of bringing specific exhibits to the museum, specifically the solo exhibit "Keltie Ferris: *O*P*E*N*" (October 2018 to February 2019), featuring the works of the Louisville artist who now lives in Brooklyn and another show, "…while the dew is still on the roses…" with multi-media works by Ebony G. Patterson, the Jamaica-born artist who taught at the University of Kentucky. The latter exhibit that showed from June 2019 until January was organized by Tobias Ostrander and augmented by additional works.
Lash also worked with 21c Chief Curator and Museum Director Alice Gray Stites to bring to the museum British-Nigerian artist Yinka Shonibare's installation "The American Library" with its 6,000 books covered in colorful Dutch wax printed textile and shown with additional works by the artist. That exhibit celebrated immigrants' contributions to this country and included a naturalization ceremony in the museum.
"I'm deeply proud that people became citizens in our building," she said. "That makes me so happy."
Other Arts Bureau Articles
• StageOne Family Theatre names Andrew Harris new producing artistic director
• First YPAS choral teacher, leader in Louisville's music community, dies
• Artists working in Kentucky among 2020 Guggenheim Fellows
Lash added that she appreciated working in a museum being situated on a university campus, where she had resources such as the Anne Braden Institute (for Social Justice Research) and professors "within arms-reach."
But she learned lessons beyond the University of Louisville campus.
"Louisville taught me if you don't have all the answers, bring in collaborators. Don't be afraid of what you don't know," she said.
Reily complimented Lash's skill in collaborating with colleagues — inside and outside the museum — to realize thought-provoking exhibits and events. Reily cited her and museum curator of film, Dean Otto's work in curating the 2018 exhibit "Bruce Conner: Forever and Ever," which organized film, drawing, painting, photography, printmaking, and other works from those gifted to the museum by the Conner Family Trust. He also listed Lash's work with 21c Museum Hotels' Stites.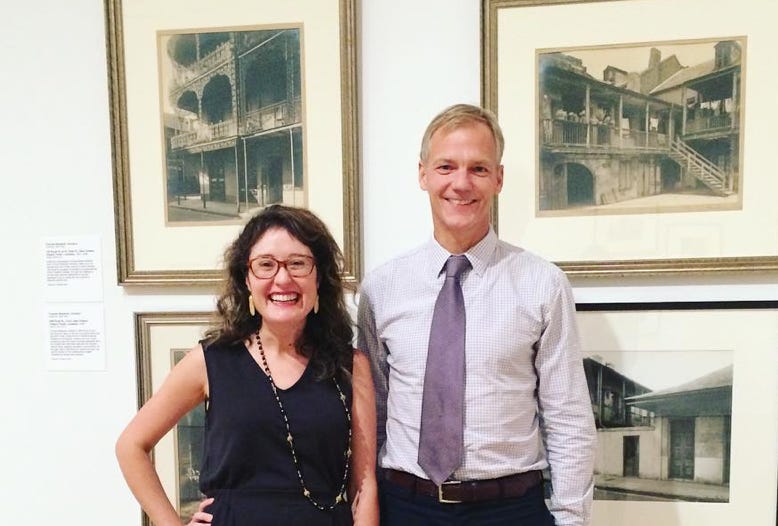 The Speed Art Museum Contemporary Art Curator Miranda Lash and Director Stephen Riley. Before Riley became director, Lash curated "Southern Elegy: Photography from the Stephen Reily Collection, which was exhibited March to October 2017. @speedartmuseum on Instagram.
"She'll be missed, and she'll be a great addition to Denver," Stites said. "Her work embodies a spirit of collaboration and generosity that is rare and deeply appreciated."
Moreover, Stites spoke of the "vitality and credibility" Lash has brought to The Speed Art Museum and to Louisville overall.
"She had furthered this city as a destination for art lovers and enthusiasts and also as a place where artists would want to pursue their practice," Stites said. "When you have curators as curious as Miranda Lash — collectors, other curators and artists flock to learn and to help nurture vibrant artistic communities."
Lash has forged affiliations with many local artists and gotten to know their work in part through studio visits. She said that is one of the highlights of her own work.
"Studio visits are deeply centering for me. I met so many great artists in Louisville," she said.
Lash spoke of Tiffany Calvert and Letitia Quesenberry, whose work Lash curated in an exhibit at Zephyr Gallery; Brianna Harlan's work rooted in community advocacy; Jaylin Stewart, whose portrait of Breonna Taylor was projected onto on Louisville Metro Hall on Taylor's birthday last month; and the work by Andrew Cozzens and Joyce Ogden, both faculty at Kentucky College of Art and Design. She also spoke of the work of Vian Sora, a Louisville artist who came from war-torn Iraq, which The Speed Art Museum has purchased for its collection.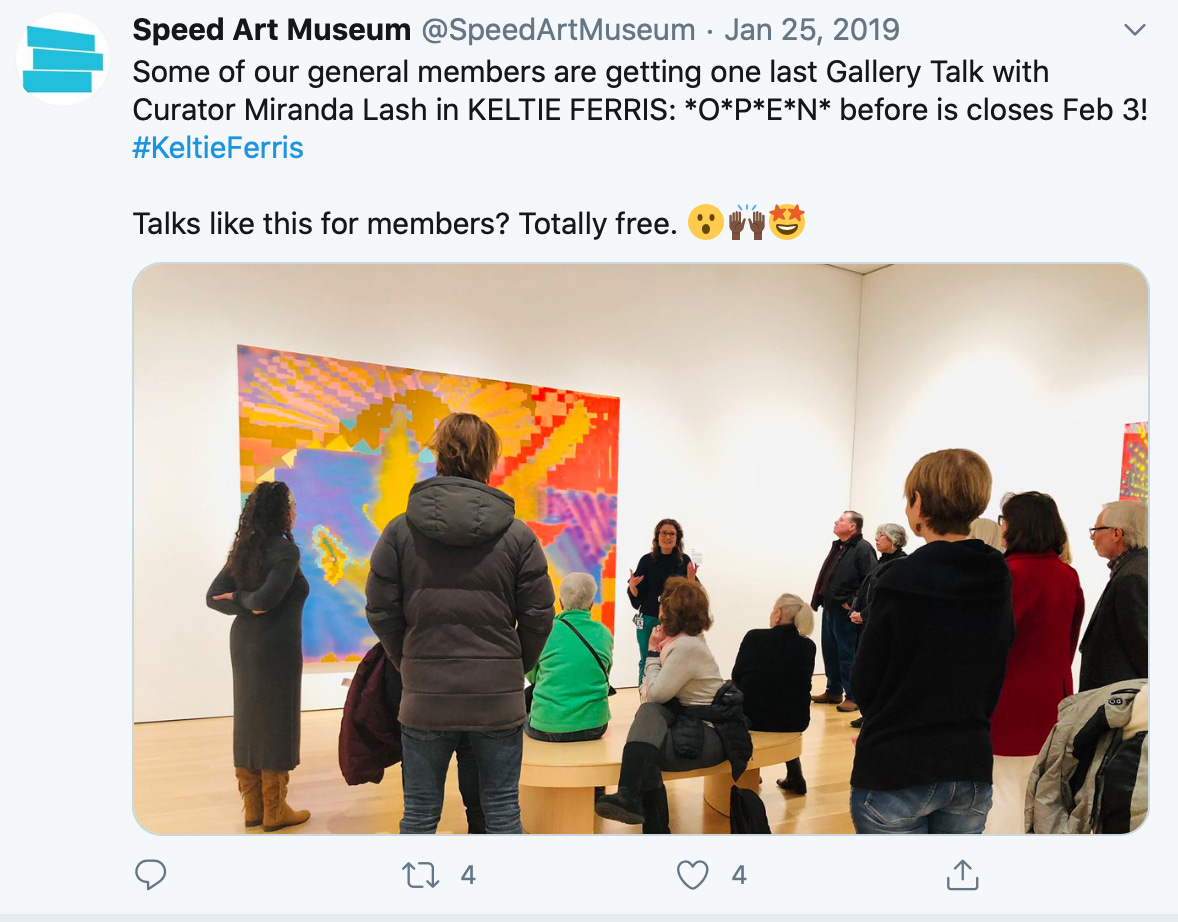 A post on Twitter @SpeedArtMuseum with Contemporary Art Curator Miranda Lash giving a gallery talk during the ehxibiton of "Keltie Ferris: *O*P*E*N*."
Reily said Lash has encouraged the acquisition of very subtle but captivating works for the museum's collection that are not "in your face" but works that viewers have to "unpeel." The artists represented include Dario Robleto, whose work is created often using sound, and Tavares Strachan, whose work mines the human connection to science. The Strachan piece, Reily said, "is a neon skeleton that was a beautiful object. It was a story about a woman who had done early research into DNA stolen by Watson and Crick (credited for discovering DNA's ladder structure) and then died from radiation exposure due to her research."
The most recent piece, to be unveiled at the museum in September, is a commissioned artwork by British artist Wolfgang Buttress, whose permanent installation "The Hive" at Royal Botanic Gardens, Kew, in London is controlled by the vibrations of honeybees.
"His work for The Speed is a complicated piece of glass that receives messages from apple trees in England," Reily said.
Riley said The Speed also has other exhibits and events in contemporary art panned out through fall of 2021, which will go on without Lash. While the museum has not yet begun the process of finding a replacement, Riley recognized the important role of a contemporary curator.
"It's critical work to the museum and Miranda has made it more critical than ever," he said.
As for Lash, she said she wants to build on the lessons she learned in Louisville and, like here, work with artists in the Denver region.
Elizabeth Kramer, a multimedia journalist who has worked for newspapers and public radio, was a leading voice on the arts as the fine arts reporter at Louisville's Courier Journal from 2010 to 2017. Her work has aired on National Public Radio and appeared in national publications. Never miss an update.