PART 2: Fund for the Arts | Changing course with arts community during COVID-19 crisis
Interview with Fund for the Arts President & CEO Christen Boone
By Elizabeth Kramer
Note: If you enjoy articles about regional arts and creativity, share them and/or sign up here: artsbureau.substack.com.
Continued from PART 1 here.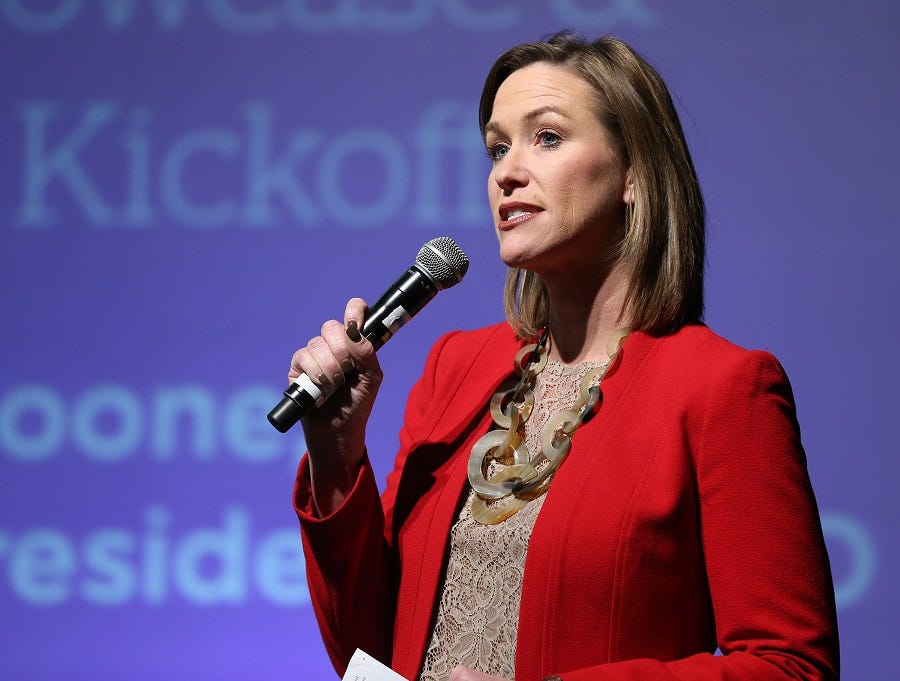 Fund for the Arts President & CEO Christen Boone. Courtesy Fund for the Arts.
What are the key parts of many organizations' contingency plans now?
The challenge for creating a contingency plan in this scenario is that we don't know how long this is going to last. So, I know organizations have eight- and twelve-week plans. They are thinking about that and tweaking it and revisiting with their staff and board to discuss the financials that support those plans so they can keep their organizations solvent.
The next part of those contingency plans looks at when we reopen: How do we do that in a way that rebuilds our organizations and really celebrates our ability to come together again. The arts and culture community is already beginning to explore what those celebrations, large-scale productions and huge community events, will look like. We know that the arts and culture sector is going to be a key part of this community getting together again.
The Kennedy Center President is forgoing her salary at this time after first going to a partial salary. Do you know of other cultural leaders who have taken this kind of step with their own pay?
I think almost everyone. I have had conversations with at almost every organization — and almost to a one — leaders are taking substantial reductions in their own compensation or foregoing it altogether. (Boone said she took a 50% cut in her salary.)
When it comes to other players — Arts and Cultural Alliance, Kentucky Arts Council, Kentucky Nonprofit Network and the Devos Institute of Arts Management — how have relationships with them been of help during this time?
In this time of uncertainty, we have to leverage every resource that we have, and money is only one piece of the puzzle. Louisville's Arts and Cultural Alliance and the Fund for the Arts created cultural task force immediately and have been meeting weekly. A small group of us asks what we know today, what the sector needs this week, how do we coordinate efforts. We know working in partnership creates credibility and urgency in the community.
We're also working with Elevator Artist Resource, to coordinate fundraising efforts, and make sure that when we go out to ask for emergency funds that we have a unified front, message and clear understanding of the sector's needs as a whole.
We're working with the Kentucky Arts Council and want to make sure that the governor hears about the impact and needs of the sector in Louisville and statewide.
Americans for the Arts, our national partner, has been great about sharing information and helping to advocate for the $75 million for the National Endowment for the Arts (included in the recent $2 trillion contravirus relief bill signed by President Trump). Those dollars we hope will be able to flow into the state soon.
Kentucky Nonprofit Network and Center for Nonprofit Excellence have done a great job of advocating at the state level about the needs of nonprofits and increasing unemployment benefits for independent contractors, which includes freelance artists. Center for Nonprofit Excellence provided resources quickly to the nonprofit community around disaster relief funds in the Small Business Administration and charitable guidelines.
The information is coming so fast and furious that we are trying to make sure the cultural community — whether they're organizations or artists — really have the information they need to make the best decisions for their organizations for the short term and going forward.
How has the Devos Institute of Arts Management been a resource? (The Fund organized a two-year management program for area arts groups that began last September.)
I am so grateful that we have had that program in place at this time because every participating organization has a mentor that is a national expert in arts management. I was on the phone with Michael Kaiser (sometimes called "the turnaround king" for his past work at Kansas City Ballet and Alvin Ailey American Dance Theater, among others), the founder, almost immediately that first week. And I was on the phone with the president last week. Next week, we are having a special conference call session where the institute will walk through the program's participants covering what are the things that need to be done immediately but also how do they keep their organizations alive in the hearts and the minds of patrons and the public.
We've been working to help with that by working to develop online content — aggregating content to make sure that our community feels the arts are part of their lives even when they can't come to us.
How did the Fund begin to ramp up construction of a virtual hub of arts content?
As soon as we saw that venues were going to have to close, we knew that we needed to find a way for organizations and artists to serve their mission in new ways. The arts deliver comfort, hope and joy in our everyday lives — and we knew this community was going to need that even more in this period of uncertainty and fear that this crisis brings. That's when we reached out to the Arts and Cultural Alliance and our own funded partners.
It's been so inspiring to see what our artist community continues to bring even during this time.
— This interview was edited for clarity and length.