PART 1: Fund for the Arts | Changing course with arts community during COVID-19 crisis
Interview with Fund for the Arts President & CEO Christen Boone
By Elizabeth Kramer
Note: If you enjoy articles about regional arts and creativity, share them and/or sign up here: artsbureau.substack.com.
Usually, by April 1, Louisville's Fund for the Arts is gearing up its annual fundraising campaign to raise money for Louisville-area arts groups and activities. (Last year's campaign raised nearly $8.1 million.) Normally, now begins a three-month stretch before the June 30 campaign deadline and includes the Fund's big event — Louisville's Awards in the Arts held during Derby Week's Opening Night at Churchill Downs.
But these times are far from usual.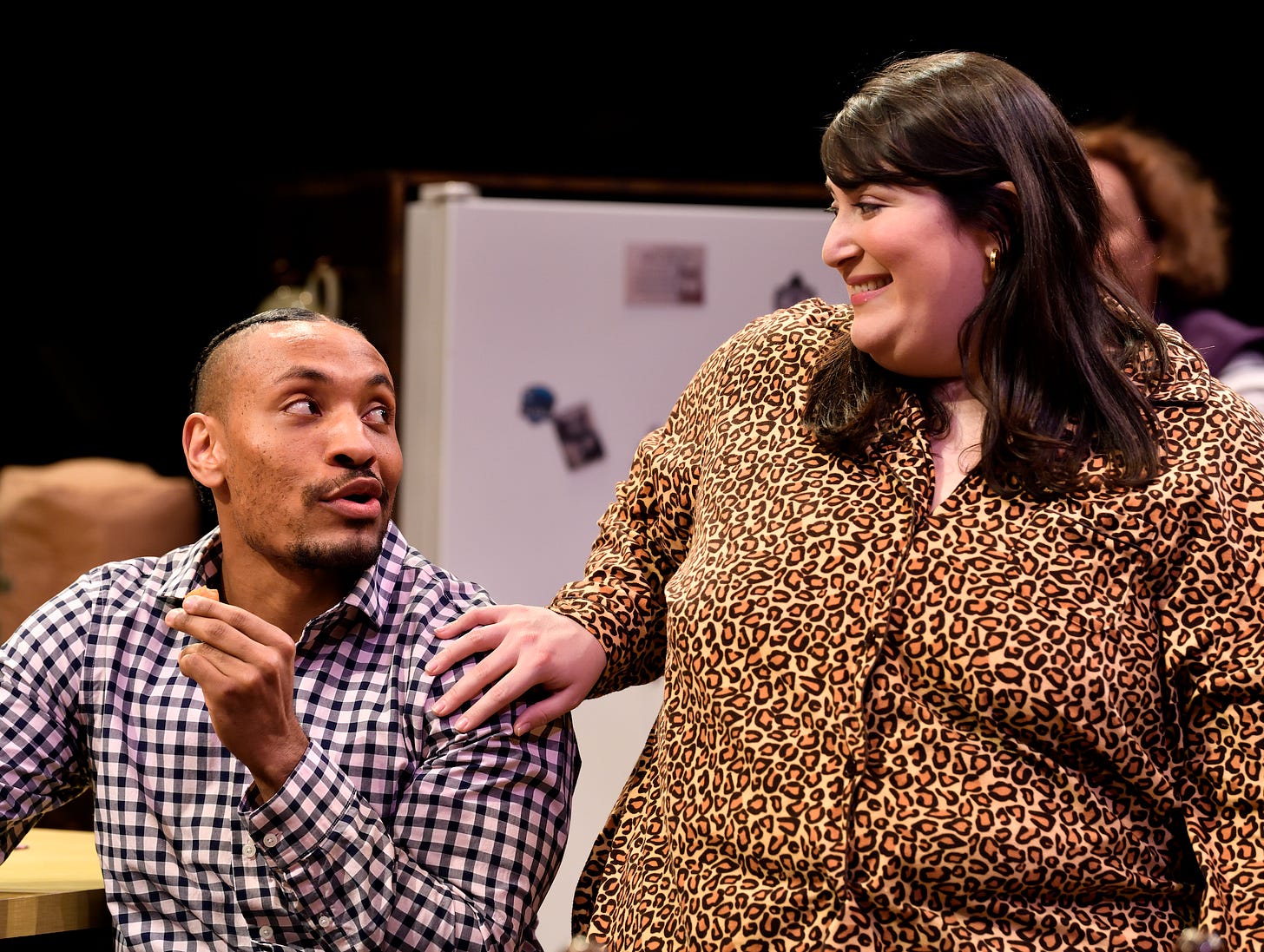 Nicole Spiezio and Deshawn Harold Mitchell in by Morgan Gould's "Nicole Clark is Having A Baby," which had a handful of performances in Actors Theatre of Louisville's Humana Festival of New American Plays before the festival closed. Photo by Jonathan Roberts.
Since society took on strict measures to manage the COVID-19 pandemic in mid-March, the Fund has canceled the event, other groups have canceled their cultural events and art museums have closed their doors adding up to the loss of millions of dollars a week in revenues and expenses.
"This is very severe. The impact of this is very immediate and, depending on how long it takes, the rebuilding will be critical," said CEO and President Christen Boone.
The Fund counts Louisville's Awards in the Arts as its largest fundraiser, usually netting "around a half a million dollars," Boone said. The Fund also is looking at a loss for much of the 40% of its money that comes each year through its regular workplace campaigns where the Fund signs up donors via payroll contributions, which are impeded now.
This year, Boone said, the Fund and the entire cultural community are also working to reimage events and programs as virtual ones and continue to raise money in new and different ways.
"We know right now to be able to just protect core functions and the solvency of organizations — there's going to be through the summer — millions of dollars that will be needed just to stabilize those organizations," she said.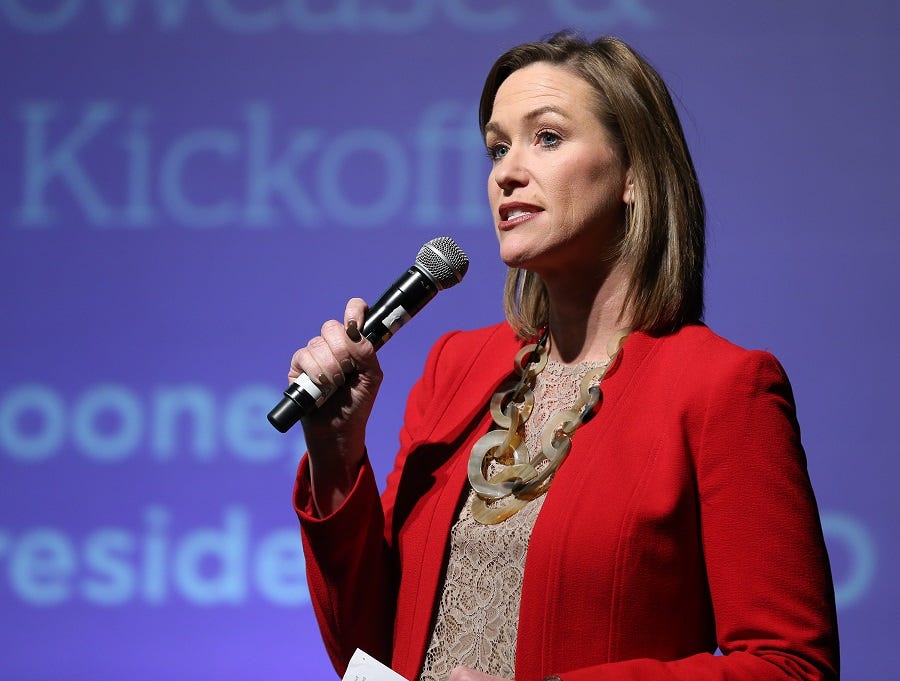 Fund for the Arts President & CEO Christen Boone. Courtesy Fund for the Arts.
The bulk of the Fund's money has historically gone to large organizations such as Louisville Orchestra, Actors Theatre of Louisville, Louisville Ballet and Kentucky Opera but in recent years it began distributing money to other organizations through new grant programs.
Boone and her colleagues at other arts, donor and advocacy organizations have been meeting and conferring for the last several weeks as the need for contingency plans became required.
What were some of the common characteristics of the early contingency plans discussed among the groups?
In that first week what we didn't know is how long this would last. In the very beginning, it was looking like we had to push our work out a couple of weeks or a month. Now, as this continues to unfold, of course, we are looking further into early and even mid-summer.
What are you hearing from the arts organizations about their most immediate needs or concerns?
Everyone's most immediate concern was for their people. How do we help support the people who work for our organizations — the artists, the back-of-house professionals — that make these cultural institutions what they are. So, as each organization — with no income coming in, with their doors closed — they have had to make reductions in staff compensation. Others have had to do the really difficult work of furlough to be able to really dramatically decrease the size of fixed-costs of the organization so that they can make it through the coming months of uncertainty. The additional unemployment (insurance) opportunities that the rules, which federal and the state governments have relaxed, will be helpful, but that doesn't make the situation any less painful.
I don't think I have talked to an organization that hasn't made a reduction in staff — either size or compensation.
How does the recently announced cultural recovery fund work with your annual fundraising initiative?
It is actually a retooling of the annual campaign. So, instead of having an annual campaign that just focuses on the next year's needs, the cultural recovery campaign is focused on the immediate steps and small emergency dollars that can be made available to the cultural sector and raising the dollars for next year's recovery. We also have identified a more extensive campaign leadership, which we will be able to announce by Wednesday or Thursday.
Has the Fund identified the process of distributing the funds yet?
All of this is continuing to evolve. The short-term emergency funds that will be available to organizations — the current plan is that those would be available on a monthly basis. They will be a combination of funds — in this first round opening up this week — that were existing funds that Fund can redirect for this purpose.
We have gone in and looked at all of our special projects and releasing restrictions (previously linked to those dollars) with our donors to be able to use those now. And we will continue to do that. As new dollars are raised in the cultural recovery fund, we will be able to direct dollars on a monthly basis with the balance between the emergency funding needed and the long term.
The challenge is, as this evolves, we can't say right now what dollars will be needed. Right now, we are doing a survey to wrap our arms around what those numbers are. We know the emergency grants won't be able to provide all of those dollars because every organization is going to have the ability to pursue small business disaster relief funds, new dollars coming down from the National Endowment for the Arts (and other sources).
Every organization has to do the hard work and with its own leadership and own board to be able to really get lean and be able to increase stability to weather through this storm. Come the fall, hopefully, or late summer, when we have the chance to reopen our seasons and celebrate as a community together again, then those organizations are able to rebound.
Part 2 continues here.
— This interview was edited for clarity and length.