Video uses Bard's "Merchant of Venice" to illustrate outrage over Floyd's murder; garners social media attention
Actor behind video familiar to audiences of Cincinnati Shakespeare Company, Kentucky Shakespeare, StageOne Family Theatre
• If you enjoy articles about regional arts and creativity, share them and/or sign up.• 
By Elizabeth Kramer
"I think the video helps shed some light on why people are out in the streets right now," said actor Crystian Wiltshire, known for his work with Cincinnati Shakespeare Company, Kentucky Shakespeare and StageOne Family Theatre.
But the video doesn't document a protest or police brutality.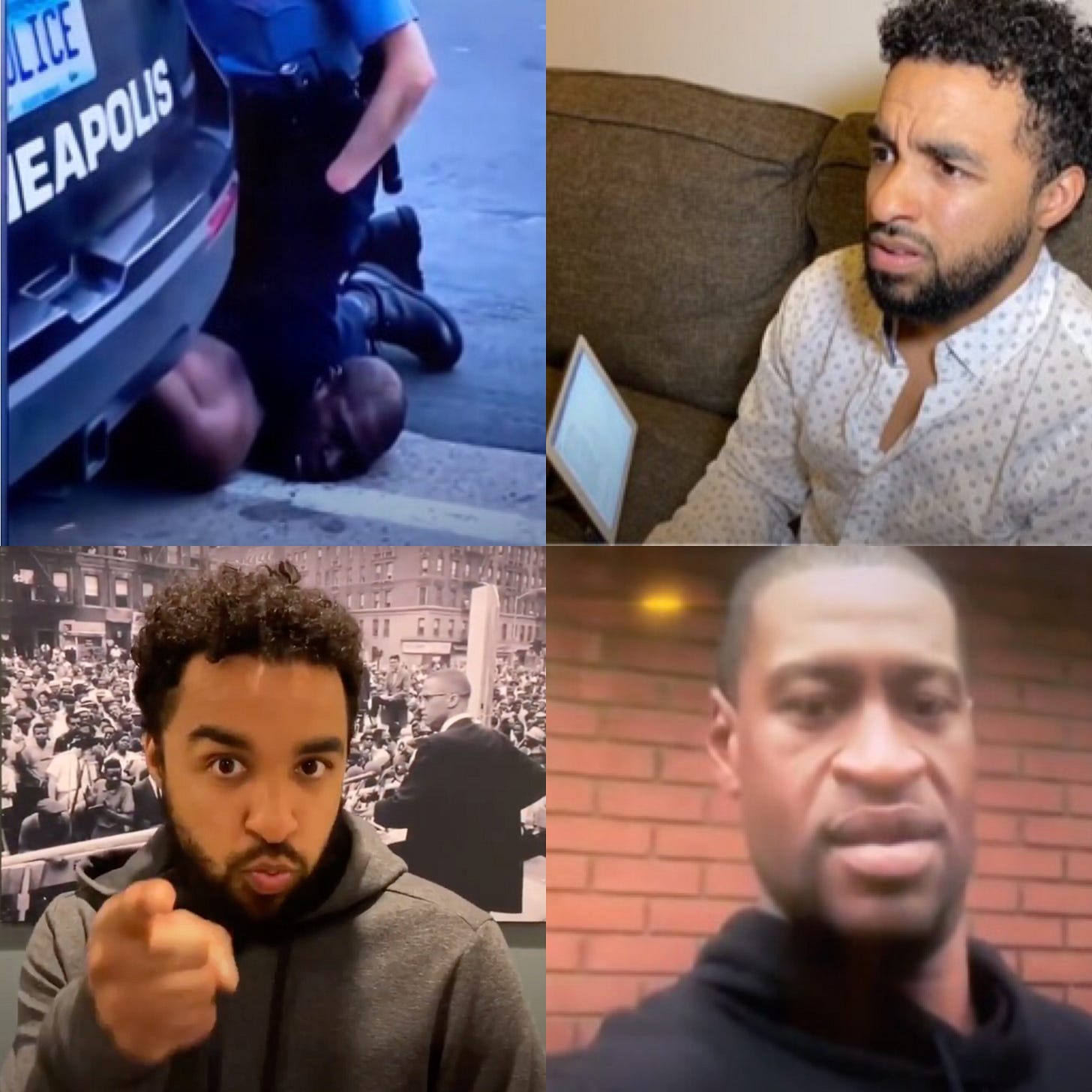 Stills from the video created by actor Crystian Wiltshire (pictured here, upper right and lower left), director Josh Broadway and associate producer Mike Douglas.
Instead, this video adapts a Shakespeare monologue that premiered 415 years ago.
Since last week, that video using text from a monologue given by for the Jewish moneylender Shylock in "The Merchant of Venice" has amassed more than 7,000 views and nearly 1,800 views on Instagram with more on Twitter and YouTube. (Scroll down for video.)
Created by actor Wiltshire along with director Mike Douglas, and associate producer Josh Broadway, this video connects to the current unrest over racism and police brutality.
Wiltshire had been sheltering with Douglas and Broadway in Raleigh, N.C., since April when a few days after George Floyd's death the actor began working with the two on his idea inspired by current events and a production by Shakespeare's Globe with Jonathan Pryce as Shylock, which Wiltshire had seen a few years ago. (The three men have been friends since collage.)
The nearly three-minute video opens with Wiltshire reading a tablet with a voiceover of Shylock's famous monologue "…cooled my friends, heated mine enemies; and what is his reason? I am a Jew. Hath not a Jew eyes? Hath not a Jew hands, organs, dimen…"
Other Arts Bureau Articles
• StageOne pivots with summer camps, new ideas brewing for next season
•  Kentucky Governor's School for the Arts goes Virtual
Suddenly, a news reporter's voice on a television in the room distracts Wiltshire's reading and echoes: "A bystander's cellphone video captured the incident Monday night. A Minneapolis officer pinner George Floyd face down, pressing a knee into his neck."
During this segment, Wiltshire wears a button-up shirt with casual pants. After the news report, the mood clearly shifts and the actor appears in a hallway with a hoodie. Here, he performs Shylock's monologue, but replaces the word "Jew" in the original text.
"I am a man. Hath not a black man eyes? Hath not a black man hands, organs, dimensions, senses, affections, passions?" he implores.
The three creators of the video discussed the details of this mood shift, even down to the clothing Wiltshire wears.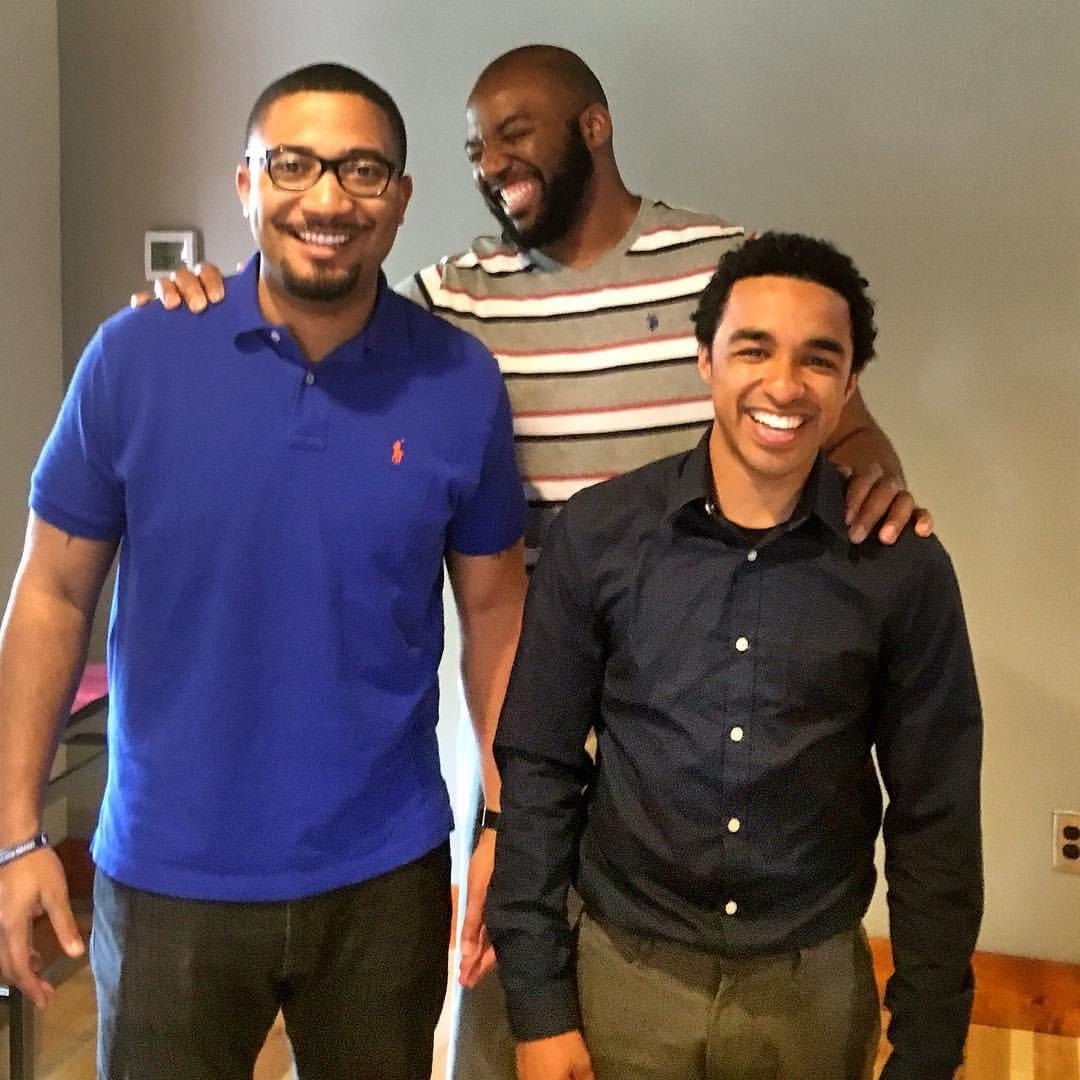 Creators of the video: Director Mike Douglas, associate producer Josh Broadway and actor Crystian Wiltshire, who conceived the video using Shakespeare's text from "The Merchant of Venice." Photo courtesy Crystian Wilshire.
"I have to put on a hoodie to get out and do something about this," said Wiltshire, crediting Douglas and Broadway with the idea of the wardrobe change.
It all goes to show, said Wiltshire, that "without seeing what is happening in this country, I would have continued to sit on the couch."
The team also worked out the props for the shoot, such as the posters in the hallway, one with the image of Malcolm X. After the credits is the dedication: "In Memory of George Floyd."
Wiltshire first began to talk about making videos using Shakespeare addressing current subjects with Cincinnati Shakespeare Company Artistic Producing Director Brain Isaac Phillips after the company canceled closed public performances. Crystian has been a regular actor in the company's ensemble for nearly five years and a cast member of productions including "A Midsummer Night's Dream," "The Tempest," "Fences," and "All the Way."
Other Arts Bureau Articles
•  First YPAS choral teacher, leader in Louisville's music community, dies
•  Artists working in Kentucky among 2020 Guggenheim Fellows
Phillips said Wiltshire has created two other videos, but when he saw this one based on Shylock's monologue, his first thought was, "This needs to be out there right now."
Wilshire and his crewmates went ahead and uploaded the video to social media platforms after creating it in iMovie.
While this video differs from Wiltshire's acting work on the stage, he said the purpose of both are the same.
"My mission as the actor — in the midst of a pandemic or not — is to hold the mirror up to nature. That job never ends for me," Wiltshire said. "I have to tell a story that is relevant and entertains at the same time. This platform of creating virtual content is the best way for me to do that right now."
Broadway said the news media often has its own particular lens art and that theater and art can provide different lenses or perspectives into seeing and understanding events. Art, he said, can help illustrate "what we are going through now…in a way that can make an impact."
The video with Crystian Wiltshire. YouTube.
Broadway added he hopes activist art, like this, can help defeat the racism people are seeing, which he said, "we've been dealing with for way too long."
Other videos are in the works. Phillips hopes to have eight to ten videos ready for the company to release this summer. The ultimate goal, he said, would be to have videos that use speeches from every 38 plays in Shakespeare's cannon and tie each to something happening right now.
Phillips has confidence in Wiltshire's skills as he takes these steps into creating theater in the virtual realm.
"I've seen in him a hunger to create and be more than just be an actor with the company," he said. "He's looking to contribute more to Cincinnati Shakespeare and our industry as a whole."
During this pandemic, Wiltshire said he still yearns to work on stage and in rehearsals.
"I miss the live theater rehearsal process with hours of work dedicated to a monologue, trying out different angles," he said. "But for me, this (making videos) is going to be how I continue to express myself."
Elizabeth Kramer, a multimedia journalist who has worked for newspapers and public radio, was the Louisville's leading voice on the arts as the fine arts reporter at Louisville's Courier Journal from 2010 to 2017. Her work has aired on National Public Radio and appeared in national publications. Never miss an update.