StageOne Family Theatre names Andrew Harris as new producing artistic director
Pick of theater's 20-year veteran comes five months after departure of former leader Idris Goodwin who left to become director of Colorado Springs Fine Arts Center
• If you enjoy articles about regional arts and creativity, share them and/or sign up.•
By Elizabeth Kramer
Nearly five months after former Producing Artistic Director Idris Goodwin unexpectedly announced his departure, StageOne Family Theatre's board of directors named Andrew Harris to the position after a unanimous vote.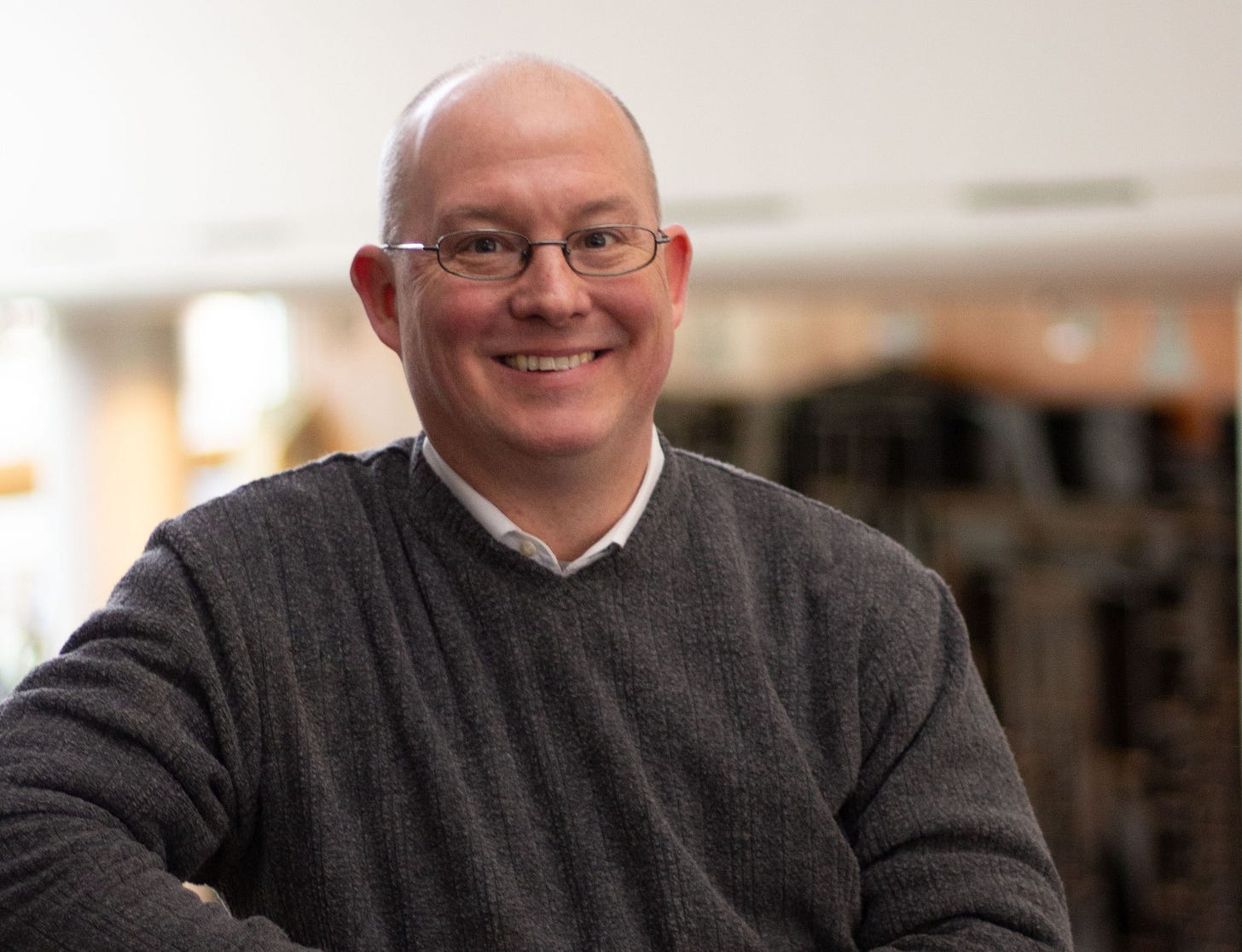 Andrew Harris, the Stage One Family Theatre's new producing artistic director. Photo courtesy Stage One Family Theatre.
Board President Jonathan Riehm said Harris showed leadership as interim artistic producing director since February and particularly after closures of public events caused by the pandemic.
"It showed us what kind of leader Andrew is," said Riehm, citing how Harris worked with staff quickly in a fluid situation to do things such as identify financial resources and how the company could apply for them. "He was never afraid to say I don't know but we will figure it out."
Harris joined the company as education director in 2001 under the leadership of Moses Goldberg who had expanded the company after arriving in 1978 before retiring in 2002. Harris became associate artistic director in 2007 when Peter Holloway led the company.
Other Arts Bureau Articles
• Actor in video using the Bard's words illustrate outrage over Floyd's murder
• StageOne pivots with summer camps, new ideas brewing for next season
• Kentucky Governor's School for the Arts goes Virtual
• First YPAS choral teacher, leader in Louisville's music community, dies
• Artists working in Kentucky among 2020 Guggenheim Fellows
Decades of Directing and Working in Schools •|• Throughout his tenure, Harris has directed "The Best Christmas Pageant Ever" nine times as well as StageOne commissions and world premieres including Suzan Zeder's "Wiley and the Hairy Man" featuring music by Louisville's Harry Pickens; Goodwin's "And In this Corner Cassius Clay", which has since been staged across the country; and an interactive version of "Harold and the Purple Crayon" using tablets and other technology so children can draw along the main character.
Riehm said board members also chose Harris for his extensive work with Jefferson County Public Schools' teachers and administrators. A press release cited Harris' work with the Teenage Pregnancy and Parenting Program (TAPP), for single and expectant mothers, as well as work collaborating with The Kentucky School for the Blind. In 2017, he helped StageOne secure more than $100,0000 from Disney Musicals in Schools to work over several years to develop theater programs with many public elementary schools that would not have been able to afford to program such activities on their own.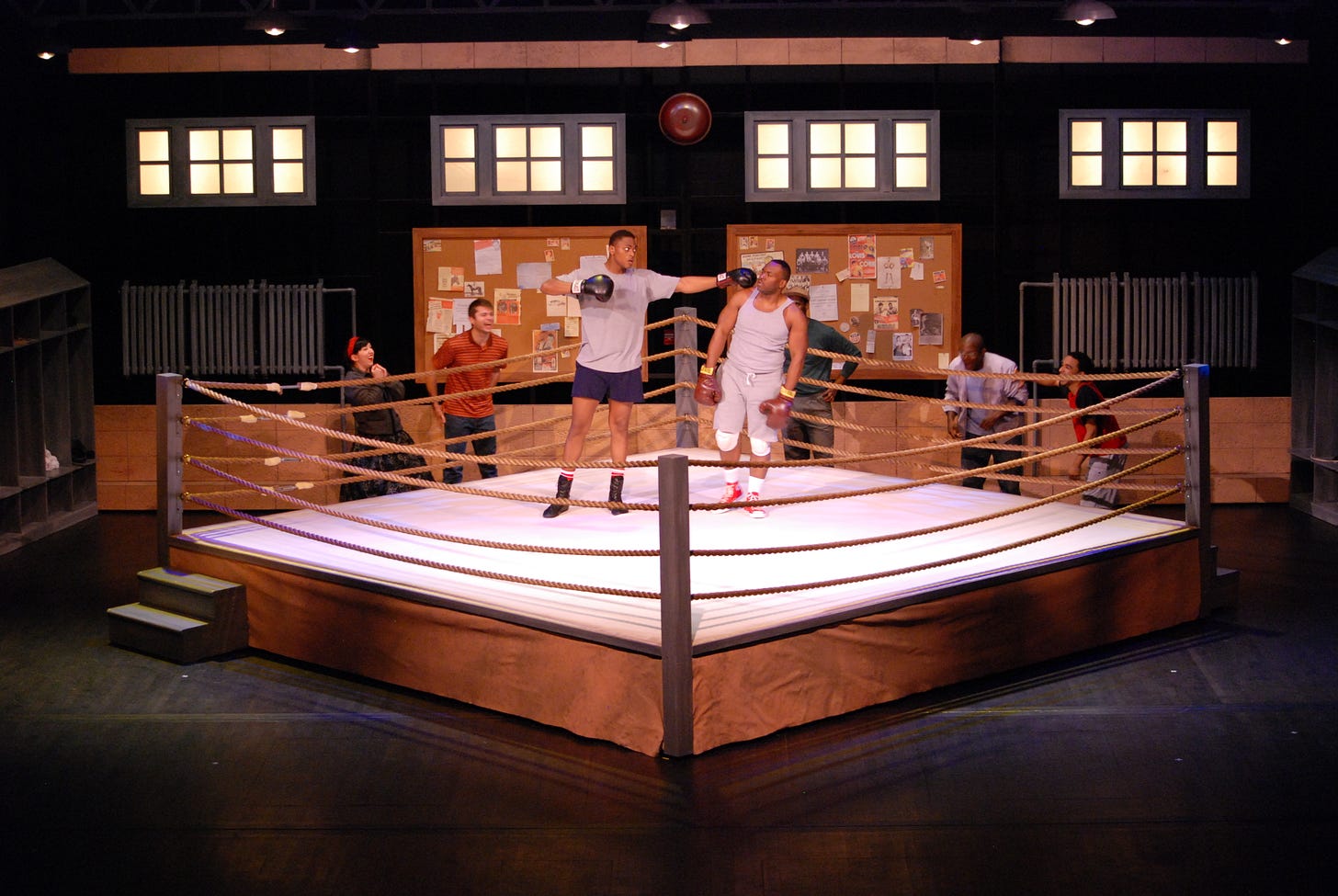 Photo from Idris Goodwin's play "And in this Corner…Cassius Clay" directed by Andrew Harris. Photo courtesy StageOne Family Theatre.
Dedication to Young People and StageOne •|• Harris, in a press release, said his goal at StageOne is "not necessarily to create young actors and actresses, but to aid in developing empathetic, emotionally intelligent human beings."
Riehm said that Harris has always had StageOne's best interests at heart even when decisions didn't benefit him personally. Riehm added when the board asked him to lead the organization on an interim basis, he accepted and said he would do so without accepting any additional pay. Also, Harris cut his salary 15% after the pandemic closed the season's performances and other activities in March.
Pledge to Diversity, Black Lives Matter •|• StageOne productions have featured diverse characters and voices for years. Harris has directed many of them. But to many the hiring of Goodwin signaled a strong committment to diversity.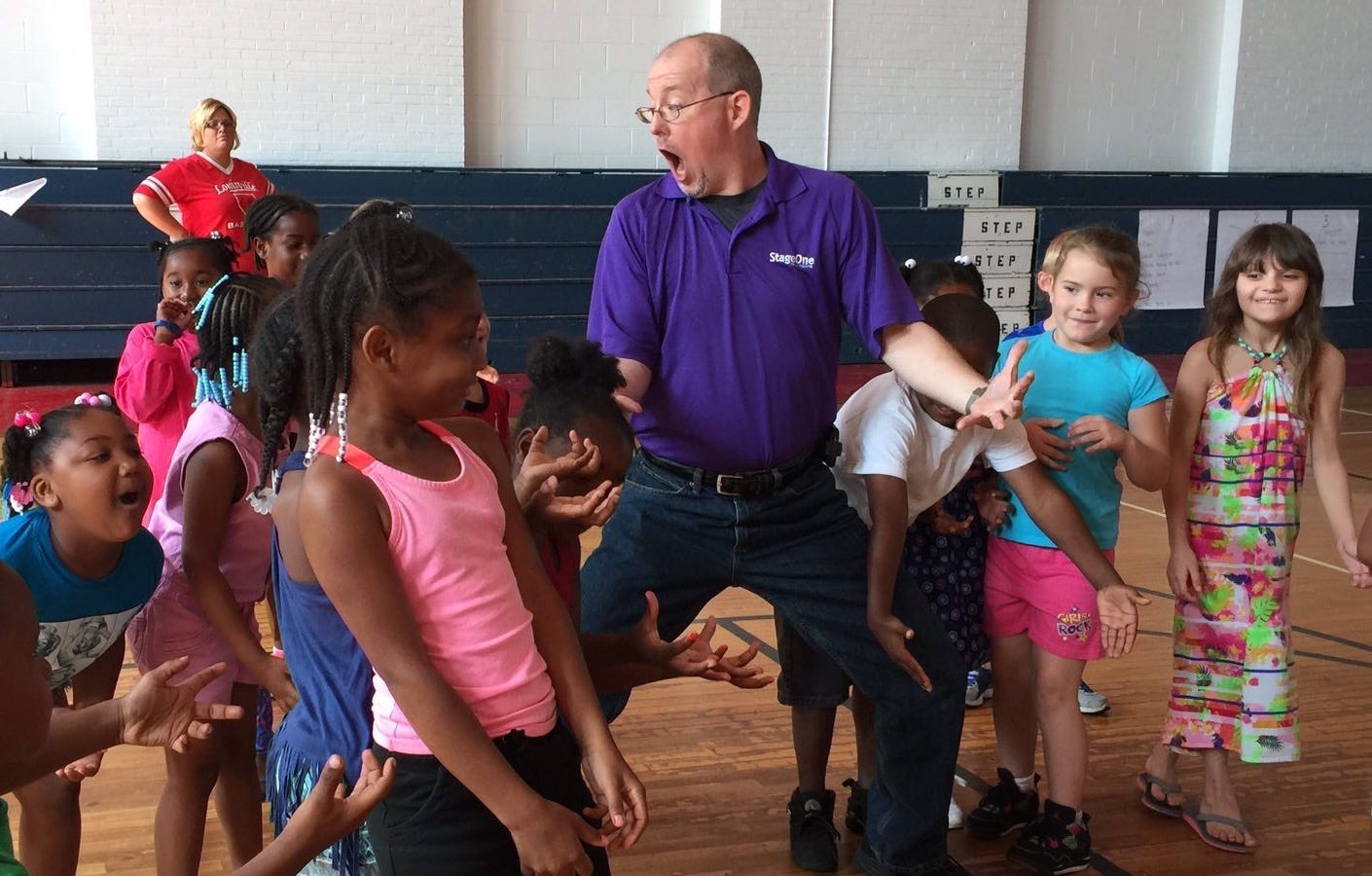 StageOne Family Theatre's Andrew Harris teaching drama to elementary students in a pre-coronavirus world. Photo courtesy StageOne Family Theatre.
In the wake of Goodwin's departure, however, StageOne has a staff with no persons of color, and its board has only one person of color as another has recently relocated from Louisville for another job, Riehm said. He added the organization recognizes its "lack" of diversity as a "liability" and that, "It is incumbent on us to continue to make sure that we as a company reflect the whole of our community both on and off the stage."
In recent weeks, as many mourn and protest the deaths many black people, including Breonna Taylor and David McAtee, the company has posted a statement signed by Harris on its website asserting that "black lives matter" and pledging he and his staff "to examine how we have served our communities and where we have missed the mark. And to make change."
Elizabeth Kramer, a multimedia journalist who has worked for newspapers and public radio, was the Louisville's leading voice on the arts as the fine arts reporter at Louisville's Courier Journal from 2010 to 2017. Her work has aired on National Public Radio and appeared in national publications. Never miss an update.