REVIEW | 2 hits in Louisville Ballet's #chorshow
Guest choreographer Tommie-Waheed Evans premieres powerful work
Since Robert Curran took the reigns as Louisville ballet's artistic director in 2014, its Choreographer's Showcase has incorporated guest choreographers among those from the company creating new works. One has createed many works for the company.
American-based and South African-born Andrea Schermoly whom the company later named a resident choreographer, created her vision of Martha Graham's "Appalachian Spring" to Aaron Copland's music for a Louisville Orchestra peformance in a premiere last February. This week, Carnegie Hall announced the Louisville Orchestra will perform there in February 2021 with Louisville Ballet performing Schermoly's piece. (This follows the orchestra's 1950 and 1989 Carnegie Hall appearances.)
This season, the company premiered Schermoly's original piece "At High" followed by another new work performed weeks later inspired by Graham's original piece "Judith, A Choreographic Poem" to William Schuman's in collaboration with the Louisville Orchestra.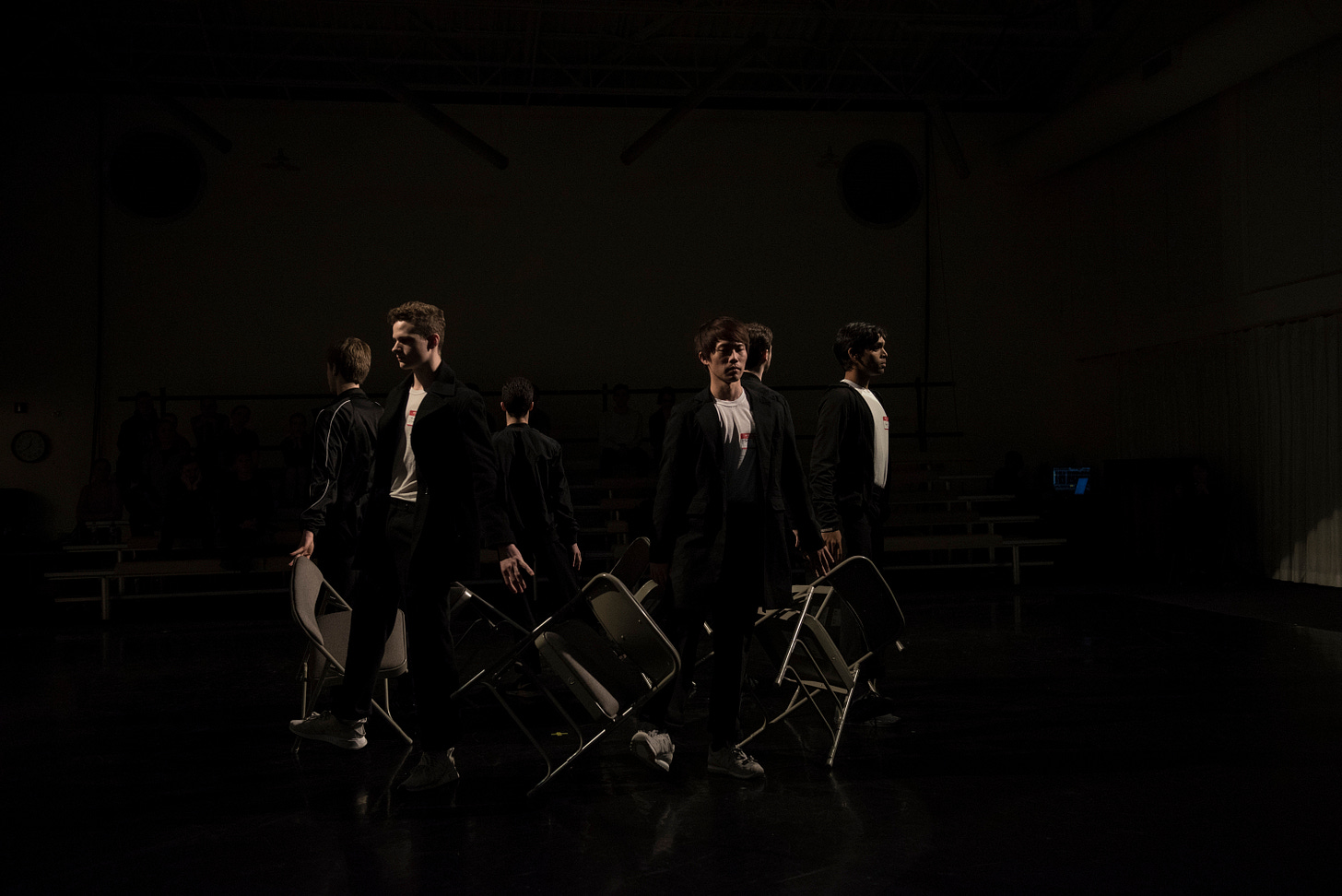 — Louisville Ballet dancers in Jeremy Hanson's "Session I" Photo by Sam English.
A lot can blossom out of the Choreographer's Showcase, marked its 25th anniversary last Thursday when it opened its four-day run. Besides inviting promising choreographers, Curran also bestows this annual production — the company now dubs #chorshow — with themes. Few works performed in the company's studios in this 2020 showcase stuck very solidly with this year's theme "Sacred Spaces." Instead, it resonated like a marketing idea.
Nonetheless, two works stood out: "With(in)Grace" from guest choreographer Tommie-Waheed Evans, who trained at The Ailey School before going on to dance professionally with companies including Complexions Contemporary Ballet and The Philadelphia Dance Company (Philadanco), and "Session I" from Louisville Ballet company dancer Jeremy Hanson.
In Evans' captivating work, dancers' long-sleeved blue shirts, like workers' uniforms, slightly balloon as they came out onto the floor, marking one of the first conspicuous features. The program notes this work draws inspiration from an anonymous spiritual "I Want Jesus to Walk with Me," a Negro spiritual that that entreaties Jesus to be a lifelong companion — particularly in times of trial. Here, Evans doesn't use that spiritual's music but sets his dance to Bryce Dessner's percussive music heavily influenced by Steve Reich.
In the first moments, the ten bodies freeze in a graceful balletic pose and another that is almost defiant before they set off moving busily and often at high speeds in work-like maneuvers. All are accomplished with precision and grace to Here, their bodies seem like slaves to the rhythm, a daunting task given Dessner's composition. By midway, the dancers' shirts are visibly soaked.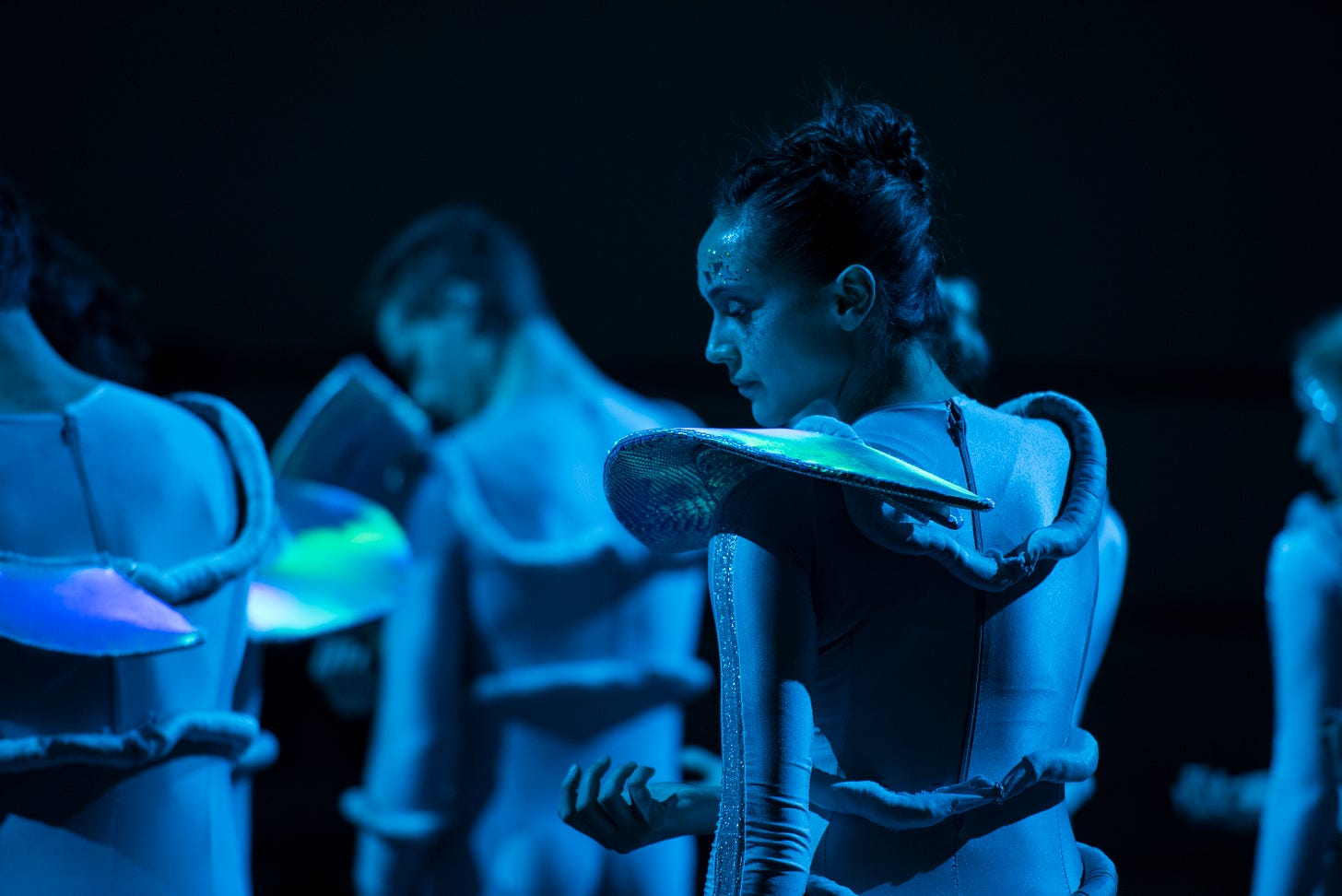 — Louisville Ballet dancers in Ashley Thursby's Pale Blue Dot." Photo by Sam English.
Still, in the swiftness of Evans' choreography, there are deep pockets of emotions that play out in sometimes undulating movements. This happens in a world where a light in the shape of a globe hangs above the dancers and morphs periodically into different pastel colors while below the hurried life continues. Some respites from the bustle come in Evans' brief but tender duets and times when the group coalesces to lift one above the entire group — when that one exists is above that person looks as the moment presents a rare chance to breathe. Evans' work also presents the individual in solos and at times when angst and grace merge such as in powerful solos from Kateryna Sellers and Aleksandr Schroeder.
Jeremy Hanson's "Session I" conjures ideas of a support group made up of his all-male cast paired with chairs. This session opens with chairs in a circle with the six dancers, donning black with name tags stuck to their white T-shirts under black jackets Then Hanson's clever choreography unobtrusively incorporates the chairs into their body moves like fidget spinners between the fingers of an accomplished agent. Dancers move the chairs, sometimes opening and folding them, with their hands, arms and even their feet and legs.
Here dance has a feel for familiar, contemporary movement with Hanson and his session attendees incorporating athletic hip hop- and martial arts- like moves. In their session, dancers individually tell their stories by taking turns figuratively and literally. At times, Hanson shows how the weight of problems, the world, whatever causes them to collapse to the floor and how this session produces a kind of group think. Hanson also is able to build suspense.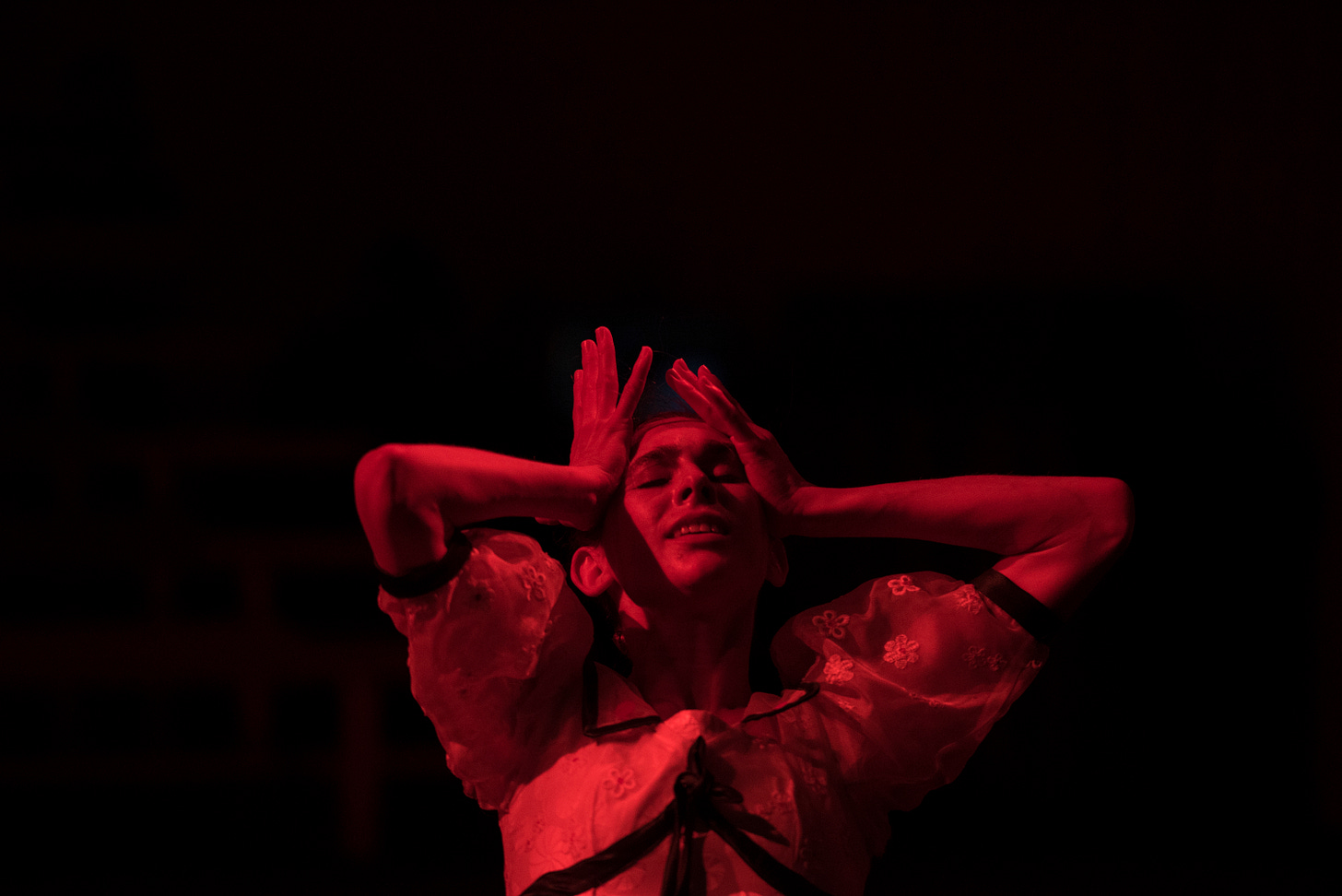 — Louisville Ballet dancer in Minh-Tuan Nguyen's "Exigent" Photo by Sam English.
"Tía Lucía" (Aunt Lucia) by Erica De La O portrays a haunting narrative to a blend of unsettling music by Mexican composer Silverstre Revueltas and Eluvium that included a lone masked male dancer, mostly isolated from the rest of the crowd, where other dancers also donned reflective masks through parts of the piece. De La O's work evokes a sense of longing and weaves in strong partnering, especially during a poignant pas de deux between Lexa Daniels and Brandon Ragland.
Minh-Tuan Nguyen "Exigent" combines snippets of iconic music, including works by Isaac Hayes, Al Hurt, Nina Simone and Pink Floyd and songs such as "Flight of the Bumblebee" and "Sing Sing Sing" to a story of two polarized teams (one marked by red and the other blue) contesting a woman. In this competition, male dancers perform several splits and toe jumps, but in the hodgepodge of music and weak storyline, the choreography rarely unifies with the other two elements to feel deeply meaningful.
Ashley Thursby's "Pale Blue Dot" holds a superpower in sight and sound — to whisk you to the 1980s with music from the era as well as sculptural costumes mirroring those of early stylistic MTV videos. While the choreographer cites her theme as mindfulness, the dancers revealed so much playfulness. But Thursby's goal was to have her piece explore happiness and joy as well. Given her 10 dancers seemed to mindfully and skillfully incorporate silly, shaky robotic movement into much of her balletic choreography as well as some sweet partnering — she hit her mark.