New, open Facebook group shines light on Louisville area art, artists during time of COVID-19
Note: Most images from Louisville Bright Spots Facebook group
By Elizabeth Kramer
Even before the social distancing and shelter-at-home recommendations, Kentucky Performing Arts senior programming manager Erin Palmer suspected a decline of the health situation with COVID-19 that would force her and her colleagues to cancel events.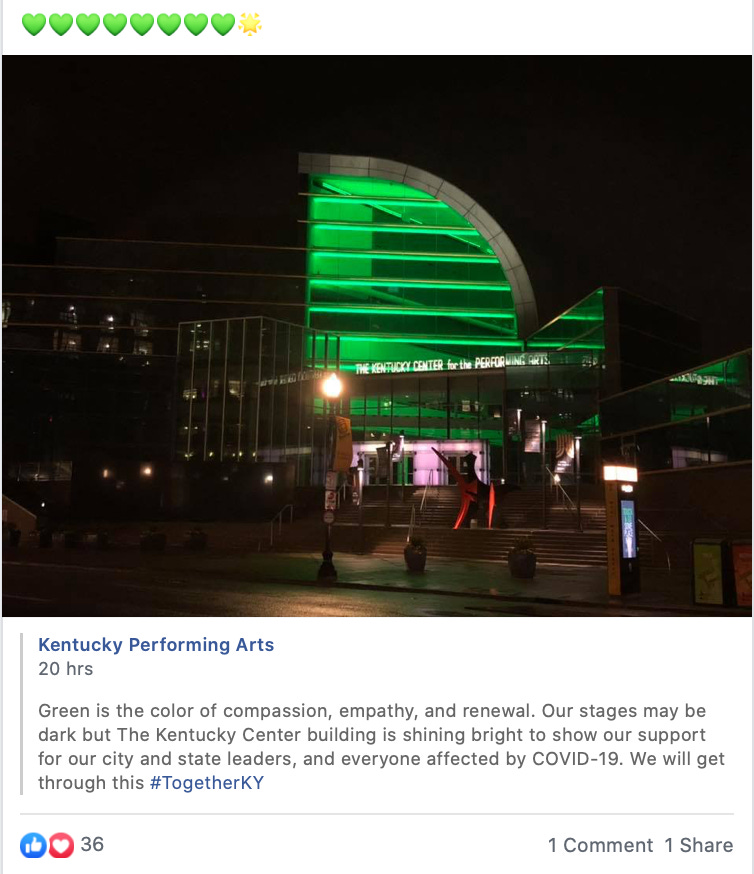 While Palmer disliked this, she also dreaded the loss of connection with the public. On Friday, March 13, many organizations across the city, including Kentucky Performing Arts, had canceled events. So, that evening, after arriving home from the office, she created Louisville Bright Spots, an open Facebook group.
"I thought, 'What could our work look like now?'" she said.
Palmer wrote a description for the group, which now has nearly 400 members, as "an online arts exchange for all Louisvillian's to stay connected and creative."
While the group is open to all Facebook members, she did set up some rules. Members have to be located in the Louisville area, although people living elsewhere can request to join. She also wants members who post to help keep the focus on the local arts community.
In less than two weeks, she and other members have shared hundreds of posts showing creative endeavors that Palmer does not jury in any formal way.
Local artist Kay Grubola joined the group several days after Palmer created it.
"It's everything from Teddy Abrams (Louisville Orchestra conductor and music director) improvising on the piano to people working on arts activities with their children," Grubola said. "It really shows the depth of arts experiences that people are connecting to."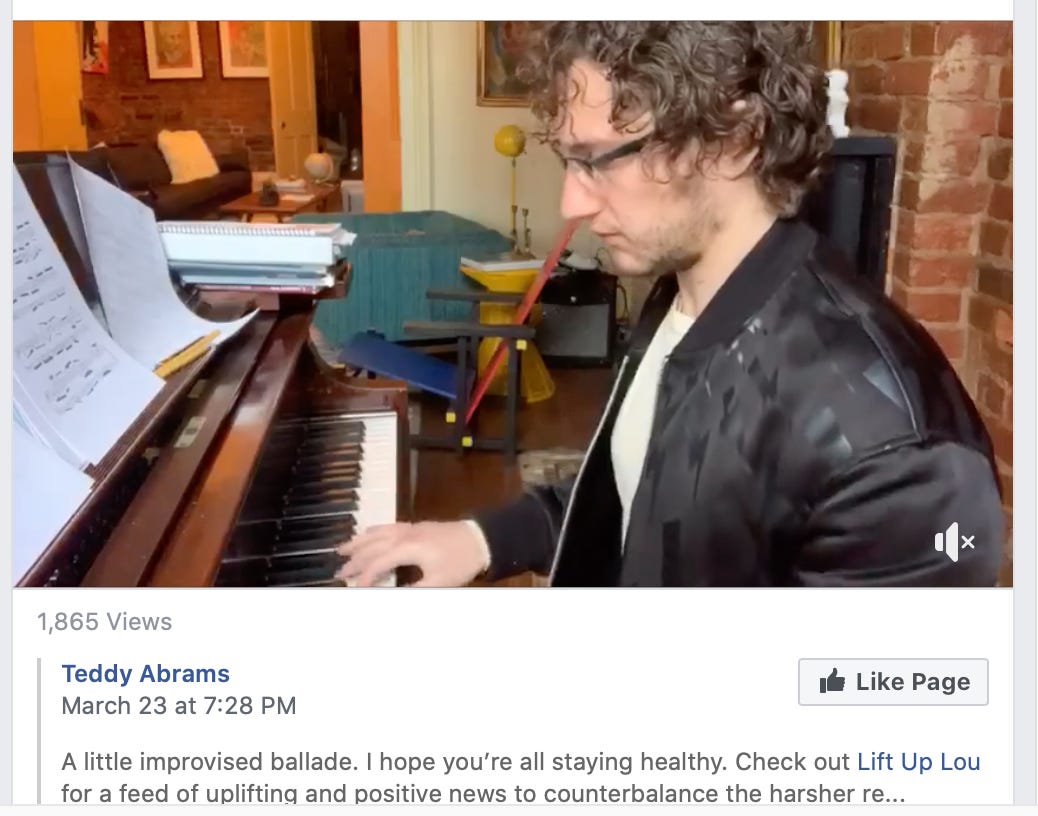 Grubola shared her artwork "Celtic Goddess" on St. Patrick's Day and told her daughter, Morgan Grubola Vonberg, about the group. Vonberg then shared a video with her daughter as she read from her book "Tiny Toes: A Creative Movement Class for Young Children."
Snippets of visual art from painting to crochet appear among the posts. Some are still and some are videos of visual art in the making. Other posts, including one from Louisville Visual Art, give short art lessons.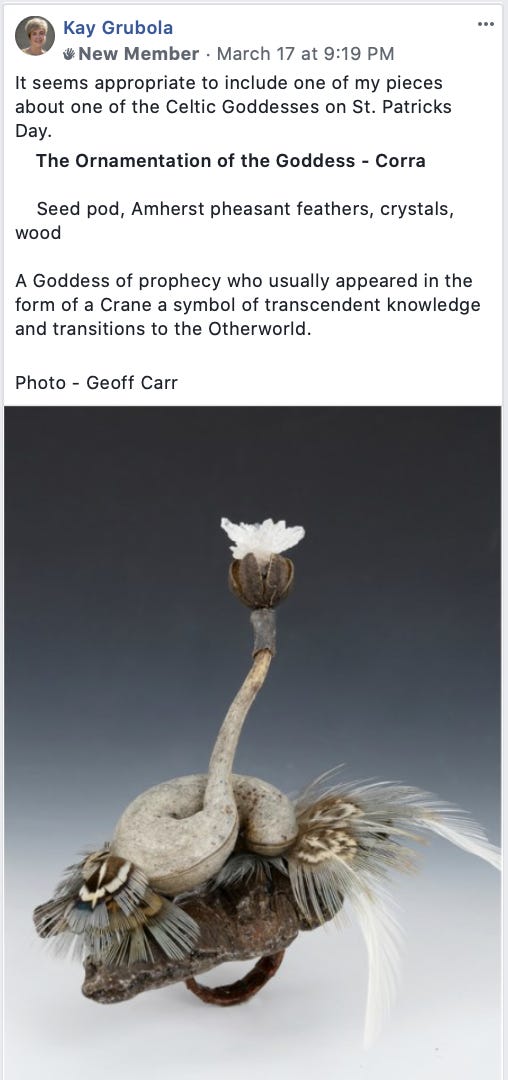 There are posts of performances or music by regional musicians in an array of genres. Among those posting far have been Abrams, Louisville Orchestra's conductor and a composer, the musicians of Bourbon Baroque, Bluegrass fiddler Michael Cleveland, Rachel Grimes, Brigid Kaelin, Joan Shelley and four Louisville Orchestra musicians who recently formed The Social Distancing Quartet.
Several posts feature musician Austin Clark in his role as a member of Bourbon Baroque, the music director of Pandora Productions' recent run of "La Cage aux Folles," and an independent artist performing his own cabaret concerts.
"My voice is definitely being put to the test. I never thought I would be singing so much in my life," he said.
Clark praised Louisville Bright Spots. "We can see how creative Louisville is," he said.
Clark is adding to the mix with performances each Wednesday that he has titled "Govern Me Daddy Cabaret." (The title refers to an expression that arose after a recent story about some comments women made about Governor Andy Bresher's management during this health crisis.) Clark's March 25 concert features a song cycle titled "Poor Richard Says" (1985), music for voice and glass harmonica, harpsichord or piano by Gordon Myers and set to proverbs by Benjamin Franklin.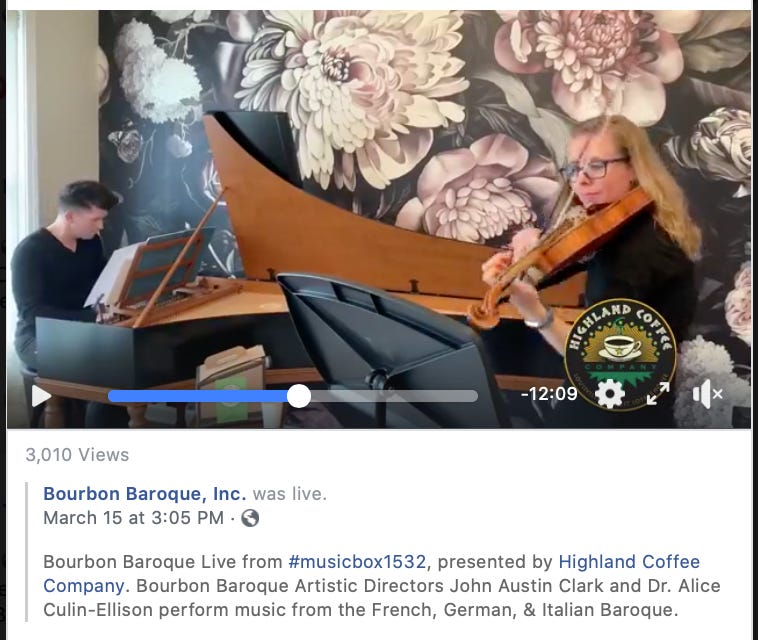 Bright Spots has many posts from the Social Distancing Quartet, which includes Louisville Orchestra musicians Annie Daigle, Lillian Pettitt, Maria Semes and Evan Vicic. The group formed the day before Palmer created the Facebook group, and their first post was among the Bright Spots' first ten. The group started playing in a room together, but as health measures became stricter began using recording technology to tape individual parts from their separate residences and mix them for their videos, said Pettitt and Vicic.
Literature comes in forms from posted poems to children's stories read in videos — like those from Lincoln Elementary Performing Arts School teachers reading "How to Catch a Leprechaun" or Vonberg reading from her book "Tiny Toes." Palmer also shared a post from Kentucky writer Silas House announcing his discussion on his book "Southernmost."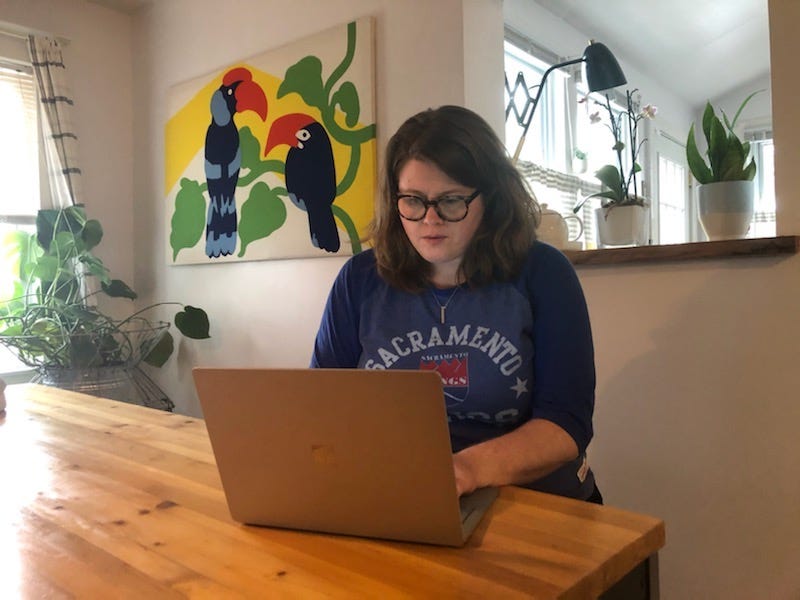 Palmer posting to the Louisville Bright Spots, the Facebook group she created.
Palmer and other members post different types of dance as well as links to dance lessons. Palmer also has posted work by nationally known dance companies, including Alvin Ailey American Dance Theater's except of its legendary "Revelations." (In it, each dancer performs their part in their own home and the recordings of the different dancers are compiled.)
"Then there is a wonderful video of a little girl doing an indigenous prayer dance that I was blown away by," Grubola said.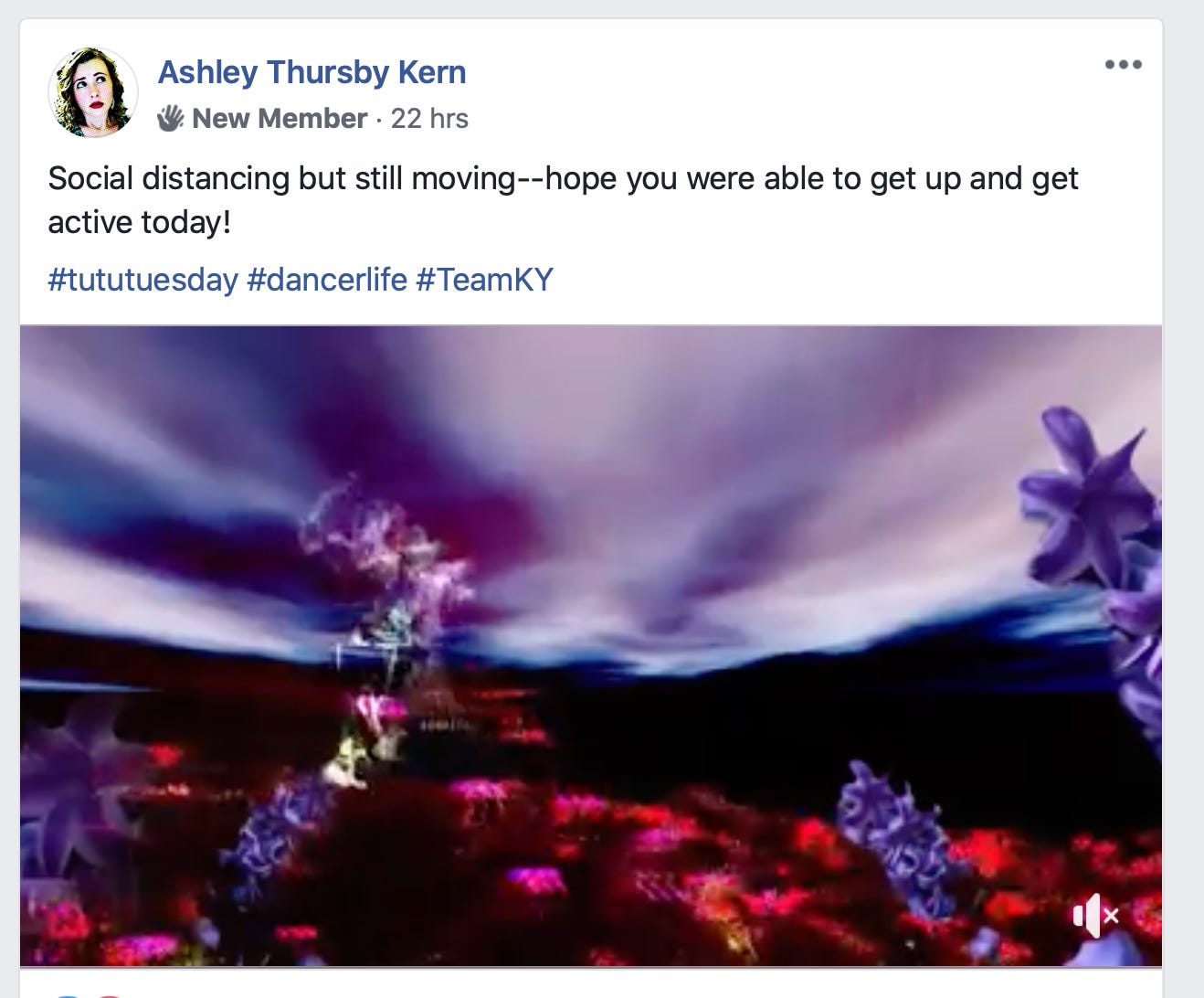 An early Louisville Bright Spots post highlighted Louisville Ballet classes held online. Company dancer and teacher Ashley Thursby Kern has been sharing posts for her classes in the group.
Kern learned with the rest of the Louisville Ballet that the company would not be performing a new ballet titled "Kentucky! Volume 1" the first week of April.
"When we were mandated not to be in a space together moving, I thought here we go social media. Let's see what happens with this," she said.
Louisville Bright Spots, she added, is a way to help build a wider community for dance. While most of her posts so far have been for lessons, one is a collaborative work. She filmed herself dancing in her backyard, along with clips of hyacinths and the sky, before sending them all to editor Dan Bryan who created a video with music by Dane Waters.
Other posts have links to streaming performances of plays and operas. Some are produced by companies outside Kentucky, including the Metropolitan and Paris operas. But the group also has posts about other streaming performances, such as those from Kentucky Shakespeare.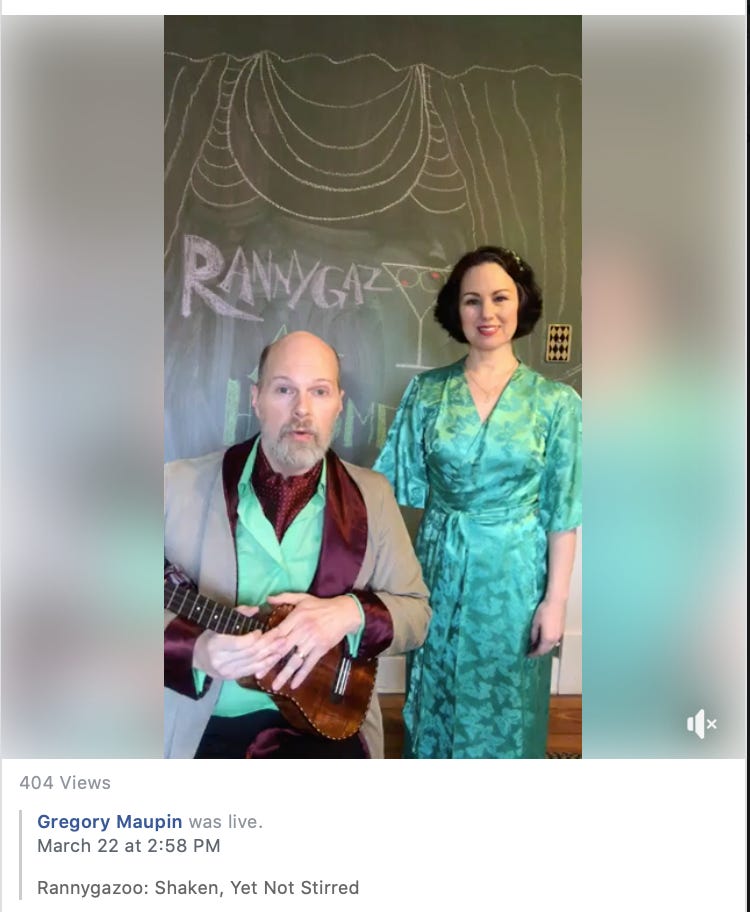 The faces of Gregory Maupin and Abigail Bailey Maupin appear in the group's posts via their work with Kentucky Shakespeare and as the duo Rannygazoo. Their performances in that act consist of theatrics and mostly Prohibition-era songs. Since the Bright Spots launch, they have had a few performances and a reading of work by early 20th-century humorist Don Marquis.
Gregory Maupin said the duo has put out the "virtual tip jar" during performances and received contributions at both of the musical events.
"We receive more tips than we actually played live," he said.
He has noticed new names among the commenters and credits Bright Spots for helping new people find Rannygazoo. But the biggest challenge with performing online is not being able to monitor the energy among audience members and adapt accordingly, he said.
While the group isn't Kentucky Performing Arts project, Palmer has had her coworkers' support. Some have posted to the group and commented.
"Exactly what is needed. It is a bright spot!" wrote Kim Baker, President and CEO of Kentucky Performing Arts two days after the group's creation.