Louisville Visual Art's incoming executive director brings years of experience leading visual art organizations
Kristian Anderson led the Utah Museum of Contemporary Art, Seattle-based Association of Academic Museums and Galleries
• If you enjoy articles about regional arts and creativity, share them and/or sign up.•
By Elizabeth Kramer
Nearly six months after the departure of former executive director Lindy Casebier and during the pandemic work continues this week at Louisville Visual Art. There are preparations for July's online summer art camps and the organization's annual fundraiser and art sale called art[squared] also held online this year.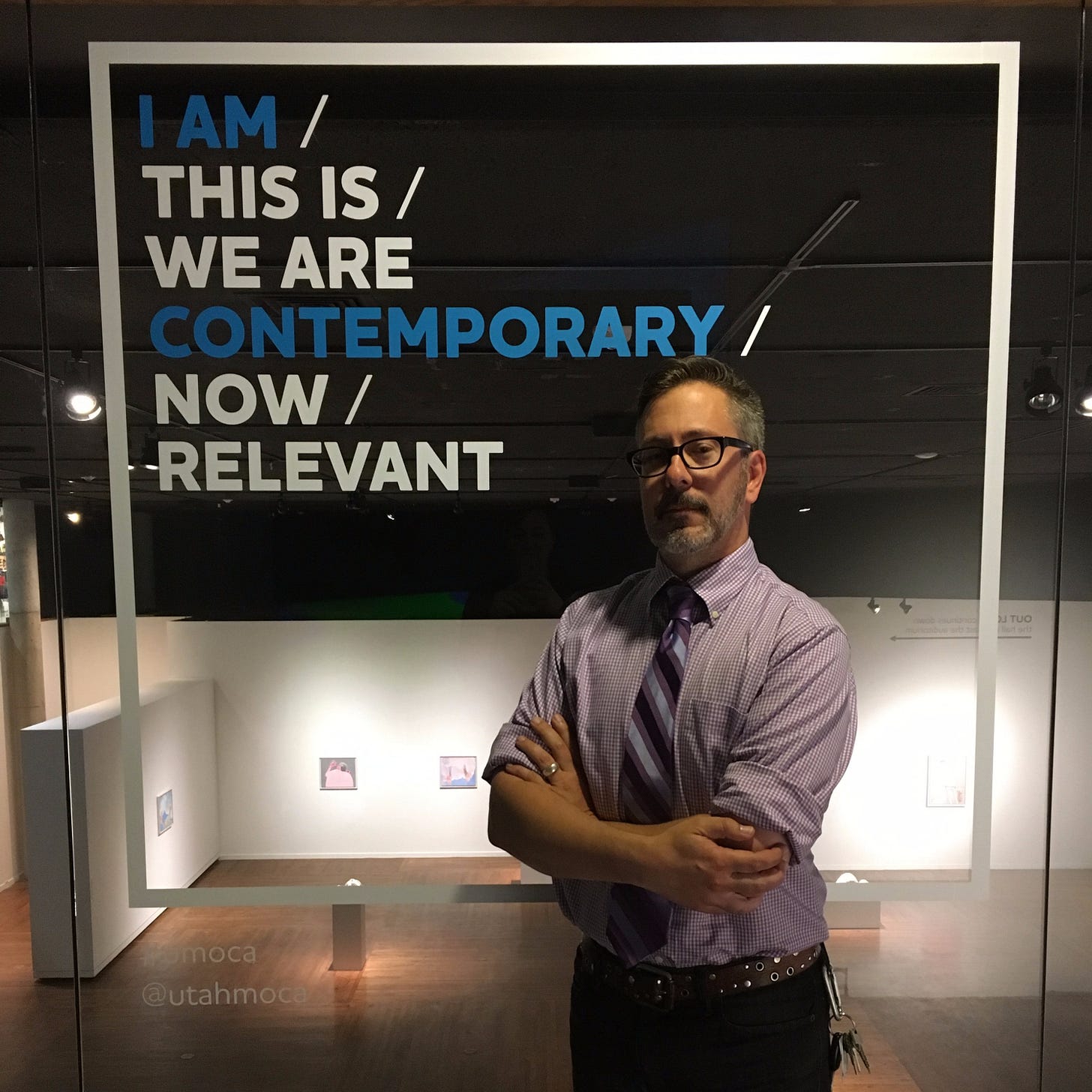 Kristian Anderson, Louisville Visual Arts' new exectuive director in a photos taken at the Utah Museum of Contemporary Art where he served as executive director. Photo courtesy Kristian Anderson.
As the staff and board gears up for these activities, the 111-year-old organization awaits the July 6 arrival of new executive director Kristian Anderson, who has a background in leadership in visual arts institutions.
This marks the first time in nearly two decades LVA, now with a $475,000 budget, has hired an executive director this kind of experience. (The last was John Begley, who was a founding director of Indiana's New Harmony Gallery of Contemporary Art. See below.)
Anderson — who is coming from Salt Lake City where he was Mayor Jackie Biskupski's Senior Policy Advisor for Arts and Culture for nearly a year until her term ended — previously led the Utah Museum of Contemporary Art and the Seattle-based Association of Academic Museums and Galleries as executive director. Also, in Seattle, he was director of the Jacob Lawrence Gallery, part of the University of Washington's art department and named after the New Jersey-born painter known for his portrayal of African American life who taught as a professor at the university before his 2000 death.
Other Arts Bureau Articles
• StageOne Family Theatre names Andrew Harris new producing artistic director
• Actor in video using the Bard's words illustrate outrage over Floyd's murder
• Kentucky Governor's School for the Arts goes Virtual
In a recent interview, Anderson recounted how he was looking to move to a similar-sized city as Utah and work for an organization with a history of commitment to art education and community involvement.
"It was kismet," said the Michigan-born and Minnesota-raised Anderson of finding LVA.
"I think he brings a charisma we need, and that can energize the team, the board and the community that knows LVA," said Board President Jake Theisen, who also is market president of interior construction at the office and interior design firm ID&A.
Among Anderson's strengths, Theisen cited evaluating programs in past positions, working with donors and fundraising, and participating on diverse types of boards.
Anderson said the position with the Salt Lake City mayor's office gave him insight about working with different parts of the community and a vantage point of how "all the organizations in the city had intersections into all sorts of community groups." He added how important those groups can be to an organization working "to achieve diversity and inclusion."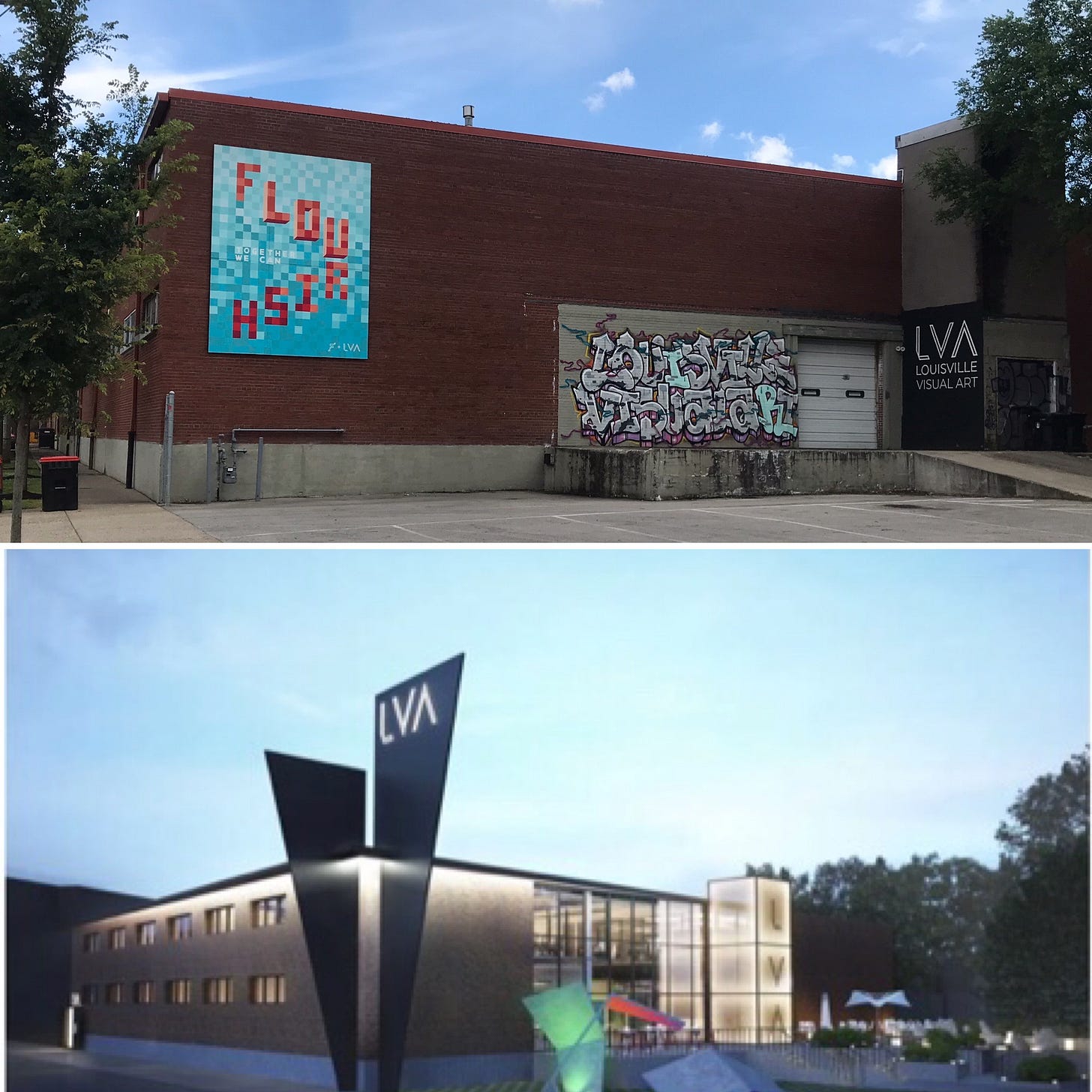 Louisville Visual Art's building as it stands and a design proposed in 2016 for the renovation by architectural firm Luckett & Farley. Top photo by Elizabeth Kramer. Bottom image couresty Luckett & Farley.
Anderson's aim after arriving at LVA in July, he said, is getting to know the staff and community better. He also is interested in mining resources for the organization to continue to provide support for artists and for youth.
"That's all what LVA is anchored in," he said.
While at the Utah Museum of Contemporary Art, staff worked with artists and youth and provided Anderson with what he said was one of his most moving experiences. There, staff organized a program an exhibition called "Out Loud: Mostly Human," in which artists mentored young LGBTQ people from the region in creating their own work that was shown. He recalled a poignant reception where mentors were scheduled to speak, but not the youth participants. Anderson had been worried about their privacy.
"Then one of the audience members asked about hearing from the students," he said. "This prompted the students to get up en masse. And I remember one of the students saying before I had this program, 'I was alone. I didn't think there was anyone like me. I can't say I would have done it, but I would be lying if I said that I hadn't thought of killing myself.'"
Other Arts Bureau Articles
• First YPAS choral teacher, leader in Louisville's music community, dies
• Artists working in Kentucky among 2020 Guggenheim Fellows
• Social Distancing Quartet takes music to social media during time of COVID-19
Anderson also comes while LVA's 33,000-square-foot warehouse in Portland, purchased in early 2015, has yet to be fully renovated. Theisen said his colleagues are looking for Anderson's leadership in fundraising for the renovation.
Anderson has already been thinking about that and possibilities for the space.
"I've put together plenty of exhibitions, and I'm excited to see where LVA's physical building can go in terms of hosting a modest exhibition schedule," he said.
Most of his hands-on experience with exhibitions, he said, came in his early career while working at the University Memorial Center Art Gallery at University of Colorado where he earned his master's in museum studies and the University of Washington Jacob Lawrence Gallery.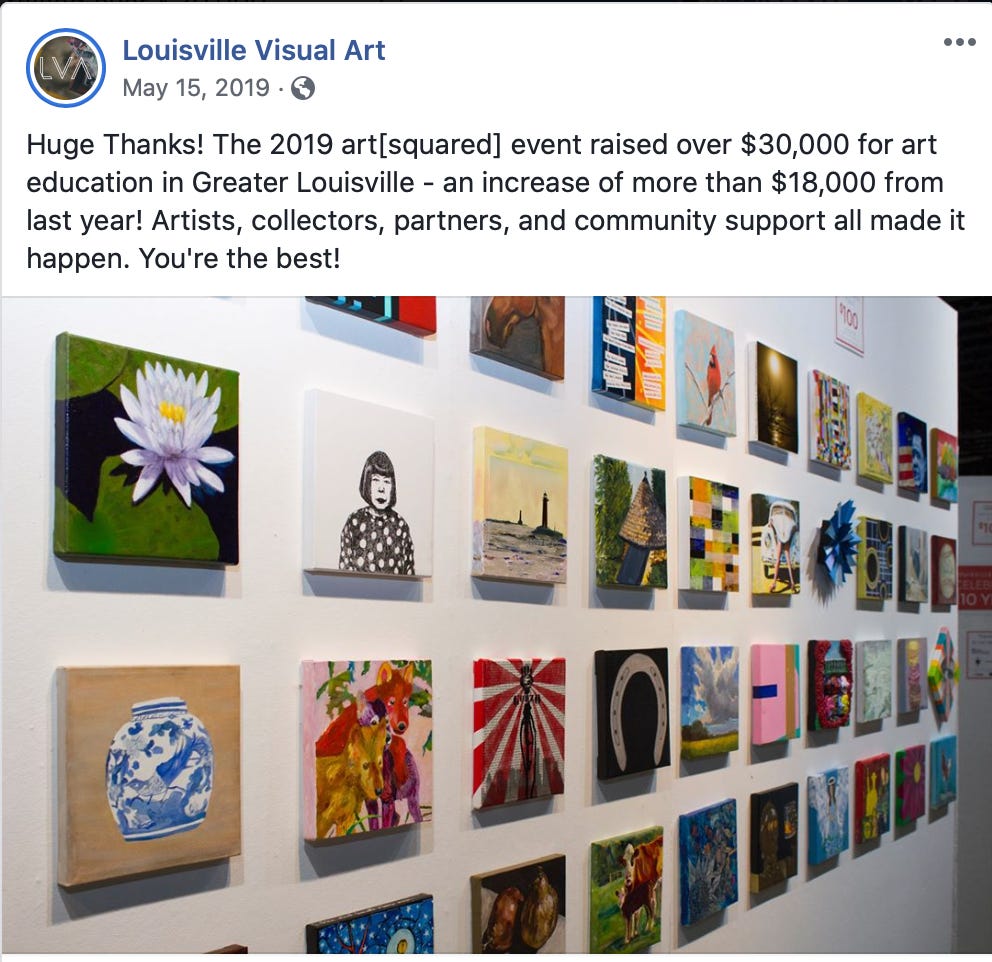 An image from Facebook following last year's art[squared], an annual event that auctions donated works by artists with proceeds going to LVA's Children's Fine Art Classes, Open Doors outreach programs for at-risk youth, Mural Art Program and year-round exhibitions at Metro Hall & AC Hotel.
The appeal of working in museums evolved in his early 20s while on a project in Cyprus as an undergraduate student of Classical and Near Eastern Art and Archaeology at the University of Minnesota. He visited the Cypriot Museum, where he first noticed how "museums could enforce certain cultural ideas and suppress others." He went on to work in contemporary art, he said, seeing how it includes living artists and creates dialogue within that can shape culture by either propelling or repressing change.
Theisen said although Anderson comes to LVA during a challenging time, the organization has a strong staff. He added that the staff currently does not have any people of color. The organization employs people of color in its programs, including its Childrens Fine Art Classes teachers, and three members of the board are Black.
History of LVA Leadership *executive directors except where noted
2016 to 2019 • Lindy Caisbier • background music education, politics and policy administration
2008 to 2015 • Shannon Westerman • background in marketing and administration
2004 to 2007 • Sarah Yates • background in arts administration, literature
2003 to 2005 • Elizabeth George • background in communications, management consulting
2001 to 2003 • C.J. Pressma, Artistic Director/Lisa Work, Administrative Director • artist with a background in marketing communications, and arts administrator
1983 to 2001 • John Begley • artist with background in visual arts administration
LVA Budget: $475,000 | Revenue Sources
45% • Programming (not including camps)*
19% • Individual Donations
17% • Fund for the Arts direct support
6% • Foundations/Corporate
7% • Summer Camp
5% • Fundraising Activities
1% • Government Funding
* Summer Camps represent 7.5-10% of LVA's annual revenue base. This revenue is consistent each year, although other programming revenue fluctuates accounting for the range.
Elizabeth Kramer, a multimedia journalist who has worked for newspapers and public radio, was the Louisville's leading voice on the arts as the fine arts reporter at Louisville's Courier Journal from 2010 to 2017. Her work has aired on National Public Radio and appeared in national publications. Never miss an update.