Kentucky Shakespeare | Working to salvage education program, major income generator
Company making contingency plans for Shakespeare Festival in Central Park
By Elizabeth Kramer
Reader: If you enjoy articles about regional arts and creativity, share them and/or sign up here: artsbureau.substack.com.
In early March, Kentucky Shakespeare had no public shows to call off, as many performance companies and venues announced show cancelations. And the company already had its big annual fundraiser, held in February, behind it.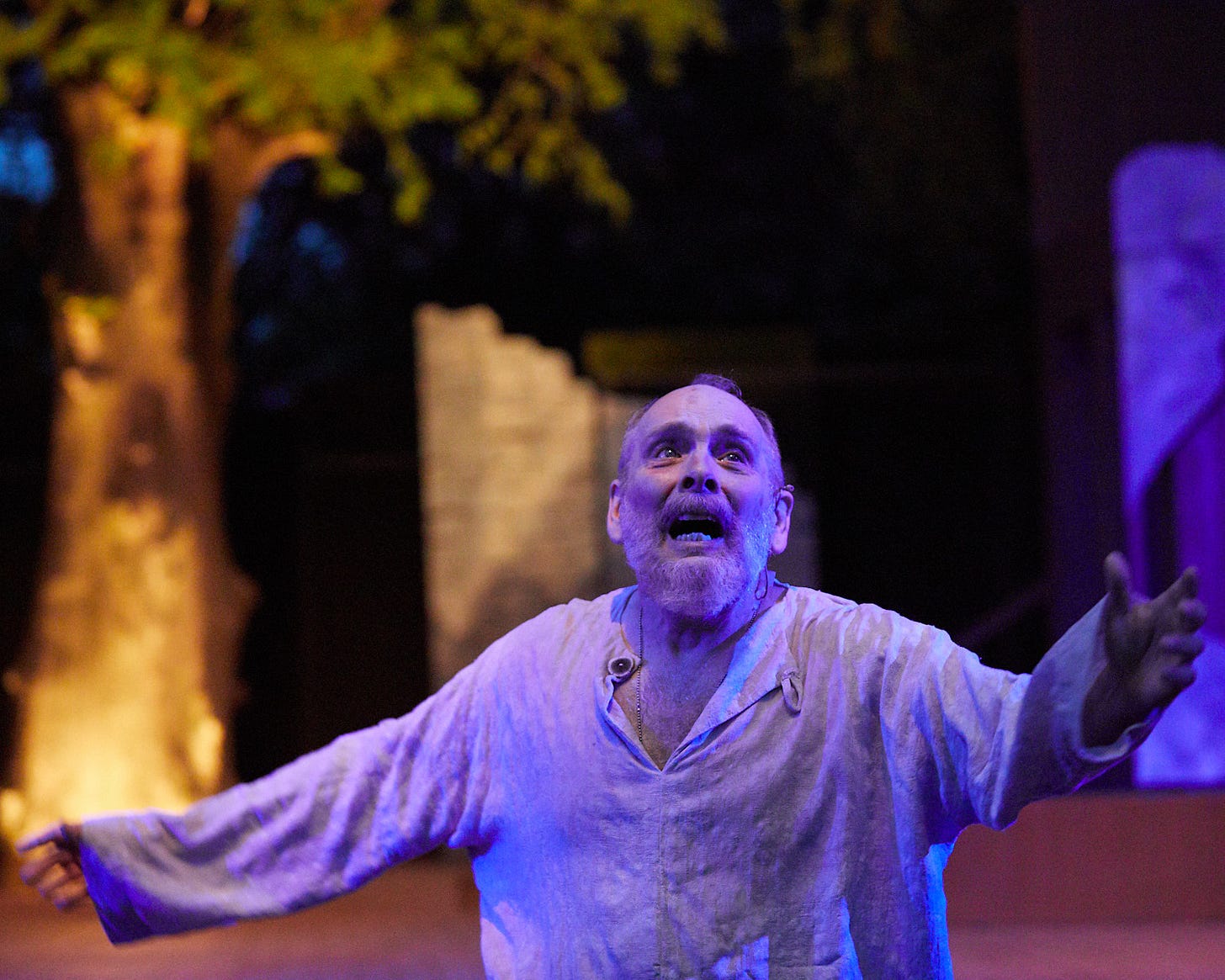 Jon Huffman in Kentucky Shakespeare's "King Lear." | Photo by Bill Brymer
Kentucky Shakespeare had even learned good news, via an audit — its current budget is $1.17 million — the largest in the company's history, said Producing Artistic Director Matt Wallace.
Then came the upheaval created by the novel coronavirus. While Wallace has been able to keep the company's work in the public eye via streaming past summer performances filmed on its Central Park stage via Facebook Live, he said, "the hardest part is the schools."
March through May is crucial as Kentucky Shakespeare makes final bookings and prepares its busiest stretch of work in schools throughout the state. The organization already had bookings with more than 130 schools slated to bring in more than $117,000 in income during the period. This educational work, Wallace said, makes up a third of the organization's earned revenue. In 2018-2019, which Wallace called a record year, Kentucky Shakespeare held programs in 258 schools.
Despite school closures, Wallace's voice carries his characteristic energetic spirit.
"We are definitely full steam ahead," he said. "This is how we are able to keep our artist educators on staff right now."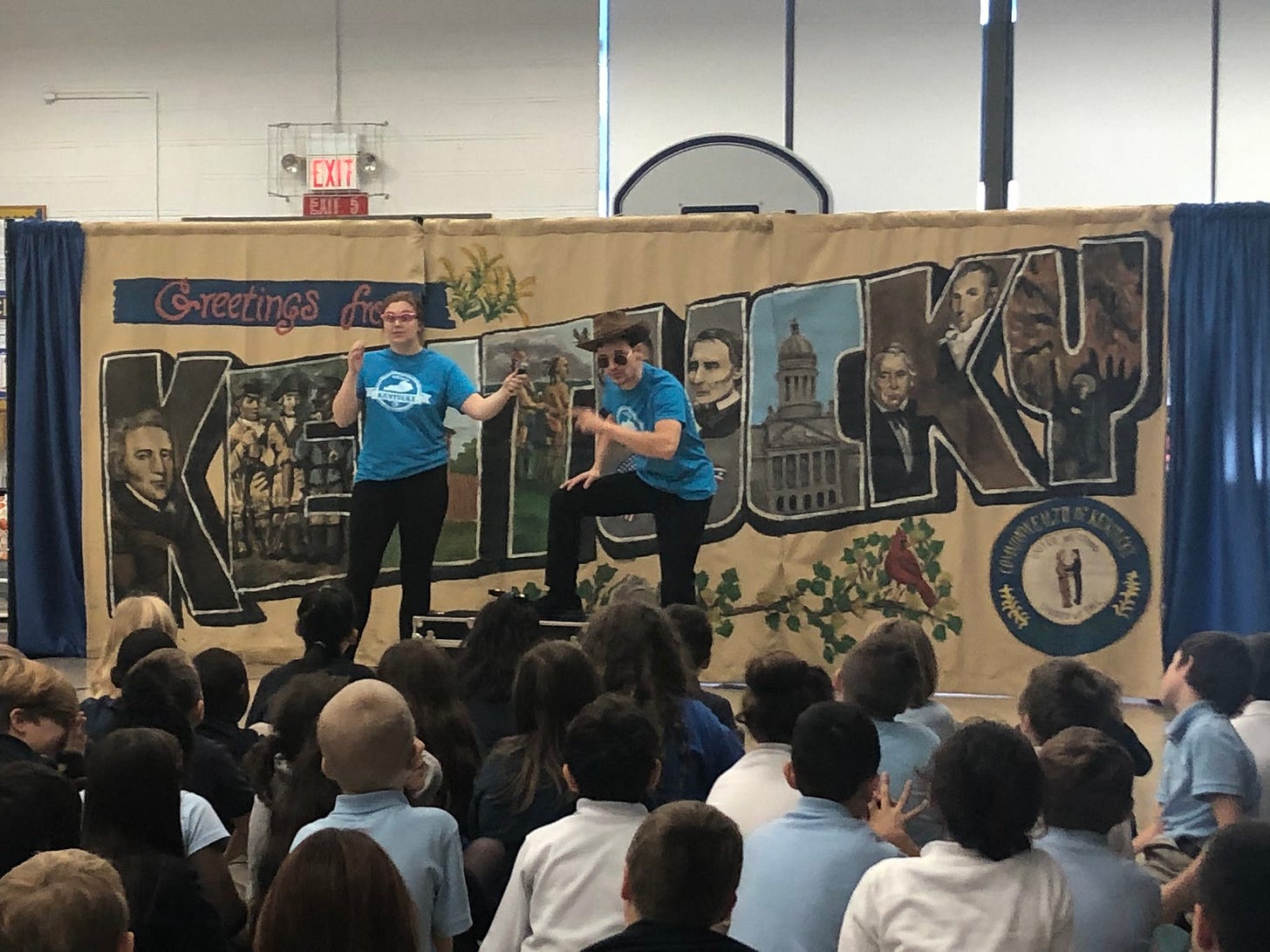 Team members of Kentucky Shakespeare's education program performing during an engagement a school. | Photo by Bill Brymer
Full-time staff numbers nine, five administrative staff (including Wallace) and four working in education. (A part-timer is working to book engagements with schools.) None have had to take furloughs or pay cuts so far.
Those in education, Wallace said, are working with schools to see how to book activities if schools are able to open in May and present the option of hosting them into virtual mode using Zoom. They have been working to adapt the curriculum materials to an online course version for teachers as well.
"We're trying to salvage (this program) serving these kids — and with virtual performances, there doesn't have to be an audience cap," Wallace said. "We just want to make sure that these kids are getting arts."
Meantime, Wallace has negotiated with foundations and other funders to get extensions for projects so that the organization doesn't lose funds already awarded.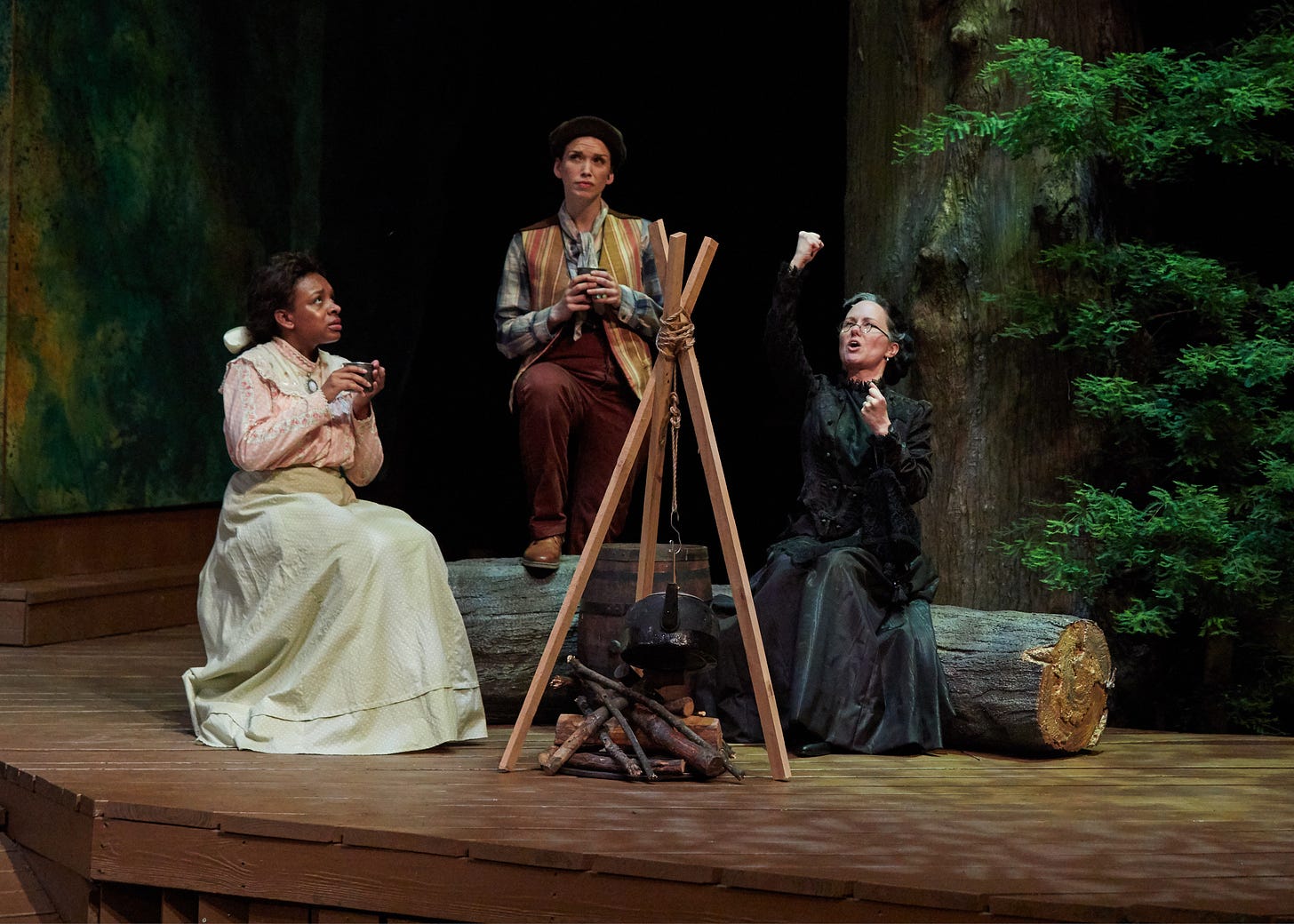 Amber Avant as Celia, Hallie Dizdarevic as Rosalind, and Abigail Maupin as Jaques in Kentucky Shakespeare's "As You Like It." | Photo by Bill Brymer
"That's been a great load off because we certainly don't want to give back grant money and we don't want to lose people who we were going to serve," he said.
The annual Shakespeare Festival in Central Park is another hurdle to cross.
"That is weighing heavy on us," said Wallace, who has created a spreadsheet with several scenarios that include contingency plans with different starting dates. He also has to consider the number of people available for those different scenarios.
During the spring, the company raises contributions from many individual and corporate donors who appear in its printed playbill. But throughout the summer, Kentucky Shakespeare raises nearly a good portion of revenue. Last year, it earned $110,000 in total through sales at its bar and in merchandise, a percentage on the food truck sales and donations made on site.
In recent weeks, Kentucky Shakespeare has been able to keep its programs in the public eye by streaming recordings of past performances on Facebook Live on Fridays — on March 20 with "As You Like It" (2019) and on March 27 with "Much Ado About Nothing" (2017). The first broadcast nabbed nearly 12,000 viewers and the second brought in about 6,000. Kentucky Shakespeare is showing "King Lear" (2019) at 7 p.m., Friday, April 3 (This can be found on Facebook and YouTube.)
These company created these recordings for its archives, and Wallace often uses them when applying for grants. It was only earlier this year that he noticed they had particularly good sound and HD qualities. After recommendations for social distancing began, Wallace thought of airing them. And the company will continue airing them, but only during this time.
"I really don't want to get into the habit of putting our shows online," he said, "that would make someone not want to come to the park."
The announced lineup of performances slated to begin May 27 and run through Aug. 9, had its opening date moved to June 10 and the number of show reduced from of 64 to 53. So far, the season still includes "Shakespeare In Love: The Play" and "Henry V" as well as the company's Globe Players student troupe performing "A Midsummer Night's Dream." Guest companies scheduled include The Louisville Ballet re-staging its production of "William's Folly," Cincinnati Shakespeare Company's production of "Macbeth" and the Louisville Improvisors "Late Night Shakes."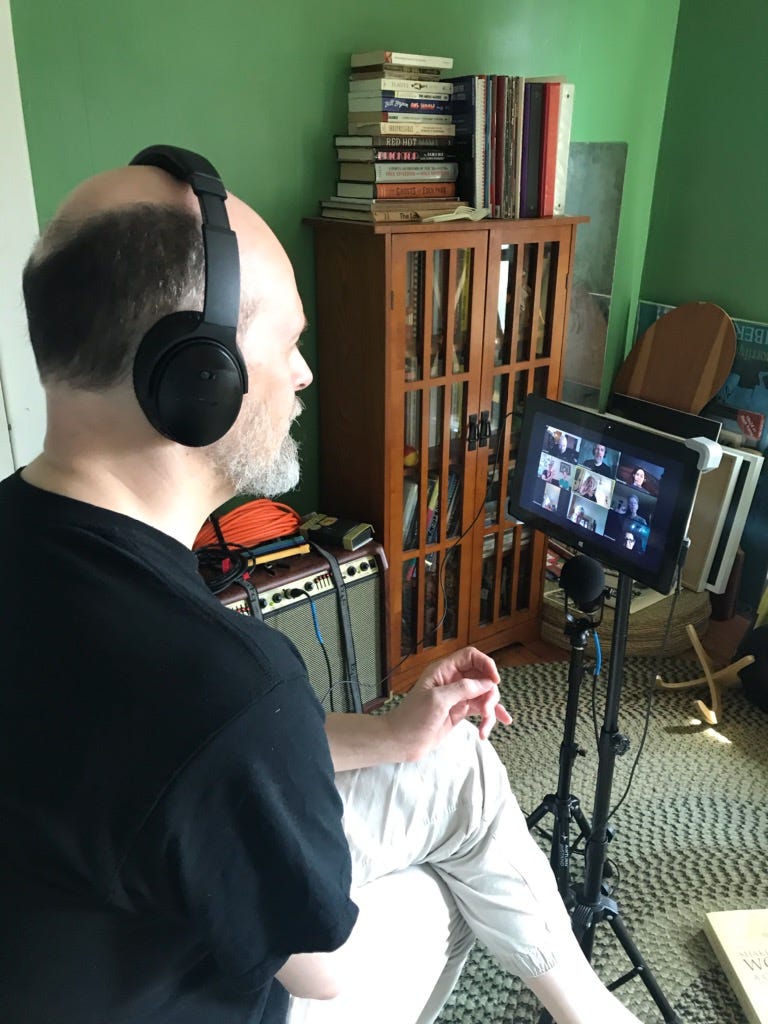 Kentucky Shakespeare actor and guest workshop instructor Greg Maupin leads a session of the company's Shakespeare Off the Page program via Zoom.
Meantime, one Kentucky Shakespeare actor and guest workshop instructor, Greg Maupin, has been doing his part to help keep the company in touch with audiences by leading its Shakespeare Off the Page program, described as a "geek session…into the world of Shakespeare texts." The three-hour discussion grouup for adults, with a $60 admission, have moved online. Last Saturday, Maupin, via Zoom, led a group of nine adults (including one in Germany) on an often funny and analytic exploration of the characters and facets of "Hamlet."
In an interview, Maupin rallied with a sense of realism mixed with optimism at the current situation for himself as an artist at this time.
"We'll figure things out. I don't feel like we are any worse off than anyone else, he said.